Unemployment: One Year Into the Biden Administration, How Have the Numbers Changed?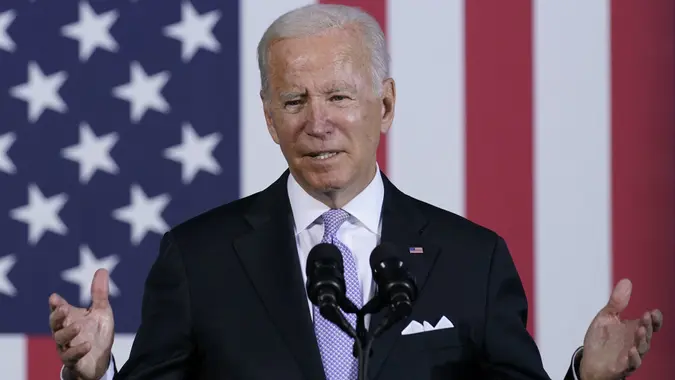 Susan Walsh/AP/Shutterstock / Susan Walsh/AP/Shutterstock
On Feb. 4, President Joe Biden took a victory lap when a blockbuster January jobs report defied the White House's own low expectations for that month's employment numbers. Analysts had predicted that the economy would add just 150,000 new jobs, a disappointing number that many were likely to blame on the omicron variant, according to ABC.
Find: The Effect of Stimulus and Increased Unemployment Payments on the Economy in 2022
2022 Stimulus Checks: Is Your State Giving Out Money This Year?
Instead, the Bureau of Labor Statistics (BLS) reported that the U.S. economy had added 467,000 jobs — more than triple the estimate. For a cherry on top, the BLS took the rare step of retroactively adding 709,000 more jobs to the tally from the previous two months.
The president went on to point out that the economy had officially added more than 6 million jobs during his first year in office, a figure unmatched by any president since at least Ronald Reagan. 
But is that really true? How did the employment numbers change over the last year, and how does America's current labor market stack up historically? 
More: Why the Price of Avocados Is About to Rise — And It's Not Inflation
A Look at the Facts
FactCheck.org is a nonprofit that works to inform voters by validating or refuting the positions taken by politicians, special-interest groups, and their armies of spin-masters. It found the following:
The economy added more than 6.2 million jobs during Biden's first year, but not all jobs lost during the pandemic have returned.
During Biden's first year in office, the unemployment rate fell to 3.9%. That's 2.5 percentage points below the level Biden inherited when he became president — the lowest for the first year of any president in 50 years. 
The Congressional Budget Office did not expect the jobless rate to fall below 4% until 2026.
The number of job openings increased by 49%.
Make Your Money Work for You
Find: Where To Invest Your Money When Inflation Is High — and What Investments To Avoid
Seven months into Biden's term, Rep. Gwen Moore — one of the president's Democratic allies — tweeted this: "President Biden has created more jobs in his first 7 months than any POTUS in history. During a pandemic. And an economic downturn."
Politifact, another nonprofit fact-checking site, analyzed the contents of that end zone celebration and confirmed that the 4.5 million jobs created during those initial seven months were indeed the most since at least the end of World War II. But it also traced the good unemployment news to the rollout of vaccines and the reopening of businesses, adding this caveat to its report: "Presidents don't really create jobs. There are many more factors at play in the economy."
With that said, the following comes from GOBankingRates' own research, which identified the states where unemployment was highest and lowest at the start of Biden's first year, as well as at the end of his first year, and where things changed the most in that time. 
Explore: Inflation Pushes Mortgage Rates to Pre-Pandemic Highs — How Has Consumer Sentiment Been Impacted?
The Unemployment Extremes When Biden Took Office
The following is a list of the 10 states with the highest unemployment rates in December 2020: 
Louisiana: 7.9%
Idaho: 8.0%
Nevada: 8.2%
Michigan: 8.2%
Connecticut: 8.2%
Massachusetts: 8.4%
New Mexico: 8.6%
New York: 8.7%
California: 9.3%
Hawaii: 10.3%
Make Your Money Work for You
These 10 states had the lowest unemployment rates in December 2020:
Missouri: 4.4%
Montana: 4.2%
Wisconsin: 4.0%
Idaho: 3.8%
New Hampshire: 3.8%
Iowa: 3.7%
Vermont: 3.5%
Nebraska: 3.4%
South Dakota: 3.3%
Utah: 3.3%
Beware: Stimulus Payment Scams To Watch Out For
The Lay of the Land One Year Later
These are the 10 states where unemployment was highest in December 2021: 
Pennsylvania: 5.4%
Michigan: 5.6%
Hawaii: 5.7%
Alaska: 5.7%
Connecticut: 5.8%
New Mexico: 5.8%
New York: 6.2%
New Jersey: 6.3%
Nevada: 6.4%
California: 6.5%
Unemployment was lowest in these 10 states in December 2021: 
Wisconsin: 2.8%
Indiana: 2.7%
South Dakota: 2.6%
New Hampshire: 2.6%
Georgia: 2.6%
Montana: 2.5%
Idaho: 2.4%
Oklahoma: 2.3%
Utah: 1.9%
Nebraska: 1.7%
More: Why Inflation And The Supply Chain Could Bring More Volatility To Economic Recovery
Unemployment Tended To Fall the Most in the Hardest-Hit States
These 10 states enjoyed the biggest 12-month drop in unemployment. You'll notice that several states that had the highest unemployment when Biden took office — including New Mexico, California, Michigan and Hawaii — still had some of the highest unemployment rates one year later. Even so, those same states saw some of the steepest one-year drops. 
Michigan: -2.6%
Illinois: -2.7%
Georgia: -2.7%
New Mexico: -2.8%
California: -2.8%
West Virginia: -3%
Louisiana: -3.1%
Rhode Island: -3.1%
Massachusetts: -4.5%
Hawaii: -4.6%
Make Your Money Work for You
Two Different Yardsticks Came Up With the Same Measurement
The BLS uses different formulas to calculate the jobless rate in America. The most common — and the one people refer to when they talk about the "unemployment rate" — is U-3, which counts only unemployed people who are actively seeking work. Since it excludes so many groups — including those who are underemployed and frustrated job seekers who simply gave up — many economists think the more comprehensive U-6 rate tells the truer tale. 
Between January 2021 and January 2022, the U-3 unemployment rate fell from 6.4% to 4% for a decline of 37.5%. The U-6 rate, on the other hand, started at a higher 11.1% and fell to a higher 7.1%, but the percent change was nearly identical — about 36%.
More From GOBankingRates
Methodology: In order to find the unemployment landscape since Biden took office, GOBankingRates sourced, from the Bureau of Labor Statistics, (1) the U-3 unemployment rates for January 2021 and January 2022; (2) the U-6 unemployment rates for January 2021 and January 2022; (3) the states with the highest and lowest unemployment in December 2020 and December 2021, respectively (reflecting the most recently released data); (4) and the ten states with the highest unemployment rate change over a 12-month period. All data were collected on and up to date as of February 4, 2022.
Make Your Money Work for You