The Unsettling Truth About Buy Now, Pay Later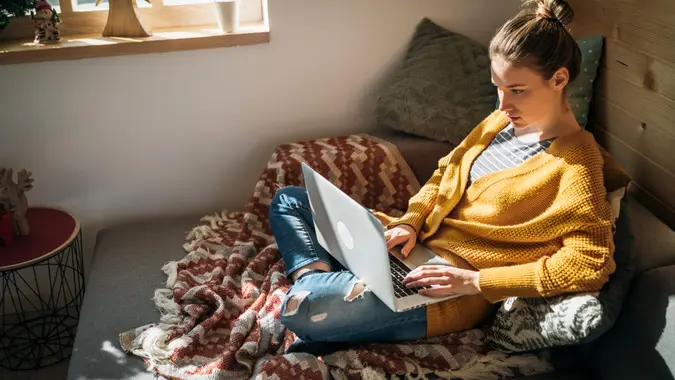 hobo_018 / Getty Images
Logos from services like Afterpay and Affirm are now familiar sights when shopping online. You'll see them alongside offers to spread out your purchase into interest-free payments with no credit check, or a soft pull at most.
You won't see them until you're at your most vulnerable moment — with the product in your shopping cart at the point of checkout when you're on the fence about whether or not to click "buy."
For millions of shoppers, the allure of buy now, pay later (BNPL) is all the persuasion they need to spring for the golf clubs, the sundress, the sneakers, whatever.
The concept has revolutionized e-commerce and given new financial leverage to people who don't have or don't want to use traditional credit. Considering all the upside, you might be asking yourself the same question as countless other curious consumers: Should I do buy now, pay later?
Its simplicity, absence of interest charges and souped-up purchasing power is tempting, indeed, but before you take the bait, consider the hidden financial pitfalls.
The False Perception of Affordability
BNPL offers a convenient and accessible way to defer the full cost of the things you buy. It's not inherently dangerous — responsible shoppers take advantage of it every day. The problem is that it can create the illusion that you have room in your budget for things you can't truly afford.
Make Your Money Work for You
You might not want to spend $80 outright on something you don't need, but interest-free payments of just $20 every other week can make that same purchase feel well within reach. The problem is that after the first installment, the subsequent payments make each of your next three paychecks $20 lighter.
One such purchase might not leave a mark, but when BNPL is your go-to method at checkout, it becomes easy to lose track and those dings to your paycheck become major dents.
BNPL Makes It Easy To Get in Over Your Head
BNPL is a quick and easy way to expand your buying power when shopping for something that you might not be able to afford outright — too easy, perhaps. Its detractors caution that pay-in-four loans can encourage impulse shopping, particularly among the youngest and least seasoned consumers who are most likely to use it.
A recent survey from Lending Tree found that nearly 70% of BNPL users report spending more than they would have if they had to pay in full upfront. Even more unsettling is that more than 4 in 10 people who took advantage of BNPL loans report making at least one late payment.
In Terms of Your Credit, It's All Risk, No Reward — For Now
BNPL doesn't deliver the benefits that consumers reap when they use their credit cards responsibly. Credit card issuers report regular on-time payments to the major bureaus, which boosts your score and makes you a more attractive borrower to prospective lenders.
Most BNPL services, on the other hand, don't report on-time payments, which means your responsible use of BNPL loans doesn't appear in your credit report or help your score. But according to CNET, your credit can suffer if you miss payments, the same as it would with a credit card — and when that happens, BNPL late fees tend to be much higher.
Make Your Money Work for You
For now, BNPL gives you all the downside of revolving credit and none of the benefits, but that could soon change. According to CNBC, all three credit bureaus have stated that they intend to factor so-called point-of-sale financing into their future credit reporting models.
BNPL Could Be Getting Young Adults Off to a Bad Start
The Lending Tree study shows that BNPL is making major inroads with older sets, including Gen X and even baby boomers — but Gen Z and millennials are now and have always been the target audience.
According to CNBC, BNPL providers have set their sights on college students, recent graduates and other young adults from the very beginning. It's the demographic that is least likely to have an established credit history, least like to be financially literate and most likely to be suspicious of traditional financial institutions. They're also the ones who keep tabs on viral fashion fads and other trend cycles that bombard them on TikTok and Instagram.
This fact is not lost on BNPL marketers who encourage spending by advertising their services on social media alongside whatever's trending, detailing how viewers could spread their payments out should they choose to buy.
And choose to buy, they often do.
More From GOBankingRates