These 5 US Cities Have Been Most Affected by Inflation — and They're Not in New York or Hawaii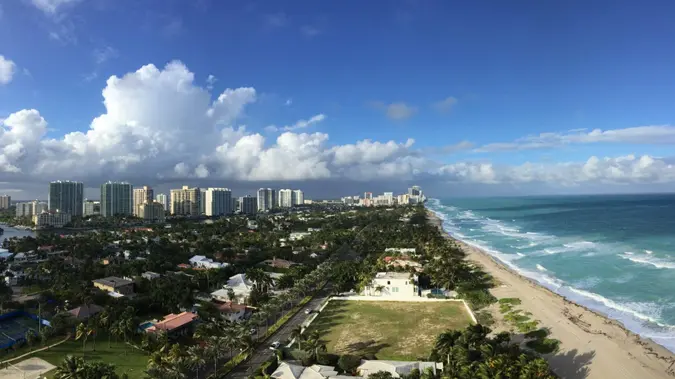 jmsilva / Getty Images/iStockphoto
Consumers tend to focus more on economic and financial issues that garner the most media attention and impact all Americans. When the annual inflation rate jumped to a 40-year high of 9.1% in June 2022, it took center stage, stoking consumer concern, heightening investor anxiety and leading the Federal Reserve to step up its fight against inflation through raising benchmark interest rates.  
However, inflation percentages in U.S. cities differ dramatically from each other and can trend much higher than the national rate. In a recent survey, WalletHub took Consumer Price Index (CPI) metrics from 23 metropolitan statistical areas (MSAs) to see how inflation is affecting people in different cities.
Major MSAs typically experience higher inflation rates than rural areas because they are popular destinations for those looking to relocate or visit. Due to the number of newcomers and tourists who flock to the state, Florida areas often have to endure especially high inflation.
The tri-city area of Miami-Fort Lauderdale-West Palm Beach easily topped WalletHub's "Changes in Inflation by City" survey, tallying a high two-month CPI increase of 1.2% and an even higher year-over-year August increase of 7.8%. Miami regularly ranks as the most popular destination for people looking to relocate and suffers from steep consumer goods prices.
"Housing accounts for about 40% of the CPI, and it's the biggest pricing differential across metro areas," Gus Faucher, chief economist at PNC Financial Services Group, told CNBC Make It. "We've seen much stronger house price growth in Miami, so that means higher inflation there relative to other areas that have more stable housing markets."
Make Your Money Work for You
Surprisingly, when WalletHub used weighted statistics to find the U.S. metropolitan areas that round out the top five cities most affected by inflation, it found none in the expensive states of Hawaii and New York, where housing costs are high but markets are perhaps not as hot as elsewhere. Although Tampa dropped out of Zillow's "10 Hottest Housing Markets for 2023," Florida hot spots Miami and Jacksonville made it, but no cities from New York or Hawaii did.
The 5 US Cities Most Affected by Inflation
1. Miami-Fort Lauderdale-West Palm Beach, Florida
2-month CPI change: 1.2%
1-year CPI change: 7.8%
2. Tampa-St. Petersburg-Clearwater, Florida
2-month CPI change: 1.1%
1-year CPI change: 6.7%
3. Riverside-San Bernardino-Ontario, California
2-month CPI change: 1.4%
1-year CPI change: 4.9%
4. San Diego-Carlsbad, California 
2-month CPI change: 1.3%
1-year CPI change: 4.7%
5. Atlanta-Sandy Springs-Roswell, Georgia
2-month CPI change: 1.1%
1-year CPI change: 4.4%
More From GOBankingRates