Where Vice President-Elect Harris Stands on Top Economic Issues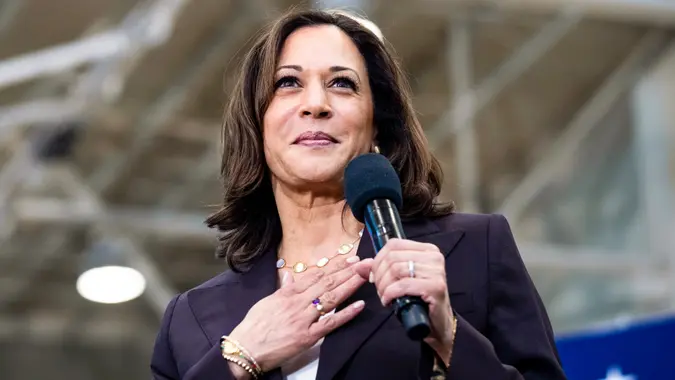 ETIENNE LAURENT/EPA-EFE / Shutterstock.com
Kamala Harris will officially be sworn in as vice president of the United States on January 20th. As she prepares to make history as the first woman, first woman of color and first Asian American to serve as either vice president or president, and the first Black American to serve as vice president, take a look at where she stands on top economic issues.
Find Out: What Will Joe Biden's Inauguration Cost? 
Harris' economic platform has focused on helping the middle class. She has proposed the LIFT the Middle Class Act, which would provide middle- and lower-income working families with a tax credit of up to $6,000 a year to help them keep up with living expenses, CNN reported. Harris has also supported raising taxes on the richest top 1%, and would like Trump's 2017 tax reform act to be repealed, Bloomberg reported.
During her presidential run, Harris also announced a plan aimed at reducing the racial gap in homeownership, The New York Times reported. The plan included $100 billion dedicated to helping black families and individuals buy homes in historically redlined communities.
Harris has pushed for more stimulus aid, most recently voicing her support for President-elect Joe Biden's proposed coronavirus relief bill.
Make Your Money Work for You
"We've called it the American Rescue Plan because right now we see a lot of folks need to be rescued," she told NPR. "That's why we have the direct payment. It's gonna supplement the $600 that came in December with another $1,400 for $2,000 [total]. That's why we are expanding SNAP benefits — we used to call it food stamps. It's about getting support to hungry people and hungry families."
Harris said that passing the proposed bill would be her and Biden's "highest priority."
She has also proposed a comprehensive Medicare for All plan that would cover all medically necessary services, and that allows private insurers to be part of the system. Under Harris' healthcare plan, she said that taxes would not be raised for any household earning less than $100,000.
More From GOBankingRates
Last updated: Jan. 19, 2021
Make Your Money Work for You