Warren Buffett's Advice to Investors: 'Incredible Period' for America's Economy Is Ending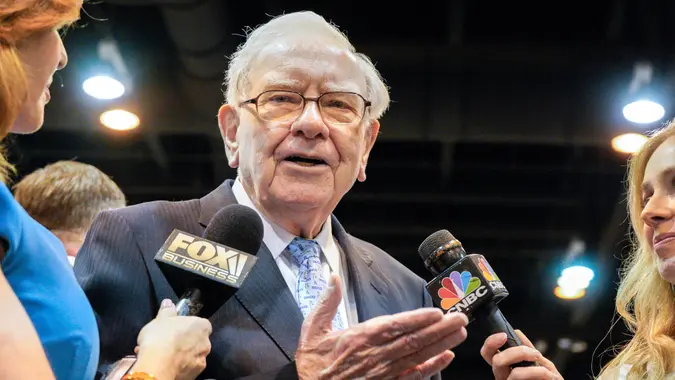 Nati Harnik/AP / Shutterstock.com
As economic indicators shift, even seasoned investors like Warren Buffett are adjusting their outlook. In a recent announcement, the famed investor known as the "Oracle of Omaha" voiced his concerns about the state of the U.S. economy.
During Berkshire Hathaway's annual meeting, he noted that the "incredible period" of growth for the U.S. economy is coming to an end, reported Max Reyes and Bloomberg for Fortune — and that most of the company's businesses would likely score much lower earnings this year compared to the previous year.
Buffett's cautionary comments stand in stark contrast to his typically optimistic stance on the U.S. economy. So, what's changed? A combination of persistently high inflation, rising interest rates, and an ongoing banking crisis have made Buffett and his longtime business partner, Charlie Munger, more cautious about the potential for investment gains in the coming year. "Get used to making less," Munger remarked.
Despite their pessimism, neither Buffett nor Munger are advocating for a complete retreat from the market. Instead, they suggest a few strategies for investors looking to navigate the shifting economic landscape.
Diversify with Recession-Resistant Assets
Certain service sectors remain relatively insulated from broader economic turbulence. These industries are typically supported by a wealth of tangible, recession-resistant assets that maintain their value even during periods of inflation.
For instance, Caretrust REIT (CTRE), a real estate investment trust, owns and operates healthcare properties across the U.S., offering a potential hedge against economic downturns. With over 21,795 hospital beds across 23 states and 204 properties, Caretrust serves as a loose proxy for America's private healthcare industry. As an added bonus, the stock currently offers a 5.56% dividend yield, making it an attractive option for investors seeking stability during a recession.
Make Your Money Work for You
Consider Commercial Real Estate
Commercial real estate has historically offered robust returns, outpacing the S&P 500 over a 25-year span. Although this investment category has traditionally been reserved for the ultra-wealthy, new platforms are democratizing access to commercial real estate opportunities. By investing in this asset class, individuals can gain exposure to institutional-quality properties leased by well-known brands like CVS, Kroger, and Walmart, and enjoy stable, grocery store-anchored income each quarter.
Explore International Stocks
As the likelihood of a U.S. recession in 2023 increases, investors may want to consider diversifying their portfolios with foreign stocks. While developed markets like the U.S., Britain, France, New Zealand, and Canada face higher recession risks, developing markets are generally less vulnerable. For example, a recent Bloomberg survey of economists found that India's odds of experiencing a recession in 2023 are virtually nil.
Investors can gain exposure to foreign markets through a variety of channels, including ETFs and American Depositary Receipts. HDFC Bank, India's largest private bank, is listed on the New York Stock Exchange under the ticker HDB. Since its listing in 2001, the stock has delivered a total return of over 4,300% and demonstrated resilience during the 2008 financial crisis.
Keep Cash on Hand
Given Berkshire Hathaway's impressive cash reserves of $130 billion at the end of Q1, it's evident that Buffett's preferred asset at the moment is U.S. treasury bills. In light of rising interest rates, maintaining a healthy cash balance could be a prudent move for retail investors as well.
Make Your Money Work for You
Creative cash management strategies, such as Apple's new high-yield savings account, offer an enticing 4.15% annual percentage yield. This rate is reportedly ten times higher than the national average, surpassing the dividend yield on the S&P 500 and even a five-year U.S. treasury bond.
In the face of economic uncertainty, cash remains a reliable and flexible asset. As Buffett's actions suggest, cash truly is king in 2023.
Editor's note: This article was produced via automated technology and then fine-tuned and verified for accuracy by a member of GOBankingRates' editorial team.
More From GOBankingRates