What Are HUD's 7 Major Programs?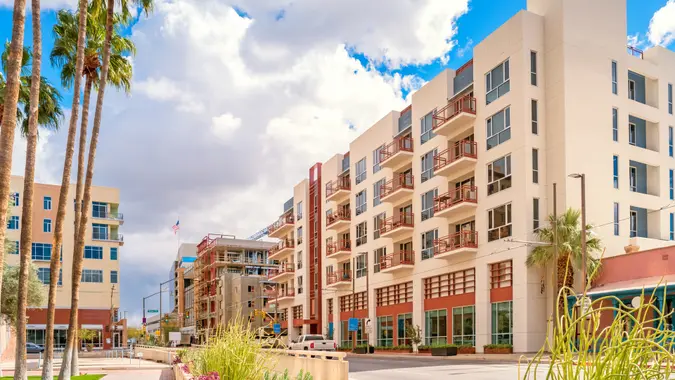 benedek / Getty Images/iStockphoto
With more than 7,000 employees and a budget of $68.7 billion, the United States Department of Housing and Urban Development (HUD) is an executive Cabinet department whose secretary reports directly to the president.
See: 10 Ways To Lower Your Cost of Living Without Moving
Important: You May Be Spending Too Much on Medicare if You're Not Using These Programs
In 2021, HUD created a massive task force involving 15 different federal agencies to root out discrimination in the home appraisal process. HUD also launched a program to build 20,000 new affordable housing units and to rehouse 100,000 people experiencing homelessness. The department was instrumental in preventing evictions nationwide during the pandemic, and it created a $5 billion plan to prevent vulnerable families from falling into homelessness.
HUD did all of that and a whole lot more in 2021 alone through these seven programs.
FHA Mortgage Insurance
If you're considering buying your first home, you've probably heard of FHA loans. That refers to the Federal Housing Administration, which is a division of HUD. FHA doesn't lend money directly, but it provides federal insurance to guarantee loans that FHA-approved lenders issue to qualifying homebuyers. If a borrower defaults on an FHA loan, the FHA will pay a claim to the lender for the principal balance.
Make Your Money Work for You
This guarantee reduces the risk to lenders, which allows them to issue loans to borrowers with credit scores and down payments that would otherwise be too low to qualify.
Community Development Block Grants
HUD's Community Development Block Grant (CDBG) program provides yearly funding not to borrowers or lenders, but to cities, counties and states. The grants fund community development, neighborhood redevelopment and community services throughout all 50 states.
The formula that HUD uses to portion out the funds is based on factors like a location's population size, level of poverty, age of housing, level of overcrowding and growth lag.
By law, recipients must use at least 70% of the grant for activities and programs that benefit low- to moderate-income residents.
Related: New Report Finds Medicare Insufficient To Cover Mental Health Concerns of Retirees
HOME Investment Partnerships Program
HOME provides annual formula grants to states and localities for use in communities, often through partnerships with local nonprofits. It is the largest federal block grant designed specifically for the creation of low-income housing.
The grant provides things like direct rental assistance to low-income households and funds the purchase, construction and rehabilitation of properties to serve as affordable housing both for homeowners and renters. HOME funding is especially useful because of its flexibility. Recipients are free to use it according to the specific needs, issues and priorities facing the communities that the grant will benefit.
Make Your Money Work for You
Section 8 Housing Choice Vouchers
HUD also runs the federal housing choice vouchers program, which assists vulnerable populations like the elderly, disabled and very low-income households in securing safe and sanitary housing.
Although they're funded by the federal government, housing choice vouchers are administered by public housing agencies at the local level. Recipients then find their own housing, which can be their current residence or any qualifying apartment, townhouse or single-family home — contrary to popular belief, vouchers are not limited only to units in subsidized public housing complexes.
Public or Subsidized Housing
About 970,000 households live in public housing in the United States. About 3,300 housing authorities manage those nearly 1 million rental units — and it's all financed through funding from HUD. The agency also provides technical and professional expertise in planning, developing and managing the units.
The program is for low-income people and households only, but gross income is only one qualifying factor. Things like immigration status, whether you qualify as elderly or disabled and whether you're an individual or a family also weigh into an applicant's eligibility.
Make Your Money Work for You
Faith-Based and Nonprofit Homeless Assistance
HUD directs funding to homeless-assistance programs through a vast national network of nonprofits and faith-based organizations. HUD's Office of Special Needs Assistance Programs (SNAPS) supports competitive homeless programs like Continuum of Care and Shelter Plus, formula programs like Emergency Solutions Grants Programs, and other programs that support veterans and other specific populations.
HUD runs the Center for Faith-Based and Neighborhood Partnerships to cultivate and maintain relationships with the organizations that use HUD funding to support and rehouse the people they serve.
Fair Housing Initiatives Program
HUD's Fair Housing Initiatives Program (FHIP) directs funding to a network of nonprofits and other organizations that advocate for equitable housing. The organizations use HUD money to connect people who might have experienced housing discrimination with the agencies that field complaints and enforce the law. They also conduct preliminary investigations, including sending "testers" in to try to rent or buy from landlords or sellers accused of discrimination.
There are four FHIP initiatives, the first three of which provide funding:
The Fair Housing Organizations Initiative (FHOI)
The Private Enforcement Initiative (PEI)
The Education and Outreach Initiative (EOI)
The Administrative Enforcement Initiative (AEI)
More From GOBankingRates
Make Your Money Work for You