What Do Retail Sales Mean for the Economy?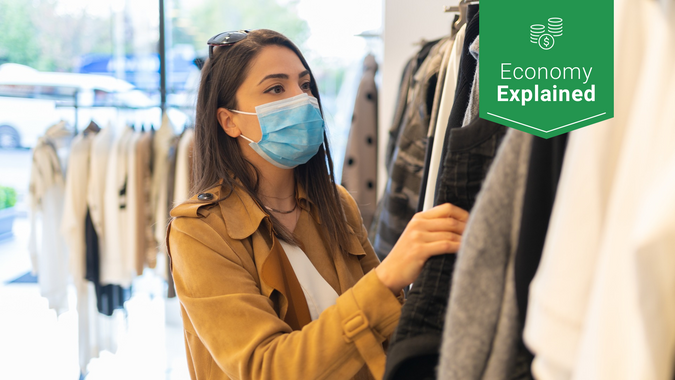 aquaArts studio / iStock.com
In America, you can tell a lot about how things are going by how much stuff people are buying. Every month, the Census Bureau releases its retail sales report, which tracks changes in the purchase of finished goods. Another term for the purchase of finished goods is consumer spending. Since consumer spending accounts for two-thirds of all U.S. economic output, it's an important metric, to say the least.
Economy Explained: What Is the Consumer Confidence Index and How Does It Affect Me?
Find Out More: What Is Durable Goods Spending and What Does It Signify?
What Kinds of Businesses Are Included in Retail Sales?
One of the reasons retail sales is such a reliable indicator is that it includes data from so many scattered corners of the economy. The monthly Census Bureau report includes sales figures for: 
Apparel stores

Furniture stores

Electronics and appliances stores

Stores that sell food and beverages

Gas stations

Car dealerships
See: Understanding US Productivity and All the Ways It Affects You
Make Your Money Work for You
There are actually two reports. One includes everything listed above and the other omits vehicle and gas sales. The reason for the split is that cars are so expensive, their sales patterns are so seasonal and gas prices are so volatile that their inclusion can skew the index's true results. 
The Index Lets Analysts Take the Economy's Temperature
Retail sales numbers give analysts a feel for the economic climate in the country over a given time period. When money is tight or people are afraid it soon will be, they put off purchasing washing machines, sports jackets and new electric toothbrushes, and instead enlist a roll of duct tape to make the garden rake and patio table last one more season. When wages are rising, savings accounts are growing and people are optimistic and confident, Americans do what they've always done when they're up a little — they go shopping.
Find Out: What Is the GDP – and What Does It Have to Do With You?
In short, the retail sales index tells economists about: 
The overall health of the economy

Consumer demand for finished products

Whether the economy is expanding or contracting

Likely trends in the unemployment rate

Trends in corporate earnings, and therefore stock prices 

Manufacturing activity levels 
Everybody Loves Strong Retail Sales — Except…
Generally speaking, things are good when people are buying stuff for themselves and for their families — or in economist speak, when consumer spending and retail sales are strong. For one very important class of investors, however, strong retail sales aren't always good — bondholders. When the economy is booming and retail sales are strong, inflation rises and bond prices drop. 
Make Your Money Work for You
Read: What Do the New Home Sales Reports Mean and What Is Measured?
Retail Sales and the Economy in Summary
Retail sales are one of the most important and reliable economic indicators. As a leading indicator — as opposed to lagging — it can help economists predict likely changes in future economic trends. Retail sales can tell whether the economy as a whole is on the right track or not. When retail sales are strong, the economy is expanding and the GDP is growing. When retail sales falter, everybody loses except bondholders.
More From GOBankingRates
Last updated: March 23, 2021