What Experts Are Predicting for the Endgame of the Global Interest Rate Hike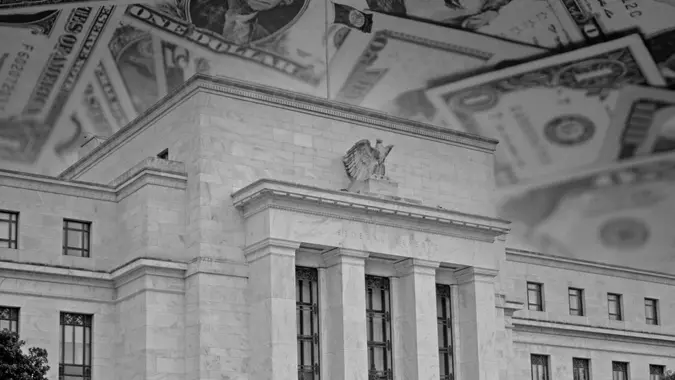 Douglas Rissing / Getty Images/iStockphoto
With the goal of cooling inflation, the Federal Reserve has stepped in to raise interest rates — though there's been a slight reprieve as of late. On June 14, the Fed opted not to raise interest rates, but indicated that two more hikes are probable this year in a continued effort to fight inflation.
But could the endgame of high global interest rates be nigh? Some experts say yes.
Here's why.
Right now, yields on U.S. and German 10-year bonds are trading substantially beneath the rate on two-year securities. On Friday, the Treasuries curve's inversion reflected levels near what was seen in early March, before the U.S. banking crisis. According to Bloomberg, two-year U.S. yields rose four basis points to 4.68%, outpacing the 3 basis point advance in 10-year yields to 3.74%.
What does any of this matter?
The concern is that spiking interest rates will devastate economies and call for rushed policy reversals as consumer price growth takes a dive.
This economic anxiety may have been prompted recent headlines which indicated New Zealand, which has been practicing global tightening just recently, reported that output shrank in Q4 2022 and again in Q1 2023.
The European Central Bank (ECB) knows this anxiety all too well. As Bloomberg highlighted, twice in the past 23 years ECB has aborted rate-hiking initiatives that are now thought to be policy errors.
All signs point to confusion, and perhaps skepticism as to the market's long-term vitality.
Make Your Money Work for You
Bloomberg's Craig Stirling, Alice Atkins and James Hirai put it best:
"When long-term rates are lower than shorter-dated maturities it often suggest [sic] traders expect central banks will have to lower rates in the coming years, as a recession eventually bites and allows inflation to ease."
David Wilcox of Bloomberg Economics (and a former Fed official) reiterated the possibility of eventual recession, pointing to recent uptick in joblessness.
"It's clear that a wide range of outcomes is plausible, from essentially no increase in unemployment — so-called 'immaculate disinflation' — to a recession of moderate severity."
The U.S. economy appears stuck between a rock and a hard place. Inflation could force the nation into relative poverty, or high interest rates could combat inflation but lead to a recession — a recession that may be global in scope.
More From GOBankingRates