What Is the Economic Cost of America's Care-Worker Crisis?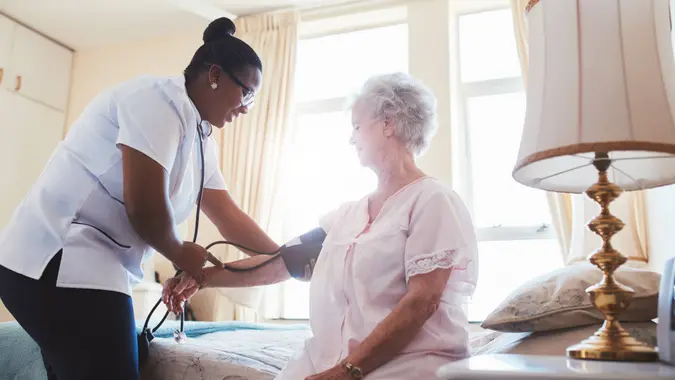 ©Shutterstock.com
Much has been written about America's labor crisis, and few fields are struggling more than the care-worker industry. From day care centers and nursing homes to home health aides and crisis center workers, labor shortages are forcing vulnerable populations to go without critical services and forcing families to make grueling decisions about where to put their increasingly limited dollars.
Find Out: 5 Alternatives To Quitting in the Post-Pandemic Great Resignation
Read More: How Companies Can Use the Great Resignation To Transform the Workplace
The care workers who are suffering the most are the countless moms, single dads, aunts, grandparents and siblings who do the difficult and emotionally taxing work of caring for people who can't care for themselves thanklessly and without pay in their own households.
The emotional toll of the care-worker shortage can't be quantified, but the economic impact can be measured in dollars and cents — and the consequences of the crisis are just beginning to come to light.
Make Your Money Work for You
The Healthcare Industry Is Watching Its Revenues Plummet
The direct costs of the care-worker shortage are the easiest to quantify — and the results spell bad news for the $3.8 trillion healthcare industry, which accounts for nearly 18% of America's gross domestic product, according to the Centers for Medicare and Medicaid Services.
"The lack of care workers will not only have social and health repercussions, but also economic ones," said Abe Breuer, a New York State EMT, a 911 volunteer and the CEO and owner of VIP To Go. "The pandemic has led to a severe shortage of care workers across the globe. This lack of care workers has led to overcrowding in hospitals, nursing homes, and daycares. With the pandemic still ongoing, overcrowded and understaffed hospitals have stopped all elective procedures, which make up a huge chunk of hospital revenue. The U.S. healthcare industry's annual revenue of $2.6 trillion dollars is expected to fall this year due to these events. The American Hospital Association estimates a financial impact of $202.6 billion in lost revenue for America's hospitals and healthcare systems."
Dream of Living Abroad? These 8 Countries Make It Easy To Work Remote
The Cost of Care Is Rising — and Parents Are Running Out of Options
While revenue is falling, the cost of hiring, training and retaining care workers is climbing as demand soars in an already tight labor market. The result is that many parents who were already struggling to meet the notoriously high costs of child care have been forced to become their own care workers.

"Due to this shortage, the price for care workers has increased drastically, so many parents have to reduce their work hours to care for their children," Breuer said. "Daycares have been forced to shut down in many cities due to the stringent COVID restrictions, further straining the care industry."
Make Your Money Work for You
Check Out: 10 Unexpected Jobs You Can Do From Home
The hardest-hit families — those with young children and aging parents — are being forced to burn the candle from both ends.
"Some parents will be forced to stay at home to take care of their children due to a shortage of childcare workers," said Nikki Attkisson, CEO of Powdersville Post, the flagship publication of the South Carolina Media Group. "Alternatively, some children will also be forced to stay at home to take care of their elderly parents as personal caregivers become harder to find."
In fact, the strain on adult children caring for elderly parents was magnified from the start of the virus. For many families and the economy at large, the pressure never let up.
"In the pandemic, nursing homes were among the most affected by this shortage," Breuer said. "Most of the staff either quit or had to be limited due to the at-risk nature of the elderly. All of this has led to a direct increase in unemployment levels and contributed greatly to inflation in medical services."
Make Your Money Work for You
The Ripple Effects Are Hurting Businesses in Other Industries
With an increasing number of parents forced to leave work to take care of their kids and/or parents, businesses that are completely unrelated to the care industry are feeling the pinch — and Breuer's own company is living proof.
"With schools shutting down and a shortage of childcare workers, even some of my best employees had to either cut down their job hours or even leave the job," Breuer said. "This not only thwarted the efficient operations of my company but also led to extra costs of hiring and training new employees. This is not just the story of my business, but the story of businesses across the world and it is leading to an economic recession throughout the world."
See: 24 Tips To Change Your Career and Land Your Dream Job

Women and the Poor Will Bear the Heaviest Burden
From the start of the pandemic, women carried more than their share of the economic hardship and were forced out of the labor market at a higher rate than men. As the care-worker crisis intensifies, little has changed.
"Despite the recent advancements we've had in diversity, equity, and inclusion, gender equality still has a long way to go in this country," Attkisson said. "As this trend of people being forced to stay at home ensues, we are bound to see it affect women disproportionately than men as more women would feel the pressure of being the one who stays at home to take care of the kids or elderly parents, as the case may be."
Make Your Money Work for You
If few people were surprised to find that women were bearing a disproportionate burden, even fewer would be shocked to learn that low-income families are again in the familiar position of getting the worst of a bad situation.
"This also affects people differently along socioeconomic lines," Attkisson said. "As the care-worker crisis continues, it will become a more competitive space, and providers are bound to increase the price of personal care. This means the poorer sections of the population will, again, be disproportionately affected by the crisis."
More From GOBankingRates