When Will Airfare Land at More Affordable Prices?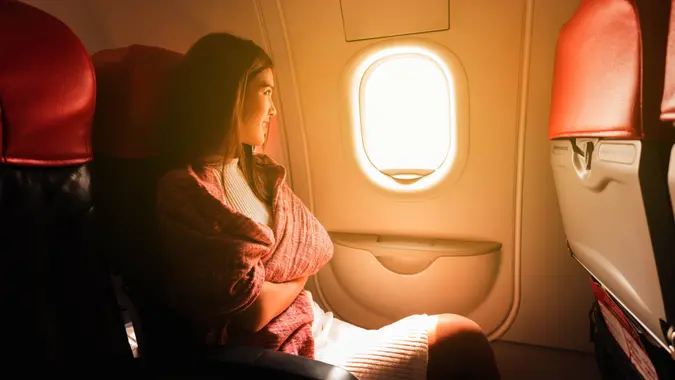 Vasin Lee / Shutterstock.com
Airfare prices have soared to nearly unfathomable heights — up 42% in September 2022 from September 2021. 
Student Loan Forgiveness: Mark These 4 Dates on Your Calendar Now
Check Out: States Whose Economies Are Failing vs. States Whose Economies Are Thriving
What is driving this astronomical surge in pricing and when can we expect the climate around airfare to cool down?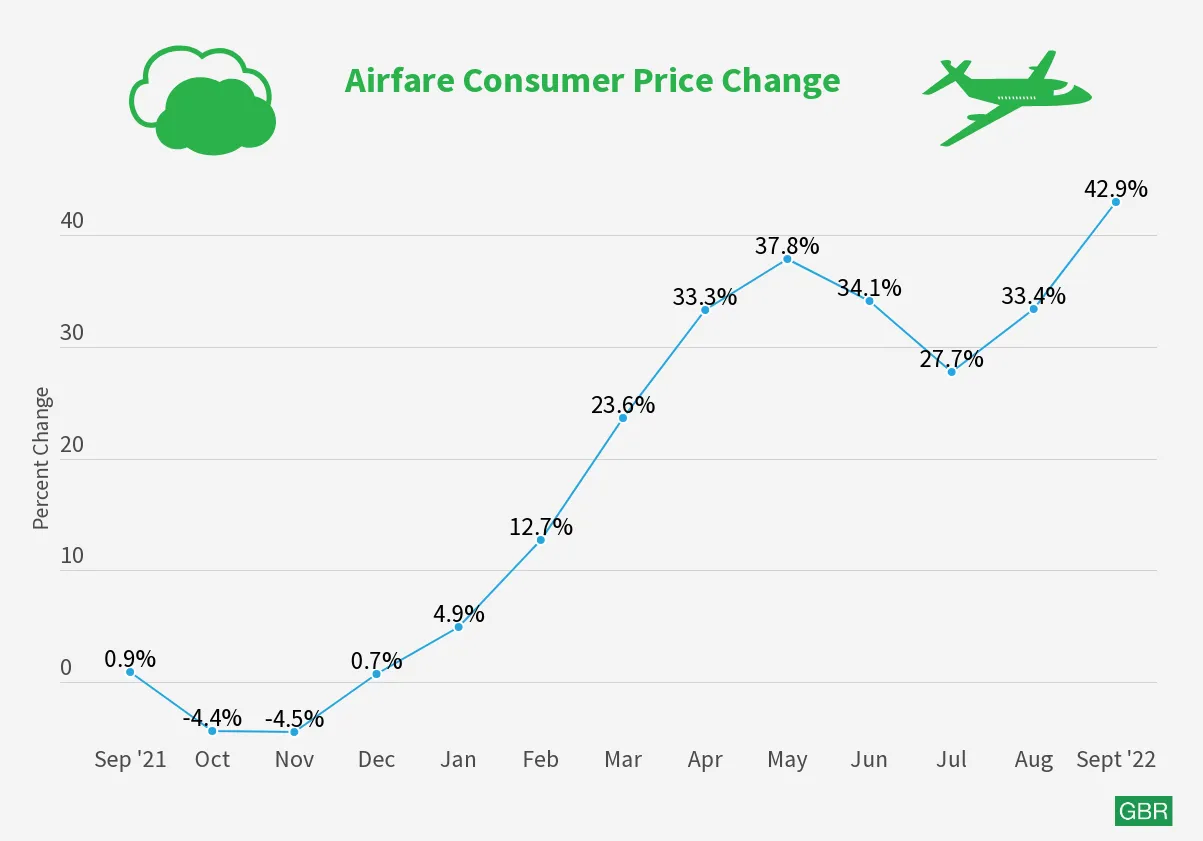 When Will Things Improve? 
Various problems the airline industry is facing are driving up prices and they aren't easy or quick fixes. 
"When the Covid Pandemic first began, and the world ground to a halt, most predictions suggested that it would be 2022 or 2023 before the aviation industry recovered fully," said Roger Broussard, founder and CEO of Pilot School Hero. "Unfortunately, even these predictions look to have been a touch optimistic — for various reasons, including the ongoing effects of Covid in China and disruptions to supply chains, the industry's recovery has been slower than expected.
"Airlines are expecting next year to be another year of recovery, and while that is the case, prices can be expected to remain high. I would expect that it will be the middle of 2024 at the earliest before any real sense of 'normality,' if that even exists anymore, returns to the industry, though problems will persist." 
Now that you know when to possibly expect lower prices, keep reading to take a closer look at the specific issues causing the high prices.
Make Your Money Work for You
Take Our Poll: How Long Do You Think It Will Take You To Pay Off Your Credit Card Debt?
High Demand 
Part of what is driving the spike in prices is high consumer demand. 
"In a normal year, the busy season for travel will be times like spring break, summer, and around winter holidays in the U.S, all of which see increased air fares during those times," said Julie Ramhold, consumer analyst with DealNews.com. "This year, it may have been exacerbated with more demand than usual as more pandemic-related restrictions were lifted and more people could — and wanted —  to travel again. Because of that, rates were already higher, and since the travel industry has been trying to recoup costs from the last two years, there's been no real reason for them to offer discounted rates."
Fuel Prices
"Jet fuel prices are high right now, which is resulting in higher airfare prices," said Justin Crabbe, CEO of Jettly. "This is because airlines pass on the cost of fuel to their customers through higher ticket prices. So, if jet fuel prices rise, we can expect to see a corresponding increase in airfare."
Unfortunately, fuel prices aren't going down; in fact, we're now up against a dire diesel shortage in the U.S. 
Getting Planes Up to Speed 
"Many airlines had their aircraft in hibernation during the past few years," said Dianne Hall, founder and CEO of GoWalkAbout Travel Ltd. "It costs a lot of money to bring those aircraft back into the skies. It is not just the case of starting them up again. They must have complete mechanical checks and re-training pilots and other staff. A tremendous amount of work is involved, and it all costs money."
Make Your Money Work for You
Route Changes
"Airlines have outright removed some routes and adjusted others, and that means they don't have the same level of supply to meet the demand they may see," Ramhold said.  
Staff and Plane Shortages
"The biggest constraints at the moment are a shortage of planes (some airlines are only receiving about two-thirds of expected new aircraft) and pilots to fly them," Broussard said.
More From GOBankingRates
Make Your Money Work for You