Why Is the US Short on Everything?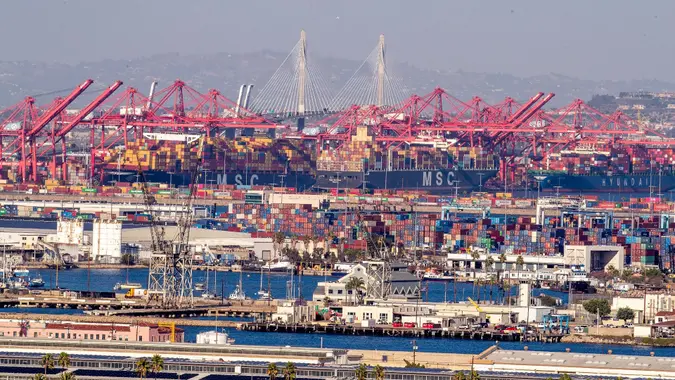 Allen J Schaben / Los Angeles Times / Shutterstock.com
When it comes to the supply chain, the U.S. — and indeed, the world as a whole — is experiencing a perfect storm. Evidence of a bottleneck of goods is everywhere you look, from shipping delays for items you purchase online to the hundreds of container ships just waiting for a chance to unload their cargoes at U.S. ports. There isn't a single issue causing these delays, but rather a complex intertwining of a myriad of factors. Here are just a few of the conditions that are creating shortages in the U.S. at the present time.
See: Expect All-Time High for Holiday Sales Despite Supply Chain Issues and Labor Shortages
Related: As Anxiety at the Grocery Store Mounts, Over Half of US Shoppers Demand Supply Chain Transparency
Demand
In spite of the effects of the coronavirus pandemic, the U.S. economy has actually been doing quite well in 2021, and the state of the U.S. consumer is solid. As part of the $4 trillion the U.S. government poured into the economy during the pandemic, Americans received about $804 billion in stimulus checks directly, while unemployment benefits reached $567 billion.
Americans used some of this money to pay down their credit card debt, to the tune of over $100 billion, putting them on more solid financial footing. Many Americans have also benefited from the huge jump in home prices, granting them access to additional equity. Combined with pent-up demand from stay-at-home orders during the pandemic, Americans have both the money and the desire to buy products, putting tremendous demand on the supply chain. 
Make Your Money Work for You
Find Out: How To Avoid Supply Chain Issues Interfering With Your Holiday Shopping
Microchip Shortage
Increased demand is OK for an economy if there is enough supply to meet it. Unfortunately, a number of factors are restricting the supply chain. Perhaps none is as important as the microchip shortage. 
East and Southeast Asia are prime manufacturing spots for microchip manufacturing, and that region of the world has been hit particularly hard by the Delta variant of the coronavirus. This has resulted in numerous factory shutdowns, crimping the supply of microchips. And while you might think that microchips are just for high-tech companies and businesses, they're actually necessary for many modern consumer goods, from smartphones to appliances to automobiles. The chip shortage has an incredible ripple effect, slowing production in a vast number of consumer goods as companies can't get enough chips to make enough products to match the demand.
Read More: Supply Chain Crisis Builds as Retailers Overorder to Meet Growing Consumer Demand

Shortage of Workers
At the same time microchip production is slowing, America is facing a huge shortage in workers, especially port workers, truckers and shippers who move goods across the country. According to the Minnesota Trucking Association, the country is currently experiencing a shortage of about 60,000 drivers. Additionally, the country as a whole is facing a worker shortage in a wide variety of industries, thanks to another complex set of factors. Older workers are retiring early, while younger workers are leaving their jobs with surprising rapidity, along with making demands for perks like flexible work. Add it all up and according to the U.S. Department of Labor, there were 10.4 million job openings in August while 4.3 million people left their jobs, the highest rate since December 2000. Fewer workers means a slowdown in production and distribution for a wide variety of businesses. 
Make Your Money Work for You
Tips: Don't Let Inflation Bust Your Holiday Shopping Budget

Backed-Up Ports
In October, the backlog of container vessels waiting to be unloaded at Southern California ports reached a record high. More than 100 vessels with thousands of containers are still waiting to be unloaded at their destination ports of Los Angeles and Long Beach, and the slowdown is expected to stretch into 2022.
In addition to the lack of workers, the dynamics of the shipping containers themselves is causing backlog problems. Shipping prices for containers from Asia to Los Angeles have gone up by at least sixfold in the last year, in some cases by even more. This has led to an odd situation in which some companies are shipping empty containers to Asia, meaning goods remain on rail cars or in trucks here in the U.S., creating further delays.
Important: Why Do We Spend So Much Each Year on Holiday Shopping?
USPS Slowing Deliveries
Just at a time when U.S. shortages are ramping up and the supply chain is choked, the U.S. Postal Service has thrown yet another wrench into the works. As of Oct. 1, the USPS announced that it would be slowing its delivery by one or two additional days in most areas. This slowdown was expected to affect states on the West Coast most of all. The U.S. Postmaster General is making these changes to cut costs, but the effect is going to exacerbate the shortages the country is experiencing. 
More From GOBankingRates
Make Your Money Work for You
Last updated: Nov. 3, 2021