Why People Are Struggling To Pay Utility Bills — and How To Make It Easier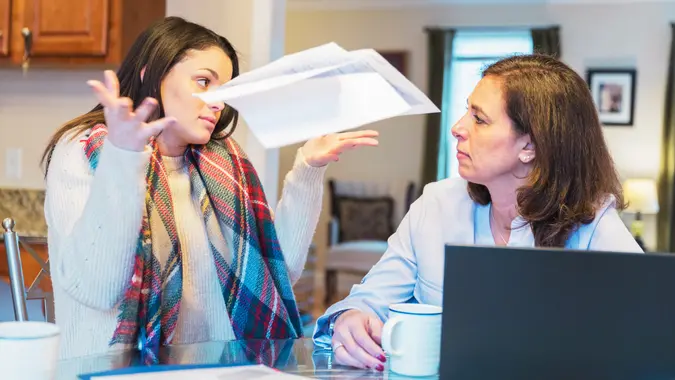 GCShutter / iStock.com
Inflation hit hard in 2022, with the CPI increasing 9.1% in June — the largest 12-month increase since November 1981. Although inflation is cooling somewhat now, prices remain high, and millions of Americans are struggling to make ends meet. The majority are having a tough time paying even their most basic bills.
According to a poll by GOBankingRates, which has garnered nearly 7,000 responses, 82% of people are struggling with paying utilities: 36% are barely paying on time (70% of them were women); 25% are partially behind on payments (74% were women); 21% cannot afford utilities (78% were women); 14% are paying but worried about future bills. 
Why have utilities, a basic necessity, become so unaffordable? 
Why People Are Struggling With the Cost of Utilities 
Inflation is the main reason people are struggling with the cost of utilities. It has raised the price of everything from food to gas (transportation) to housing. Even the price of electricity was lit aflame by inflation — and that one isn't getting tamer.  
Make Your Money Work for You
Take Our Poll: Are You Struggling To Keep Up With Your Utility Bills?
"[Though] the price increases for many items mentioned above are already slowing down after their significant increases, the utilities, especially electricity, are not expected to get cheap anytime soon," said Ohan Kayikchyan Ph.D., CFP, money coach and the founder of Wealth Roadmap. "The electricity bill will continue to become more expensive, as the main fuel for generating it, the liquified natural gas shortage in the U.S., is still an existing issue. 
"Currently, the U.S. is exporting record amounts of liquified natural gas to Europe to replace the previous imports from Russia," Kayikchyan explained. "This issue arose with the war in Ukraine. This situation can possibly worsen more if the war keeps going and China starts to reopen its economy at full capacity. China is the world's largest importer of liquified natural gas.
"But back in the U.S., another reason for liquefied natural gas' high prices is labor shortages and pressure for high wages, which eventually get transferred to utility companies and [then] to their customers' pockets."  
Make Your Money Work for You
Ways To Reduce Utility Costs 
There are a few proven ways to reduce the costs of utilities. 
Get Financial Aid
"Look into assistance programs, such as low-income home energy assistance programs," said Andrew Lokenauth, founder of Fluent in Finance. 
Negotiate With Utility Companies
"Try to negotiate payment plans with utility companies to make bills more manageable," Lokenauth said. 
Use More Energy-Efficient Appliances
"Obviously if you're struggling to pay the bills already, shopping for a new oven or washing machine isn't going to be something that you can realistically afford or even consider," said Julie Ramhold, consumer analyst with DealNews.com. "But if you already have things like an air fryer or countertop oven, and live in a place that has appliances that are especially older, then you may be better off using these smaller counterparts as they'll be more efficient than the larger ones taking up space in your home.
"This is especially true for smaller families where using a large oven may not even be necessary to cook meals if a small countertop appliance can get the job done in the same amount of time." 
Let Your Items Play Double Duty
"If you're having trouble paying for heating, consider letting other appliances play double duty," Ramhold said. "This is when you may want to open up doors in your interior space and use things like the oven and clothes dryer in an effort to let the residual heat of these appliances warm up your space. By doing so, you may be able to cut back on how often you use the heat — or at least be able to keep it lower in an effort to keep costs under control."
Make Your Money Work for You
Use a Humidifier/Dehumidifier Seasonally
"In the winter when things are particularly dry, one way to make your home feel warmer is by using a humidifier," Ramhold said. "This may be an easy way to cut back on heating costs as the heat that you do use will make the place feel warmer. By the same token, in the warmer months, using a dehumidifier to dry things out can make things feel cooler."
Use Insulated Curtains
"Putting up insulated curtains will help in all seasons, because they'll help to trap the heat in the winter and cool in the summer so that your home is more comfortable in general," Ramhold said. "If you don't have to worry about heat or air conditioning escaping, then you'll be able to maintain a more consistent temperature and won't have to run your system constantly."
Seal Up Cracks
"Many older buildings especially may have uneven doors or windows that allow drafts and can make it harder to keep your home warm or cool consistently," Ramhold said, "so by sealing up cracks with weather stripping, you can make your home feel more comfortable." 
More From GOBankingRates
Make Your Money Work for You
Make Your Money Work for You