Wildfires Cost Californians $10 Billion in 2020 — This Year Could Be Worse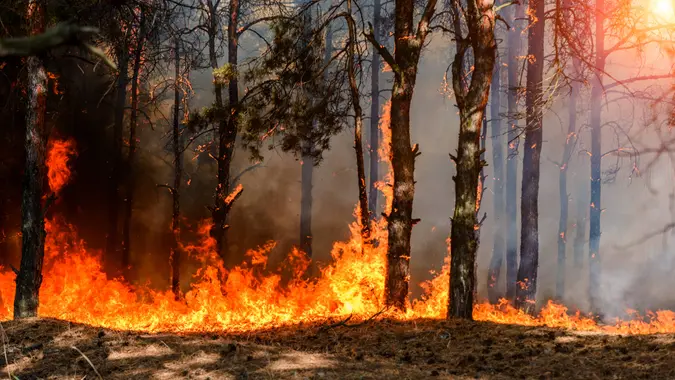 Yelantsevv / Getty Images/iStockphoto
Since 1960, America's five worst wildfire seasons in terms of acres burned have all happened in the last 15 years. Worst of all was 2020, when wildfires incinerated 10.27 million acres across the country. About 40% of those acres were in California, according to the Congressional Research Service.
See: Joe Biden's Plans for the Shocking Costs of Climate Change
Scorched forests, destroyed homes and increasingly high body counts are now an annual ritual in the Golden State. As climate change continues to make wildfire season longer, deadlier and more destructive, it also makes the yearly catastrophe much more expensive.
Calculating the Cost of Wildfires Is a Challenge
According to ABC News, Stanford University experts estimate that 2020's wildfires cost California $10 billion. That includes the $2.5 billion the state spends every year to fund firefighting through the California Department of Forestry and Fire Protection (CAL FIRE).
That's all part of the direct costs associated with wildfires — the cost of fighting them and the cost of the damage they inflict on land and property. Direct costs are fairly easy to quantify, but as The New York Times points out, the indirect costs are often just as high and could be many times higher. They include things like: 
Lost tourism revenue

Reduced property values

Lost tax revenue

Hospital and healthcare bills

The cost of lost business
Make Your Money Work for You
Find Out: How Much First Responders Make in Every State
The Tab Isn't Precisely Clear — But It's Really High and Getting Higher
Wildfires cost California an average of about $1 billion in direct costs every year for the last half-century when adjusted for inflation — but those were the good old days. For three of the last four years, the direct cost of California's wildfires has skyrocketed to more than $10 billion, according to The New York Times — and that doesn't even account for the fact that Californians are simultaneously enduring an incredibly expensive pandemic and record-breaking heatwave.
Read: Here's How Much Cash You Need Stashed If an Emergency Happens
The indirect costs, too, have ballooned to staggering sums. According to University College London, 2018 — the year of the infamous Camp Fire — was the most destructive and expensive fire season in California history.
It cost the country $148.5 billion, or 0.7% of the U.S. GDP.

$45.9 billion was lost outside of California.

The state itself lost $102.6 billion.

Capital and health costs were $59.9 billion.

Economic disruption was $42.7 billion over 80 sectors.
Emergency Budgets Are Soaring
Ascertaining the indirect costs of previous fires is tricky and inexact, and predicting the future is, of course, impossible. But one way to get a gauge on the cost of California's fires is to look at the special reserve of money the state sets aside for dealing with them. 
Make Your Money Work for You
More: Celebrities Who've Donated Big to Social Movements
"The closest I would have to a prediction is the amount requested for the emergency fund in the Governor's Budget," said Christine McMorrow, public information officer for the California Department of Forestry and Fire Protection (CAL FIRE). "The emergency fund is for large incidents so we can deploy extra personnel to assist with those fires."
The fund doesn't tell you how much fires cost the state in a given year, but it does offer context. 
"The amount is based on previous fire seasons so it gets adjusted each fiscal year," McMorrow said. 
The proposed emergency fund appropriation for the 2021/22 Governor's Budget is $616.4 million, but that's just a projection for the coming year. The amount actually spent last year was $635.8 million, according to McMorrow.
Read: Almost Every State Is In Debt Thanks to COVID-19 — What Now?
Make Your Money Work for You
"In the fiscal year we're currently in, we've already spent over $1 billion," she said. 
For context, the fund averaged just $236 million a year in the 2000s, $61 million in the 1990s and $25 million in the 1980s, according to Statista.
No One Can Say for Certain, but Certainly, the Cost Will Keep Rising
There's no way to accurately guess what the next fire season will bring in California, but individual seasons don't really matter when the macro trend is so undeniable. As previously stated, at least one expert estimates that this year's costs might top $20 billion. Whether it's $20 billion or $2 billion or $200 billion is immaterial. In terms of money spent, acres burned, homes destroyed and lives lost, things are worse now than they've ever been, and without intervention, virtually every credible expert expects that trend to continue indefinitely.
More From GOBankingRates
Last updated: April 7, 2021
Make Your Money Work for You