The Big Increase and More Changes To the Child Tax Credit in 2021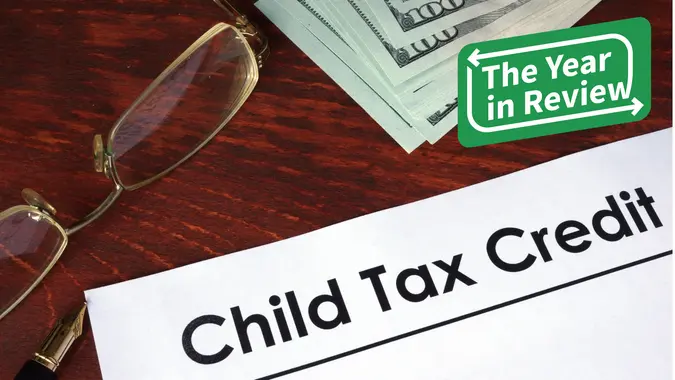 designer491 / iStock.com
The American Rescue Plan Act was passed in 2021 to help Americans financially during the coronavirus pandemic. Under the Act, the child tax credit was temporarily enhanced and expanded. For starters, eligibility was increased to include 17-year-olds. The credit also became refundable, meaning if the amount of the credit exceeded your tax liability you could receive the excess amount as a refund. Here are some of the other important details about the expanded child tax credit for 2021.
Read: Stimulus Update: Will December's Child Tax Credit Payment be the Last?
Social Security Schedule: When the First COLA Checks Will Arrive in January 2022
Child Tax Credit Amount for 2021
The American Rescue Plan Act of 2021 raised the amount of the child tax credit to $3,000 per child, or $3,600 per child under age 6. This is up from the 2020 child tax credit amount of $2,000. Children still must be U.S. citizens or resident aliens, claimed as a dependent and living with the claiming taxpayer for at least six months during the year.
Make Your Money Work for You
See: Taxes 2021: How the Child Tax Credit and Student Loans Could Reduce Your Total Refund
Qualification Using Modified Adjusted Gross Income
If your modified adjusted gross income is too high, the child tax credit begins to phase out. For the 2021 tax credit, the phaseout begins at a modified AGI of $75,000 for single filers, $150,000 for joint filers and $112,500 for heads of household. The credit drops by $50 for every $1,000 of MAGI over the established limit. 
An important factor to note is that these phaseout amounts only apply to the additional amount authorized by the new legislation. Phaseouts of the original $2,000 child tax credit begin at much higher MAGI levels, specifically $200,000 for single and head-of-household filers and $400,000 for joint returns. 
Social Security 2022: How the COLA Will Increase Benefits for the Average Senior Couple 
Timing of Payments
The American Rescue Plan Act credit was designed to get money into the hands of Americans as soon as possible to help stem the financial effects of the pandemic. Thus, advance payments of the 2022 payouts began in July 2021. Payouts equal to half of the total eligible amount were spread out over the six months between July and December 2021. For example, if you were eligible for a $3,600 credit, you could have received $300 per month in advance payments from July through December 2021, totaling $1,800. You could claim the remaining $1,800 of the credit on your 2021 tax return.  
Make Your Money Work for You
Find: Didn't Get Your Child Tax Credit? Here's How to Track It Down
Are Child Tax Credits Taxable?
In a word, no. Tax credits are not taxable income, just a reduction in the amount of tax you owe. In the case of a refundable tax credit, like the 2021 child tax credit, you won't pay any income tax even if the amount of the credit exceeds your tax liability.
What If You Had a Baby in 2021?
If you had a baby in 2021, the IRS will have no official record of the child's existence. However, you're still eligible for the child tax credit. To ensure the IRS is made aware of your new child, you can choose one of two courses of action. The first option is to use the IRS's Child Tax Credit Update Portal to update the number of qualifying children you have. The second option is to claim your new baby as a dependent on your 2021 tax return. Either way, you should end up receiving the tax credit to which you're entitled.
See: 10 Million Children Will Return to Poverty if the Child Tax Credit Ends
Can You Opt Out of Advance Payments?
Just because you are entitled to advance payments of the child tax credit doesn't mean you're forced to take them. If you'd prefer to receive your tax credits in full when you file your 2021 tax return instead, you'll have to contact the IRS via the online Child Tax Credit Update Portal. If your tax credit doesn't exceed the amount of your tax liability, for example, you might prefer to opt out of advance payments as you'll end up using that money to help pay your tax liability in 2022 anyway. 
Make Your Money Work for You
How Might the Child Tax Credit Change in 2022?
The American Rescue Plan Act of 2021 enhanced the child tax credit for tax year 2021 only. Various proposals have been tossed around Congress as to whether or not the enhanced credit should be extended into 2022, whether the credit should remain refundable or whether it should be allowed to lapse back to its 2020 levels. As of early December 2021, nothing has been decided, but taxpayers should look for an announcement sometime in 2022. 
More From GOBankingRates
Make Your Money Work for You