After Breaking the Glass Ceiling, She's Sharing How Other Women Can Do the Same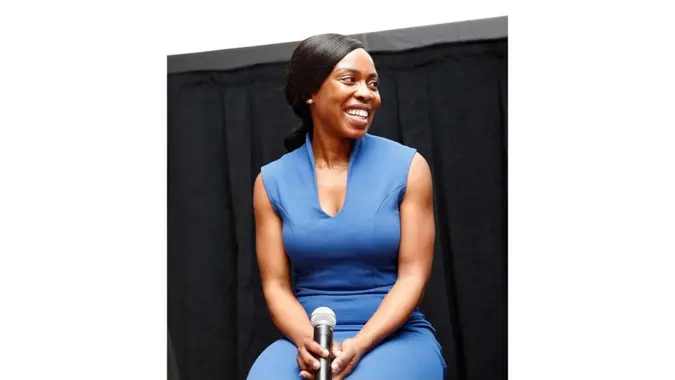 Nekpen Osuan Wilson is the co-founder and CEO of @WomenWerk, head of customer experience and special projects at Gusto and a certified executive coach with a passion for empowering women to realize their personal and professional goals. Her previous roles include IBM Alliance manager at Deloitte and vice president of the Wealth Management Office of Business Management Analytics at Morgan Stanley. Her work in women's empowerment has been recognized across renowned conference stages including SXSW, BlogHer, WIN Summit, The National Urban League and the Council of Urban Professionals. Here, she talks to GOBankingRates lead writer Gabrielle Olya about how she rose through the ranks in male-dominated industries and what can be done to improve gender parity in the workplace.
Q: Was there a particular moment or experience that inspired you to start your career in the world of finance and consulting?
One of the things that I learned early on was that I was really passionate about math and science. A lot of women of color are underrepresented in those fields. But I've always had really wonderful science and math teachers and found myself really leaning in to do well in those subjects.
Make Your Money Work Better for You
Read More: The S&P 500's Top 10 Companies for Women
I did financial services strategy at Morgan Stanley and I led large tech transformations at banks at Deloitte because of my love of math and computer science — the idea that you could build things that don't exist today.
Q: What's the best piece of advice you received that's helped you progress in your career?
I was taught by my dad that if you apply yourself, you just get better. That growth mindset helped me to not give up when things were challenging. I am constantly telling myself, "OK, if I can't do it today, that doesn't mean that I can't do it tomorrow." It also helps me in terms of being a professional, particularly in technology. Over the past decade, our sector has shifted by leaps and bounds, so the growth mindset for me means constantly making sure I'm learning the latest thing, the latest solutions, the latest applications, the latest coding language. Technology is always shifting and improving, and as a tech professional, you can't be helpful to your clients if you're not constantly learning.
Q: What inspired you to launch WomenWerk, the women's empowerment nonprofit you co-founded with fellow Columbia grad Demi Ajayi?
I started WomenWerk about seven years ago right after I graduated from Columbia. In our experience finishing our programs [Osuan Wilson received a certificate in economics and education while Ajayi received a doctorate in mechanical engineering], we were observing a difference in the experiences of men, particularly white men in our cohort, and their abilities to get a job. It wasn't just a structural barrier around interviewing — they also had a really good network and they were calling on family friends that had relationships, so they were able to find work. I didn't have that. Where I come from, people are blue-collar workers. I was also a transplant to New York, which didn't help either.
Make Your Money Work Better for You
In the News: COVID-19 Has Totally Undone Decades of Progress for Women Workers
I quickly realized the importance of a network and the importance of sharing information within these communities. That's what I saw others had that I lacked, and I wanted to create that, to be that for other women. [WomenWerk] provides training and professional development discussions that really move the needle around how women of color can be more powerful and impactful in the workplace. We bring in leaders to talk to about their careers, what relationships and allyships they invested in to get ahead, what knowledge they needed to become a leader. We also provide a network that's intentional about sharing resources and opportunities. We provide that platform for connectivity, especially in this virtual environment.
Find Out: Meet Some of the Most Successful Women Entrepreneurs and Business Leaders of Today
We've created this amazing women's conference [that's now in its seventh year], The WomenWerk Conference. It's on March 18 and it's going to be [taking place virtually] on Hopin.
Q: Have you encountered any barriers because of your gender?
Make Your Money Work Better for You
I certainly think that if I were a man, things would be different. Men are given more grace to be more direct and ruthless, and it would never be [viewed] poorly as long as they were delivering. But in my world, I feel like my effectiveness is tied to being likable, and if I were to say something direct, I'd get people saying, "I didn't really appreciate that." As a manager, there was always a double standard.
Q: What advice would you give to women who want to enter finance or tech consulting, or other male-dominated industries?
There are two parts to being successful in finance and in tech consulting. One is to make sure you know your stuff — there's no substitute for that. If you do not have a computer science background or you don't know anything about management, development, cloud strategy, I would say get really smart with that. For some of us who can't go back to college, there are a lot of good technical bootcamps out there.
Discover: What The First Year of The Pandemic Looked Like for The Working Mom
The second piece is you've got to build relationships with other technologists in your network. You have to build relationships with people in the field you want to go into, just like any venture in life. Joining an organization like WomenWerk is great. I also really like Elevate Network, the Female Quotient. These are all communities where women are willing to share their expertise and their network with us so that it's not a solo effort.
Q: What changes do you think need to be made so that there's more gender parity across industries and specifically at the executive level?
There are a couple of things that I think both women and men can do differently. One thing women can do differently is that sometimes, we are not as aggressive as men. Men are very direct about what they want. They're direct about boasting about their accomplishments, they're direct about saying what they want to their managers, they're direct about raising their hands for stretch projects. In my experience around women, and just in my own experience, women aren't as comfortable with being so upfront and direct about what they need and want to get ahead.
Learn More: How Gender Equality Is Beneficial for the Economy
Another thing I think will help achieve leadership gender parity is getting more women trained in technical spaces. Women are underrepresented in tech, even at the college level. When you think about the world being shaped by spaces like finance and technology, if women are entering those sectors, in terms of the major, outnumbered, then the leadership is going to be [too].
Read: 9 Successful and High-Powered Women in the Biden Administration
For leaders who are male, develop allyship with women intentionally, whether it's through your DEI programming or committing yourself personally to make sure you mentor people in a gender-equitable way. Something like 80% of senior leaders are mentoring men. Even in a post-#MeToo world, I think that a lot of women have been iced out. I've talked to other women who were middle managers like myself when I was at Deloitte. We wouldn't get invites to a one-on-one because maybe that would come across a certain way if [a male leader] is married and they're alone with us or something. I'm hopeful that we can create spaces where women can be brought along and mentored just as much as men are mentored and sponsored. But it's a struggle. Leaders have to make an intentional effort to encourage women at every level.
More from GOBankingRates
This interview has been edited and condensed.
Make Your Money Work Better for You