11 Best Side Hustles For 2022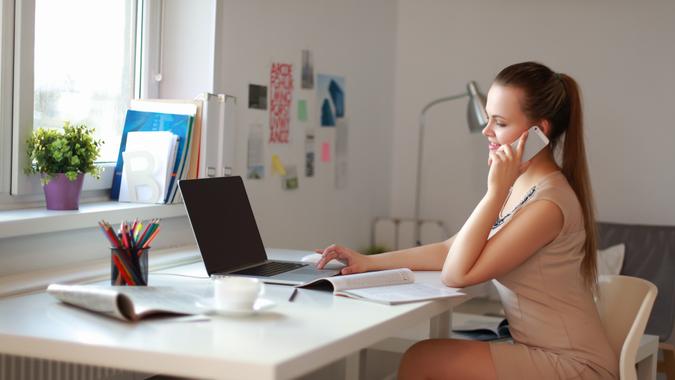 S_L / Shutterstock.com
If you're looking for a way to supplement your current income, a side hustle could be the answer. Side hustles are just that — a job you do on the side to make extra money.
Perhaps you want to fulfill certain goals, like saving up for a special occasion or travel, generating capital for a new business or making a down payment on a large purchase. Or maybe the side hustle is something you'd like to do full time once you see if you can earn enough to leave your current job.
Read More: 30 Best Jobs If You Want To Retire Early
Our Pick Of The Best Side Hustles
A wide variety of side hustle opportunities exist. But you should find one that will provide the most financial benefit while fitting into your schedule. Check out these profitable side hustles that could help you make an extra $1,000 a month or more.
Skills and Services
Sometimes, the easiest side hustle jobs are the ones that allow you to use your skills and prior knowledge. See if one of these opportunities would work for you.
Make Your Money Work Better for You
1. Deliver Food or Groceries
Everyone needs groceries and a break from cooking, so if you have a vehicle and know your local grocery stores like the back of your hand, this side hustle could be for you.
Skills required: Customer service
Potential earnings: Varies by platform. The most experienced delivery drivers can make up to $22 per hour.
Where to get started:

Grocery delivery: Instacart, Shipt
Tip: Most platforms take a significant cut of your earnings. Dumpling is a platform where you set your own rates and keep all your tips. You'll need to hustle to build your customer base, but once you do, you stand to make more and have happier customers.

Long-term prospects: These platforms aren't likely going away anytime soon, but the best way to make this into a long-term side hustle is to use it as a base for building your own personal shopping business.
2. Become an Online Tutor
This is one of the simplest side hustles from home if you tutor online. It can also be one of the most lucrative if you specialize in a desirable area like test prep.
Skills required: Ability to teach knowledge in a subject area that often requires tutoring
Potential earnings: Tutors can earn up to $40 an hour but the median pay is about $18 an hour, Pay Scale reported; higher earnings are possible if you start your own test-prep tutoring service.
Where to get started:

Sign up on platforms like TutorMe, Tutor.com, Preply and Wyzant
Advertise your services on Craigslist and with flyers at local schools.

Long-term prospects: As long as students need to learn subject matter or prepare for entrance exams, there will be a need for tutors.
Make Your Money Work Better for You
Learn: How Much You Really Take Home From a $100K Salary in Every State
3. Become a Mystery Shopper
Companies that want to know how their employees interact with customers often hire mystery shoppers. Mystery shoppers pose as customers and talk with store employees, often using a specific scenario. They may also pay attention to details, such as store cleanliness and whether certain items are displayed.
Skills required: Ability to act and a good memory as you can't take notes during the shop
Potential earnings: $10 to $24 per hour, plus reimbursements if you buy food or products
Where to get started:

BestMark, Sinclair Customer Metrics, Market Force, and IntelliShop are all legitimate companies and a good place to get started.
Tip: Watch out for mystery shopping scams. The Federal Trade Commission warns against paying to become a mystery shopper.
Long-term prospects: Companies will always want to know how their employees treat customers. Sign up with more than one mystery shopping platform to maximize your earnings.
Flipping and Renting
These can be some of the most profitable side hustles, especially if you already have the required resources at hand (tools and a knack for fixing things, or a spare room or good car).
4. Flip Cars
Starting a side hustle like this requires some upfront investment, but you can find used cars for less than $1,000. Look for vehicles that you can easily repair and still have room for profit.
Skills required: Car repair skills
Potential earnings: $500 to $800 or more
Where to get started:

Find cars at car auctions, Craigslist, Facebook Marketplace and eBay.
Sell cars on the same platforms.
Tip: You can also post your own ads on Craigslist, offering to buy cars for cash.

Long-term prospects: There are always vehicles that need some TLC.
Make Your Money Work Better for You
5. Rent Out Your Home — or a Room
If you have a spare room and don't mind sharing, use your home to make money.
Skills required: Customer service, cleaning
Potential earnings: Around $900 per month on average
Where to get started:

Airbnb is one of the most popular platforms for renting out rooms or homes.
Have a pool? You can rent it out by the hour using Swimply.

Long-term prospects: As long as you have space and provide a good experience for your guests, you can keep this side hustle going. You could even put the money you earn toward buying new properties to rent out.
More Money: 27 Most Lucrative Side Hustles for People Over 50
6. Rent Out Your Car
If you are working at home now and find your car sitting idle, you could rent it out to others for a long weekend, a week or however long you can be without it.
Skills required: Customer service, regular car maintenance
Potential earnings: Around $700 per month on average
Where to get started: Turo is to cars as Airbnb is to houses. It's the leading space for personal rentals.
Long-term prospects: Provided your car is in good working condition, you can continue to rent your car, especially if you own a luxury or unique car. Turo sees to it that each trip in the United States comes with $750,000 in liability insurance coverage.
Creating
If your day job stifles your creative spirit, you can bring it back to life with these side hustles from home.
7. Sell Your Art
If you have a knack for design, you can do this side hustle online and earn a relatively passive income.
Skills required: Art, graphic design
Potential earnings: $2 to $10 per item, more for specialized items such as framed art
Where to get started:

Redbubble allows you to upload your art and sell it on stickers, T-shirts and more.
Merch by Amazon allows you to sell T-shirts and take advantage of Amazon's massive online presence.
Bonfire offers print-on-demand T-shirts with your own designs.
Shopify makes it easy to set up your own online website and shop. While you'll have to source and print your items, you also keep more of the profits.

Long-term prospects: The only limit is your creativity, and once you upload your designs and build a customer base, you might only need to put in a few hours per week.
8. Start a Blog
If you have a way with words and a subject you're passionate about, this is one of the easiest side hustle jobs to get started with.
Skills required: Writing, basic website building
Potential earnings: $500 to $1,000 per month or more, depending on page views and what forms of advertising you incorporate into your site and content
How to get started:

Decide on a niche.
Use a website platform like WordPress or Squarespace to build your blog.
Create posts using search engine optimization practices and upload them to the platform.
Promote your blog posts on social media.
Enable advertising and seek sponsors as your audience grows.

Long-term prospects: It takes time and dedication to build a successful blog, but once you do, your audience will come back for more. You also can use your blog as a platform to sell your own products or affiliate products.
Get What You Need: 5 Things To Negotiate at Your Job Other Than Salary
9. Lend Money to Others
Peer-to-peer lending is an alternative to traditional lending avenues for individual investors and borrowers. If you have some money to spare as a lender, this might be the perfect side hustle. To profit, you earn interest on loans that you fund.
Skills required: None
Potential earnings: One of the biggest peer-to-peer lending platforms, Prosper, has a history of 5.4% returns.
Where to get started: Set up an account with Prosper or another lending platform. Decide how much you want to invest, and watch your returns come in.
Long-term prospects: There's an ongoing market for debt consolidation, home improvement and personal loans. You could reinvest your earnings and expand your portfolio and earnings.
Selling
If you enjoy selling, here are a couple of the best side hustles for 2021 — often requiring minimal investment to get started.
10. Start a Dropshipping Business
Dropshipping is when you sell items on a website, but you don't hold any inventory. Instead, you contract with distributors or manufacturers who directly ship your product to customers.
The advantage of dropshipping is that you don't have to invest in inventory–or space to hold your inventory.
Skills required: Basic website-building skills–unless you use an established platform such as Amazon–and customer service
Potential earnings: Varies significantly by product and distributor
How to get started:

Decide on a niche and the products you want to sell.
Find reputable distributors.
Decide where to sell. Profits are higher if you build your own website and storefront using a service like Shopify.
Advertise your product using social media.
Fulfill sales and provide excellent service.

Long-term prospects: The global dropshipping market is expected to grow to more than $557 billion by 2025, according to Forbes. Your long-term prospects are good as long as you have quality products and excellent customer service.
11. Be an Online Course Creator
Everyone has something to share with the world. You might be an amazing cook or have a way with spreadsheets. Share your talent by creating and selling online courses.
Skills required: Filming video, public speaking
Potential earnings: $10 to $100 or more per course sold
How to get started:

Decide on a topic.
Decide whether you want to use a platform such as Udemy or develop your own website for your courses.
Film the video portions of your course.
Develop written materials for your course.
Upload your course.
Promote your course on social media.

Long-term prospects: You can add new courses to build on your current ones, and there's always something new to learn. Once the course is uploaded, it's relatively passive income.
Be Aware: 6 Career Mistakes To Avoid During an Economic Downturn
Which Side Hustle Should I Choose?
For best results, side hustles to make money should be aligned with your goals, interests and skills. And it's also smart to consider side hustle ideas from home, which can allow you the flexibility to work when you want — even in your pajamas.
When considering a side hustle, think about the cost to get started, potential earnings and whether you could spin it into a full-time income if needed. Also, weigh whether a potential side hustle could be considered a conflict of interest with your current job.
To help get you get started on the path toward a new stream of income, here are some of the best side hustle ideas for 2022.
Starting a Side Hustle
Creating a side hustle allows you to learn or sharpen a skill, start a new business or learn how a new industry works before you go all-in.
While the possibilities are exciting, making your side hustle dreams and goals a reality can also be intimidating. To help you take those first steps, here's what you need to know.
Keep These in Mind

Focus on what you're passionate about. After all, if you're doing this on top of your day job, it should be something you enjoy.
Start small. You don't want to pour thousands of dollars into a new venture that might tank.
Start simple. If building a website sounds intimidating, use an established platform to get started. Then, build a website later.
Set a schedule. Decide how many hours per week you can devote to your side hustle, and stick to it.
Don't wait for what you think is the perfect time to get started, or you may never start. Tell yourself that now is the right time.
More From GOBankingRates
Jami Farkas contributed to the reporting for this article.
This article has been updated with additional reporting since its original publication.
Our in-house research team and on-site financial experts work together to create content that's accurate, impartial, and up to date. We fact-check every single statistic, quote and fact using trusted primary resources to make sure the information we provide is correct. You can learn more about GOBankingRates' processes and standards in our editorial policy.