How This Canopy Founder Raised Millions With His Idea To Take the Pain Out of Tax Work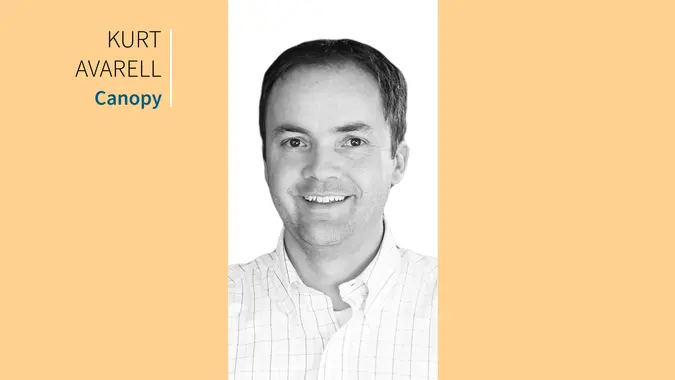 Kurt Avarell was working as a Wall Street tax attorney when he got the idea for Canopy, a cloud-based suite that streamlines the work process for tax professionals and accountants by eliminating tasks that could be automated. Avarell started the company in 2014, coding the software in his basement, and has since raised $72 million in funding as its CEO. Last year, Canopy was named one of CB Insight's Top Fintech Startups. 
Each week, GOBankingRates sets out to discover what makes the people behind top companies tick. We like to call this series "Best in Business" — and Avarell really is one of the best. He told us how he went from tax lawyer to pro coder, why customer feedback is so essential and shared a few ways that you can find (or build) your own dream job, too. Below, find our favorite moments from the story of how Avarell launched his business.
He Saw a Better Way To Work With Taxes
Inspiration to start Canopy was not just one particular moment but was born out of my experience as a tax practitioner, struggling under the weight of complex admin that is par for the course in the industry. The typical process that a tax professional follows includes a significant amount of paperwork and Excel spreadsheets, which is a very inefficient way to record information. In addition to this, clients really don't appreciate having a lot of paperwork, and this negatively impacts client relationships. As a result, I aspired to develop a cloud-based solution that modernizes and humanizes the way tax professionals work.
He Wanted To Create Software but Didn't Know How To Code — So He Learned
I think there are a huge number of worries that any entrepreneur has when they start their own company. My biggest fear was probably not having the technical knowledge and engineering background necessary to build the best product possible from the ground up. With technology, without that education, it is very hard to get a very specific idea from one's head to reality, and I knew that going in.
Make Your Money Work Better for You
I started my career as a lawyer, so when I saw the lack of effective and intuitive software available to help tax professionals accomplish their work quickly, I really didn't know where to start from an engineering perspective. I worked with a number of different people whose expertise was in computer science to develop the idea I had for Canopy. However, without the intimate knowledge of how coding actually works, it was very difficult to arrive at an end result that fit what I had in mind.
This was by far one of the biggest challenges I had going from the initial idea to the actual business — building the software. As a result, I spent six months doing nothing but learning how to code. The result has been really beneficial and enabled me to actually go from idea to inception. Currently, I can work very closely with the engineering team to continuously refine our products.
Read: How I Manage My Time as an Entrepreneur So I Don't Go Insane
He Never Wants His Employees To Feel Stressed
Working in law in New York City, there are a number of things I knew I wanted to leave there. I did not want to create an environment at Canopy where employees felt stressed, where they didn't have a good work-life balance and where they felt like upper management didn't care about them. The idea can sound cliche, but I believe that employees work better when they are in a non-competitive environment where they feel supported.
He Judges Success by His Customers' Feedback
There have been a lot of really exciting milestones that Canopy has hit since we started in 2014. Canopy has grown from just me to over 300 employees and taken in $72 million in funding so far. However, my goal when I created Canopy was to solve the inefficiencies in a notoriously complex and laborious industry. So, when I think about success, I think about the feedback we receive from our customers — from individual practitioners to bigger accounting firms. The feedback has been overwhelmingly positive, and I see success as continuing in the same direction by adding new features, products and offerings to continuously improve our customers' experience.
Make Your Money Work Better for You
Success can be a lot of things. For me, today, success is measured by how much easier Canopy's software makes life for our clients. If a client is able to save X number of hours in a week and that enables them to take on X number of new clients, making X times the amount of money they made pre-Canopy — that is [a] success for me.