How To Make Money on Amazon in 2021: 17 Effective Ways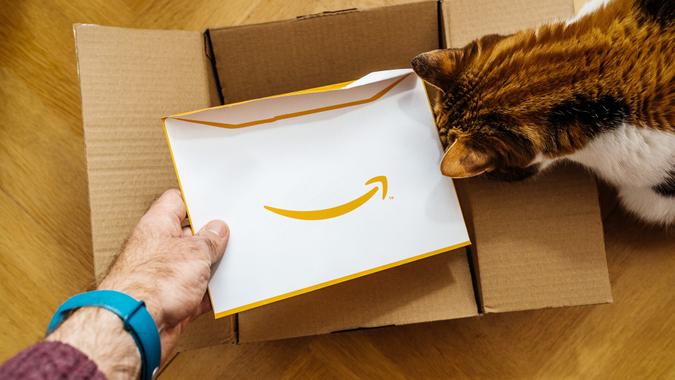 Hadrian / Shutterstock.com
Many know Amazon as the retail giant that seems to sell everything. However, in addition to an online marketplace, Amazon offers potentially lucrative opportunities for the average American to earn extra income. According to Oberlo, more than 2.5 million sellers actively use its marketplace.
Interestingly, when learning about how to make money on Amazon, it might surprise many that some sellers do not even have their own products. Amazon also offers work opportunities ranging from regular jobs to side gigs workers can perform at their leisure.
How To Make Money on Amazon: 17 Ways
Here are some of the ways one can utilize Amazon to earn cash.
1. Direct Sales To Individuals
Selling products is one of the more common ways to earn money using Fulfillment by Amazon. This is straightforward as the seller earns a profit by selling the product for more than the cost of goods sold plus Amazon's fees.
Make Your Money Work Better for You
The set-up process is simple, and one may turn to a wholesaler such as Alibaba to find a product. Once the seller has the product, they must then prepare it for sale and ship it to Amazon. In most cases, Amazon charges for the use of the fulfillment center, as well as storage, removals and returns. However, if a seller can keep a significant portion of the revenue after costs and fees, selling through Fulfillment by Amazon could yield significant profits.
2. Retail Arbitrage
Arbitrage involves buying a product for a retailer in bulk and selling on Amazon at a markup. One might purchase these products from a retailer such as Walmart or look to an online site such as eBay for such a product.
Some might describe retail arbitrage as a form of Amazon FBA selling. However, this differs from standard online selling as this involves selling products with one-time availability. Moreover, given that anyone can sell this way, price competition could leave sellers with negligible profit margins.
Make Your Money Work Better for You
3. Publish a Book
For those with writing skills, Amazon's Kindle Direct Publishing could help authors get books published. KDP serves as a platform by which readers can find and purchase one's book electronically. Once an author completes a book, the writer can publish their work in under five minutes. Kindle will then make the book available in Kindle stores within 24-48 hours.
Authors can set pricing, retain control of rights to their publication, and can make changes to their books at any time. Such privileges allow an author to utilize other services to publish physical copies of a book or an audiobook. Through KDP, royalties run as high as 70%.
4. Business-to-Business Sales
When looking for how to make money on Amazon, some turn to business-to-business sales via its Amazon Business site. The service reaches across multiple industries, allowing one to cater to small businesses, larger enterprises, or the public sector. It allows for cost optimization, offering help with strategies for reducing costs.
Amazon also offers a service called Business Prime. Like Amazon Prime for consumers, it provides added service for an annual fee. Starting at just $69 per year for the smallest enterprises, Business Prime offers one-day shipping, discounts and other services to make the procurement process run more smoothly.
Make Your Money Work Better for You
5. Affiliate Marketing
Sellers can offer affiliate marketing services through Amazon Associates. It serves those who want to market without owning a product. With Amazon Associates, content providers can monetize site traffic, earning money on commissions and advertising fees.
Bloggers, publishers and content providers can apply to see if they qualify. Upon acceptance, marketers share products via Amazon's custom linking tools. They may earn as much as 10% in commissions from both programs and qualifying purchases.
6. Selling Professional Services
Amazon Home Services serves Amazon customers who need help with new products. Home Services provides "white glove" service that helps customers with the assembly or installation of specific products and other customer-service-related needs. Home theater services and appliance installation are examples of the services provided.
Amazon Home Services sometimes closes this service to new applicants. However, interested providers can apply on Amazon's Professional Services website when positions become available.
7. Selling Under Amazon Private Brands
Amazon can help those who want to launch a private label brand. Through Amazon Accelerator, sellers can receive support, help with marketing and an avenue by which one can test products and receive feedback from customers. In exchange, entrepreneurs agree to market their products exclusively with Amazon.
Entrepreneurs have launched a wide variety of products on Amazon Accelerator. Makers of electronics, furniture, clothing, snacks and other products all utilize the service.
8. Sell Handmade Products
One of the smart ways to earn money online is by selling artisan products through Amazon Handmade. Sellers from over 80 countries utilize Amazon Handmade to sell handcrafted goods.
Prospective entrepreneurs are audited in a process to verify the authenticity of the products. Once approved, Amazon allows entrepreneurs to create a shop and list products at no charge. Sellers also receive a custom URL to make it easy for interested buyers to find a specific online shop. Amazon deducts a 15% referral fee for each sale made, but the remaining revenue goes to the artisan.
9. Custom Merchandise
Sellers of custom merchandise also have a home on Amazon. Thanks to Merch by Amazon, customers can create, market and sell branded merchandise such as t-shirts, mugs or keychains.
The seller simply has to provide the artwork. After choosing the product type and color, Amazon takes care of production, sales, shipping and the Amazon product page. Sellers can also promote their products on blogs, social media, or apps and they receive a royalty for any items that sell.
10. Sell Used Goods
Under limited circumstances, Amazon will allow people to sell used electronics that they no longer use. Sellers can list eligible products and receive payment.
This will not apply to every product, and sellers will receive an Amazon gift card instead of cash. However, for those willing to sell under such conditions, it provides an opportunity to trade in unwanted merchandise for new purchases.
11. Crowdsourcing
Amazon allows for crowdsourcing through Mechanical Turk, sometimes known as MTurk. MTurk enables businesses to outsource tasks to a virtual workforce. This allows businesses to hand off assignments on a pay-per-task model.
The companies themselves decide the pay rate, and the work often involves repetitive tasks such as data entry, data validation, surveys, research and content moderation. However, it can serve as a source of extra money workers can perform on their schedule.
12. Write Reviews
Those who have built a reputation as a trusted reviewer may want to consider Amazon Vine. Amazon invites reviewers to become Vine Voices based on a reviewer rank, a rating of the quality and helpfulness of their reviews.
Moreover, Vine Voices may express their views freely. So long as the review meets Amazon's posting guidelines, the company will not edit a reviewer's posting. Although a Vine Voice does not receive cash, Amazon provides Vine reviewers with free products from vendors.
13. Becoming an Influencer
Social media can become another potential source of income through Amazon Influencers. Though this is an affiliate program, participants should not confuse this with Amazon Associates. It differs because Amazon influencers use qualified social media accounts and their own Amazon storefront that showcases product recommendations. Influencers receive a commission on every product they sell.
To qualify, one must obtain a YouTube, Twitter, Instagram or Facebook account and apply. Amazon bases acceptance on the number of followers and other various engagement metrics.
14. Delivery Driver for Amazon
People may also earn money from Amazon by working directly for the company. One way is to become a delivery driver through Amazon Flex. Through Flex, drivers make Amazon deliveries on their schedule. They choose blocks of time on the Amazon Flex app and can adjust work times based on availability.
Those 21 and older who have a valid driver's license, a smartphone such as Android or iPhone, a mid-size or large vehicle and live in a city where Flex operates can become a Flex driver. Flex drivers earn between $18 and $25 per hour in most cases.
15. Work for Amazon Remotely
Amazon will pay you to work from home serving as Customer Service Associates. These associates come from 130 locations in over 40 countries, supporting customers while working from home.
Good To Know

Associates serve customers in 16 languages, and they help customers with services such as tracking packages, returns, assisting delivery drivers or supporting devices such as the Echo or Fire TV. Associates interact via phone, chat, mobile chat, email, or Alexa so they do not have to worry about a dress code.
16. Work in an Amazon Warehouse
In 2020, Amazon sold more than $236 billion in merchandise in North America alone. Thus, it should come as no surprise that Amazon's fulfillment and distribution centers need help. There, workers help find, pack and ship goods for Amazon customers.
While this lacks the flexibility of other Amazon-related income sources, the 38% sales growth the company experienced in 2020 should ensure that demand for workers will continue to grow. Salaries start at $15 per hour, and the job benefits can include healthcare coverage and parental leave.
17. Seasonal Work for Those Who Live in RVs
Since sales levels vary, particularly around the holidays, Amazon also needs seasonal workers. To this end, Amazon created CamperForce, seasonal work for those who live in RVs and travel the country.
During such assignments, Amazon will include 401(k) coverage, 90 days of medical and prescription coverage, overtime pay and completion bonuses for those who stay until the end of the assignment. Amazon even offers provisions to cover campground expenses.
Frequently Asked Questions
Does one have to have a product to sell?
Not necessarily. Influencers, professional services and deliveries are some of the non-selling-related opportunities through Amazon.
Do these positions serve only individuals?
No. Sellers can also sell to businesses and non-profit enterprises through Amazon Business.
Does one's location matter when finding how to make money on Amazon?
In most cases, no. Amazon owns warehouses all over the country. Also, Amazon offers positions such as remote customer service work and seasonal work to those who live in RVs.
Do these jobs offer benefits?
Most of these income sources do not offer benefits unless one becomes at least a part-time or seasonal worker employed directly by the company.
Making Money Guides
Our in-house research team and on-site financial experts work together to create content that's accurate, impartial, and up to date. We fact-check every single statistic, quote and fact using trusted primary resources to make sure the information we provide is correct. You can learn more about GOBankingRates' processes and standards in our editorial policy.