How Much Do Instagram Influencers Make? 2023 Top Earners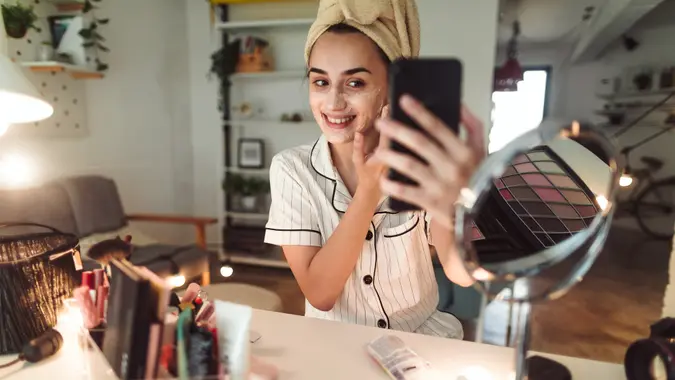 AleksandarNakic / Getty Images
If you've been on Instagram, you've probably noticed some of your favorite accounts recommend products. Some do so more subtly than others — you may see a full infomercial or find that the poster uses hashtags or tags products in the photo. It's likely the Instagrammer is getting paid. And the more followers they have, the higher the "influencer" status and the more money they can make.
You don't have to be Dwayne "The Rock" Johnson or Ariana Grande — with over 300 million followers apiece as of April 20 — to make serious cash for promoting a product or to get freebies, such as an all-expense-paid trip. Read on to learn how much Instagram influencers make — and how you can earn some money, too.
How Much Do Instagram Influencers Make?
Celebrity accounts with the biggest followings are capable of making well over $1 million per sponsored post. Hopper HQ maintains a rich list of how much Instagram influencers make. The biggest earners are:
The top six earners have the luck of being high-profile celebrities. It's easier for them to get to million-follower status than the average person. But you'd be surprised — Instagrammers with a small niche following can make money as an influencer, as well.
Make Your Money Work Better for You
Don't Rule Out Instagram as a Side Hustle

Micro-influencers — those with followings of 2,000 to 50,000 — can make money on the platform as a side hustle. A survey of 5,000 influencers found that almost half charge $200 to $400 for a sponsored post. USA Today reported that some micro-influencers are charging thousands. As your follower count grows, so does the potential to earn more.
How To Make Money on Instagram
Making money as an influencer is all about having an audience willing to hear you out and try the products you recommend. To catch the attention of advertisers and make money on Instagram, you'll need to have at least a few thousand active followers who like and comment on your posts. You might only get freebies at first, but as your following grows, so can the income potential.
Here are ideas on how you can make money on Instagram:
Sponsored Posts
Promoting a product to grow awareness by recommending it to your followers is one of the most lucrative ways to make money on Instagram. It's also one of the harder opportunities to land because advertisers typically approach accounts with larger followings.
To improve your chances for success, make sure your account has a unique niche. The beauty niche is oversaturated, but you may have luck focusing on the beauty niche for active, outdoor women, for example.
Good To Know

Link stickers, which let you add a link to your Instagram stories instead of asking people to find it in your bio, used to only be available to verified accounts and accounts with 10,000 or more followers. The stickers are now available to all users. This makes the job of an Instagram influencer a lot easier, especially if you're promoting more than one product at a time.
Make Your Money Work Better for You
Affiliate Marketing
If you have a blog or a following, you may be able to upsell what you do by promoting a product or service and getting a commission on the sale. Affiliate marketing is different than sponsored posts because you make money if your followers buy the product.
It may be an easier way to cash in on your Instagram account. Instead of hoping to get approached by a brand for a sponsored post, you can apply to affiliate programs, such as Amazon, to make money selling their goods and services.
Sell Your Own Products
If you have a business such as a hair salon, retail store or Etsy shop, Instagram can be a good way to sell your products. All you need to do is take some quality photos and upload them to your feed. Instagram has business accounts and tools such as Shops that make it simple to set up a store and accept payments directly from the platform.
How To Grow Your Instagram Following
As mentioned, you'll need followers before you can make money on Instagram. The hardest part is getting to 100 followers, then 500, then 1,000. Some people think they can buy fake followers and skip the hard work, but brands and advertisers are savvy — the quality of the follower is just as important.
Besides hitting the right number of followers, your audience needs to be active and engaged. Engagement means your posts receive many likes as well as comments, saves and shares. Here are some tips on how to grow your Instagram following with a quality audience:
Grow Your Audience
You're probably aware that hashtags, an optimized bio and marketing your Instagram page on other social media platforms are good ways to start growing your audience. But nowadays, the competition for followers is hot. Finding creative ways to get followers is critical. Some ideas include the following:
Make sure your photos are beautiful and unique to your style.
Post regularly. Creating multiple posts at one time and scheduling them according to a consistent schedule makes this easier.
Host product giveaways for followers who invite others to follow you.
Interact with followers commenting on posts of larger accounts in your niche.
Befriend other influencers and ask — or pay — for shoutouts.
Make Your Money Work Better for You
Interact With Your Followers
Engagement is just as important as the number of followers. Creating posts that get followers to share or comment should be as much of a priority as growing your audience. To get an idea of the level of participation your posts should have, the average branded engagement rate is less than 2% and declining, according to a study by Rival IQ. Instagram Insights, available for business and creator accounts, can help you evaluate your posts' performance.
Some ways to have your audience interact are by posting questions or asking for advice or opinions. Don't forget to respond to your followers who take the time to interact.
Do Occasional Follower Maintenance
It's a mystery, but many Instagrammers complain that vague accounts that look like bots follow them. These accounts do bump up your follower numbers but affect your engagement rates since they don't comment or like your posts.
As your follower count grows, you may want to periodically clean up your account and get rid of inactive followers. It will improve your engagement rate — and your chances of landing a lucrative sponsorship.
How Much Do They Make Guides
Daria Uhlig contributed to the reporting for this article.
Make Your Money Work Better for You
GOBankingRates collected data on account followers on April 20, 2023. Figures are subject to change.
Our in-house research team and on-site financial experts work together to create content that's accurate, impartial, and up to date. We fact-check every single statistic, quote and fact using trusted primary resources to make sure the information we provide is correct. You can learn more about GOBankingRates' processes and standards in our editorial policy.