12 Best Ways To Make Money as a Kid in 2021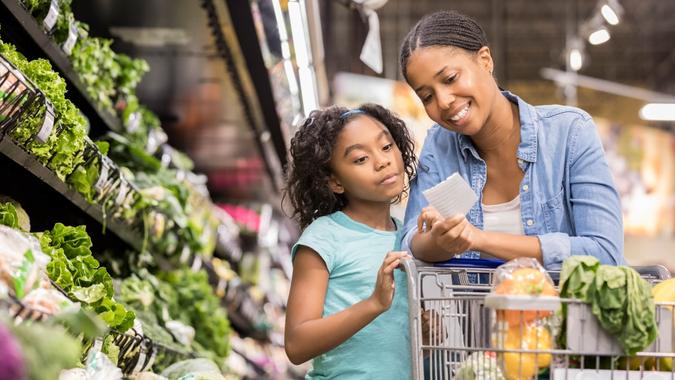 asiseeit / Getty Images
According to the U.S. Department of Labor, kids can't legally take on their first job until they're 14-years-old. But that doesn't mean your child can't stay finding ways to make money before then.
Thanks to the internet, there are more opportunities for kids to make money in 2021 than ever before. Gone are the days when the only way to make some extra cash was by setting up a lemonade stand in your neighborhood.
And learning how to make their own money at a young age can benefit kids later in life. Your kids will learn valuable skills they can put to use as an adult. And it can help them learn proper money management skills.
12 Easy Ways Kids Can Make Money
This article will outline 12 ways kids can start making money in 2021. I've outlined traditional ways they can bring in some extra cash and how they can start earning money online.
1. Hire Your Kids at Your Company
If you're self-employed, then you can hire your kids to start working for your company a few hours each week. This is a great way to teach them the basics of running a business and get some of those extra tasks done. Plus, the IRS will let you deduct your child's wages as a business expense.
They can do simple tasks like helping you sort mail or package items for shipping. Or, if you have older kids who are particularly tech-savvy, they can help you manage your social media accounts or website.
2. Mow Lawns
Mowing lawns is one of the best ways for kids to make extra money during the summer. Everyone wants a nice-looking yard, but not everyone has the time or the desire to mow their lawn once or twice a week.
But it's not just a great side hustle — it can also turn into a pretty good business model. If they do a good job, then they could start building up a base of repeat customers. And you can help them advertise their services on social media or in a neighborhood Facebook group.
And kids don't just have to limit their servicing to mowing. They also rake leaves, trim bushes and offer other types of yard work.
3. Babysitting
Babysitting is a staple for teens who are looking for ways to make money. Teens can start by spending an hour or two babysitting for a family friend. For instance, your teenager could babysit your neighbor's kids after school a few days a week.
And as they gain more experience, babysitting can turn into a pretty lucrative gig. According to Sittercity, the national hourly rate for babysitters is $16 per hour. However, babysitting does come with a lot of responsibility, and it's not going to be the right choice for everyone.
4. Start a Dog-Walking Business
If your kids love animals, they could earn good money by starting a dog-walking business. If you have neighbors who work outside of the house all day, then they might appreciate having someone stop by to walk their pets throughout the week.
Kids can also offer pet sitting services, so your neighbors don't have to board their pets when they go out of town. Your kids will be responsible for stopping by a couple of times a day, making sure the animals have food and water and letting them outside.
5. Organize a Garage Sale
Setting up a garage sale is a great activity the entire family can get involved with. Not only will it help you clear those unwanted items out of your home, but it can also be an opportunity for your kids to earn some extra cash.
Help your kids go through their old clothes, shoes, toys, and electronics to find items they want to get rid of. They can help you price and organize the items on tables and talk to neighbors who come by to browse through your sale.
6. Take Online Surveys
Taking online surveys is one of the easiest ways to earn a little extra money online. Sites like Survey Junkie will pay your kids to share their opinions, and that feedback helps companies build better products and services.
Many surveys are geared toward adults, but sites like Survey Junkie and Swagbucks are looking for kids' feedback as well. They'll earn points that they can redeem through gift cards or cash for every survey they complete.
7. Start a Blog
If your kids are naturally very creative and enjoy writing, then they could make money blogging. How much money you make as a blogger will largely depend on the amount of traffic you have come to your website.
It will take time to build a following and make a name for yourself as a blogger. But if you go into it with a plan, then blogging can be very lucrative.
Three Ways Kids Can Earn Money Through Blogging:

Ads: You can sign up for Google Adsense or other ad networks. After placing the ads on your site, you'll make a little bit of money each time someone clicks on the link.
Affiliate marketing: In affiliate marketing, you're essentially paid to promote another company's products or services. You'll earn a small commission for every sale that company makes.
Sponsored posts: And finally, a company may pay you to write a post promoting their product or service on your website.
8. Create a YouTube Channel
What kid doesn't want to make money by starting a YouTube channel? Depending on their age, your child will likely need your help setting up the account and getting started. And legally, you have to be over the age of 18 to make money on YouTube.
Like blogging, the benefit of starting a YouTube channel is that you can get paid to talk about the things you find interesting. Whether it's crafting, gaming or telling jokes, if you have something interesting to share, then there is an audience for it on YouTube.
9. Sell Unwanted Items Online
One of the easiest ways to make money online is by selling unwanted items on sites like Amazon, eBay or Craigslist. To get started, your kids can set up their accounts and start creating listings for the items they want to sell. And collector's or vintage items can sell for quite a bit of money.
As they get more skilled with selling items online, some kids may want to branch out into flipping items. This involves buying products at a low cost, fixing them up slightly and resell those same items for a profit.
10. Sell Handmade Items
Does one of your kids have a knack for designing jewelry or creating their own artwork? If so, they could set up their own Etsy shop and sell their products to customers online. This can be a great creative outlet and an opportunity for kids to make extra money.
To get started, they'll need to set up their account and decide on the types of products they want to offer. From there, they can take photos, create a listing and sell these items through their Etsy shop.
Here are just a few of the items kids can create and sell on Etsy:
Printables
Homemade soap or bath bombs
Knitted scarves or hats
Holiday decorations
Jewelry
Calendars and planners
11. Make Money on Twitch
Twitch is a live streaming platform for gamers, and like YouTube, can be used to make money. It's not going to happen overnight, but if they can build up an audience, kids can make decent money by playing video games on Twitch.
There are a few different ways kids can make money on Twitch. Fans can donate money to their favorite streamers. Profits are generated when fans click on the ads on videos or purchase subscriptions.
12. Create Online Games
Does your child love playing games on Roblox? Well, they could start making some extra money by creating their own Roblox games. Creating a new Roblox game is relatively easy and requires very little coding knowledge.
How much money they can make depends on the popularity of the game. Your child can take some time to identify the types of games that are already popular on Roblox. This can help them come up with their own ideas.
Becoming a Roblox creator isn't easy, but it can be a fun and rewarding outlet for kids. And it can help them learn valuable skills that will benefit them later in life.
The Bottom Line
As your kids start getting older, it's only natural they will want to start earning their own money. Fortunately, there are tons of opportunities available to them, whether they want to utilize technology or not. With a little creativity and hard work, your kids will be on their way to earning an income of their own.
Our in-house research team and on-site financial experts work together to create content that's accurate, impartial, and up to date. We fact-check every single statistic, quote and fact using trusted primary resources to make sure the information we provide is correct. You can learn more about GOBankingRates' processes and standards in our editorial policy.