How To Make Money on Snapchat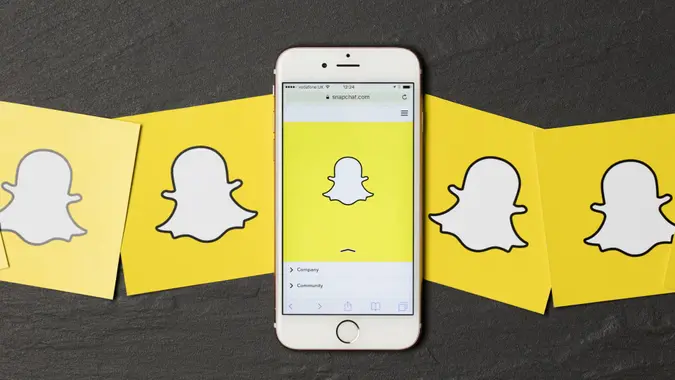 Today, social media is probably part of everyone's life. It does not only help you to connect with friends, family and potential clients but it can also help you make extra money on the side. There are several ways to make money on various social media platforms, and Snapchat is no exception.
Here's a closer look at what Snapchat is, how to make money on Snapchat and ways to grow your traffic and following on the platform.
What Is Snapchat?
Snapchat is a mobile app for Android and iOS devices that lets users share photos, videos and stories with their followers. Founded in 2011 by Evan Spiegel, Bobby Murphy and Reggie Brown, Snapchat was initially created for sharing snaps.
One of the unique features of Snapchat is that messages disappear after the intended recipient has viewed them. For this reason, Snapchat offers a high level of privacy. Snapchat will automatically delete unopened snaps after 30 days. If you have a group chat on the app, messages get deleted after 24 hours.
Unlike other social media platforms, such as Instagram, Snapchat has several features that make it a unique platform for having fun and making money.
4 Ways To Make Money on Snapchat
If you spend a couple of hours a day on Snapchat, you can utilize that time to make money from the platform. Here are four ways to make money on Snapchat.
Make Your Money Work Better for You
1. Create Viral Videos
Snapchat pays millions of dollars every day to top performers who create viral content on the platform. If you're an influencer, you can easily rake in a handsome amount of money using the Snapchat Spotlight feature. The feature works nearly like TikTok as it allows users to create 60-second videos and submit them for the Spotlight Challenge.
2. Promote Affiliate Products
Affiliate marketing is a great way to earn money. You can promote a brand's products by sharing a special link with your followers. When they purchase using the link, you earn a commission.
3. Promote Your Products and Services
If you own a dropshipping store or sell a service, you can promote it on Snapchat. Like affiliate marketing, you need to send traffic to a link with a product or service you're promoting. You can also run paid ads on the platform to promote your products and services.
4. Advertise for Brands
If you're an influencer, Snapchat offers an opportunity to make money. Various companies are on the lookout for influencers to help promote their products to followers. Advertising for big brands can earn you a decent amount of money.
Make Your Money Work Better for You
How To Gain Traffic With Snapchat
You've probably noticed that most ways to make money on Snapchat need traffic. Here are two effective ways to gain traffic with Snapchat.
Run Snap Ads
Ads remain one of the best ways to reach your target audience. With more than 300 million daily active users, Snapchat presents a perfect opportunity for anyone looking to gain traffic through the platform. You can create short videos featuring you or your brand and run ads. Don't forget to include a call to action.
Make Use of Custom Geofilters
Using geofilters is a great way to gain traffic on the platform. Snapchat offers two geofilters: community and on-demand geofilters. For example, if you plan a grand opening of a business in a specific location or already have one, you can create a geofilter targeting the location of your choice.
The Takeaway

Snapchat is not only a platform to share snaps and videos with friends and family but also a place to make money. If you have a massive following and own a business or have a product you'd like to promote, consider Snapchat.
Make Your Money Work Better for You
How To Grow Your Following on Snapchat
With a massive Snapchat following, you're likely going to make money on the platform. Here are three ways to increase your Snapchat followers.
Connect Via Your Address Book
The easiest way to grow your Snapchat following is to add friends from your address book. Snapchat will use their phone numbers to crawl your address book; and, if they are Snapchatters, you can add them as friends. Since these are people who know you, they'll likely follow back.
Promote Your Snapcode
You can promote your Snapcode link on other social media platforms. For example, you can include a call to action with your Snapcode in all your social media posts. If you have a website, consider adding a link to your Snapchat account and interested audiences will follow you.
DM Your Snapchat Link
Another way to increase your Snapchat followers is by sending direct messages to your followers on other social media platforms — such as Twitter, Instagram and TikTok. Ensure that you include a call to action to add you on Snapchat.
Make Your Money Work Better for You
Why Snapchat Is a Good Place To Make Money
Snapchat is arguably one of the best places to make money because it allows you to engage your followers by sharing images and videos with tips about your business, product or service. While it may sound challenging at first, you'll eventually see the results once you grow your audience.
Ways To Get Rich Online
Our in-house research team and on-site financial experts work together to create content that's accurate, impartial, and up to date. We fact-check every single statistic, quote and fact using trusted primary resources to make sure the information we provide is correct. You can learn more about GOBankingRates' processes and standards in our editorial policy.
Make Your Money Work Better for You