How To Make Money on TikTok: 7 Most Effective Ways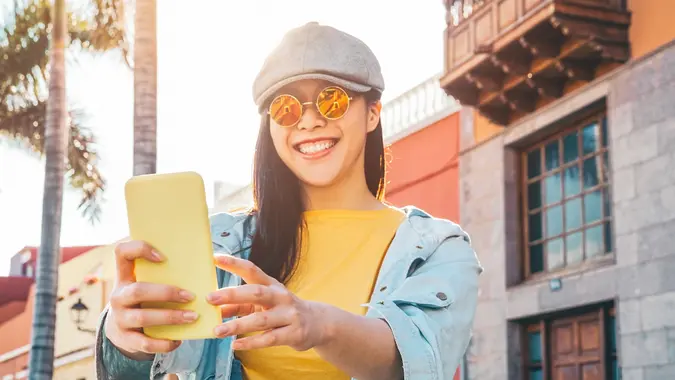 Alessandro Biascioli / iStock.com
TikTok is currently one of the fastest-growing social media networks in the world. And recent reports estimate that the company has over one billion active monthly users.
This kind of rapid growth means that there are plenty of opportunities to build a following on the platform. And once you've made a name for yourself, you can start to monetize that following. This guide walks you through how to make money on TikTok so you can cash in on your audience.
You're about to discover different ways on how to make money on TikTok. But first, it's important to understand that you'll need a significant audience — especially if you'd like to earn cash straight from the platform. You'll find that a certain number of followers and views will be required to start making money, so be sure to start engaging your audience consistently with content and grow your base.
Make Your Money Work Better for You
7 Ways To Make Money on TikTok
You can use TikTok to start creating multiple revenue streams. Let's look at seven ways you can start making money on TikTok.
1. Donations
If you have at least 1,000 followers on TikTok, then one of the easiest ways to start making money is by accepting donations from your followers. TikTok has its own currency, and users can buy coins and donate them to their favorite influencers.
Relying on donations is not a reliable way to make money on TikTok because you're at the mercy of your followers and whether or not they feel like donating. But it is an option, and it's an excellent way to make a little bit of money in the beginning.
2. TikTok Creator Fund
The TikTok Creator Fund is a program where TikTok pays you directly for the content you create. Essentially, the program is a revenue-sharing model where TikTok pays you a portion of the money they earn on advertising. The amount you make is based on your total audience and engagement.
The Creator Fund is the only way you'll get paid directly by TikTok, but the program has received mixed reactions. For one thing, you'll need to be at least 18 years of age and have at least 10,000 followers with at least 100,000 views of your videos in the last 30 days. Once you hit the threshold, you can apply to start receiving a cut of TikTok's profits. However, it's not entirely clear what factors payment is based on.
Make Your Money Work Better for You
And some users have complained that their engagement dropped after signing up for the program. But it may be worth your while to sign up and see if utilizing the TikTok Creator Fund is right for you.
3. Advertising
What if you're not interested in creating content for TikTok but still want to find a way to make money using the platform? Well, if you have your own products and services you want to promote, you might consider paying for TikTok advertising.
TikTok ads last up to 60 seconds but the platform suggests shorter, 9 to 15 second lengths as a great way to promote your brand. It will help you reach a younger audience that is often less receptive to other forms of advertising.
4. Affiliate Marketing
Affiliate marketing is one of the most popular ways to earn money through TikTok. As an affiliate, you promote the products and services of other companies. When a subscriber follows one of your links and makes a purchase, you'll earn a percentage of the money they spent.
Make Your Money Work Better for You
Many people like affiliate marketing because it doesn't require that you create your own products and services. And regardless of the type of niche you're in, there are endless products and services you can promote.
And if you get a large enough following, you can build up a hefty income through affiliate marketing. However, affiliate marketing is most effective when you're promoting companies you love and fully support.
5. Brand Sponsorships
If you've built up a significant following on TikTok, brands will be willing to pay you good money to feature them in one of your videos. You'll create a video for your audience endorsing that company's product or service to your followers.
Unlike affiliate marketing, you'll be paid for the content you create, whether anyone buys the products or not. And brand sponsorships can be very lucrative depending on how many followers you have. If you have a large following, you could earn thousands of dollars for a single video.
If you're interested in pursuing brand sponsorships, just make sure you're selective about the companies you work with. Just like with affiliate marketing, it's the most effective when you promote companies you're passionate about.
6. Offer Consulting
If you've cracked the code on how to build a following on TikTok, many people will be willing to pay you good money to learn that information. So you may be able to utilize your insights and offer TikTok consulting services.
Before you move forward with any type of consulting arrangement, make sure you outline the terms and deliverables in a contract. And it may be worth your while to negotiate a revenue-sharing agreement. That way, if any of your clients see massive success on the platform, you'll receive a piece of their earnings.
7. Sell Your Own Products
And finally, one of the best ways to make money on TikTok is by selling your own products. It may take time for you to get to this point, but selling your own products will give you more control over your brand and income.
When you sign up for the Creator Program or use affiliate marketing, you'll only get to keep a portion of the money earned through your content. And that company could change the terms of your agreement at any time.
But when you sell your own products, you get to keep 100% of the earnings. And this will allow you to build your own brand and set yourself up for success in the long run.
Takeaway
TikTok can be a great way to build a following and start making money as an influencer on the platform. But just like any other business, you'll have to put in the work first. Take the time to develop a relationship with your followers, and be thoughtful about your monetization strategies.
And only promote products and services that you really believe in. This will give you the best chance of success in the long run.
Ways To Get Rich Online
Making Money on TikTok FAQ
Do you get paid per view on TikTok? 

TikTokers that qualified and signed up for the Creator Fund could earn money per view. The company doesn't disclose the actual rate, but based on calculations from Alphr,

 someone could earn between two and four cents for each 1,000 views per video.

How much do you get paid on TikTok?

The amount of money you could earn on TikTok depends on the method you choose. As mentioned, you could passively earn between two and four cents for each 1,000 views per video.

Plus, diversifying into other income streams could earn you more cash when you promote a brand or product or offer consulting services.

How much money do you get from one million views on TikTok? 

Based on Alphr's calculations,

someone could earn between $20 and $40 for one million views on TikTok.

How do I get my money from TikTok?

You can view your balance on TikTok and transfer the funds to your bank account using the app. Visit your profile, tap on the three dots on the upper right-hand corner of your screen and choose the form of withdrawal.
Cynthia Bowman contributed to the reporting for this article.
Information is accurate as of Sept. 28, 2022.
Editorial Note: This content is not provided by any entity covered in this article. Any opinions, analyses, reviews, ratings or recommendations expressed in this article are those of the author alone and have not been reviewed, approved or otherwise endorsed by any entity named in this article.
Our in-house research team and on-site financial experts work together to create content that's accurate, impartial, and up to date. We fact-check every single statistic, quote and fact using trusted primary resources to make sure the information we provide is correct. You can learn more about GOBankingRates' processes and standards in our editorial policy.
Make Your Money Work Better for You