I Turned My Problem Into Profit: How the Owner of WhitePaws RunMitts Got Her Unique Product on Major Retailer Shelves Within 5 Years of Launching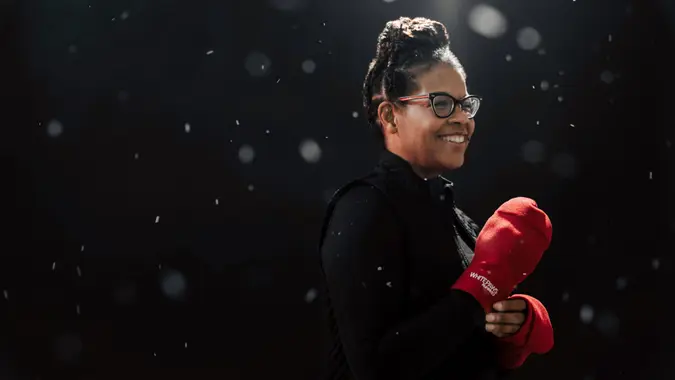 ©GoDaddy
Susan Clayton was serving as a running coach for the non-profit Back on My Feet when she encountered a problem that many runners face in the colder months — she couldn't find mittens or gloves that kept her fingers and thumbs warm. So the Baltimore-based entrepreneur invented WhitePaws RunMitts, patented convertible, thumbless mittens with inside pockets for hand warmers.
The unique design keeps runners' fingers and thumbs together to generate more warmth, and can be flipped open, exposing your fingers when you need to cool off. Unlike traditional mittens and gloves, RunMitts can also be worn pushed down to your wrists.
Here, Clayton shares her entrepreneurial journey, which included scoring a major deal with REI just five years after launching her product, plus her tips for other aspiring business owners.
WhitePaws RunMitts was selected as a standout nominee for GOBankingRates' 2023 Small Business Spotlight, which highlights great small businesses across the country. Readers can continue to nominate their favorite local small businesses to be featured in the series.
Was there a particular moment or experience that inspired you to start your business?
I initially came up with the idea behind my glove design while serving as a coach with Back on My Feet, which is a local Baltimore organization that coordinates early morning runs with people experiencing homelessness across the city. During our harsh Baltimore winters, my hands would get extremely cold on runs. The moment my idea really came to fruition was when I saw a friend running with socks on their hands and thought, "I could make something better than that!" And so WhitePaws RunnMitts was born.
Make Your Money Work Better for You
What did you take from past experiences or jobs that you knew you wanted to be a part of your new business?
From my time running with Back on My Feet and now executing independently on my own business endeavors, I truly believe that nobody runs alone. Thinking of a business idea will only get you so far.
Through my past experiences, including as a coach and as a participant in the Empower by GoDaddy program, a social impact initiative for entrepreneurs, I've learned the strength and power of having a community of people to lift you up and support your journey. The skills I learned through Empower gave me the confidence to advocate for my business and elevate my brand identity. And ultimately, this investment of time in myself paid off, both personally and for the future of my business.
What has been the most rewarding aspect of being a business owner?
A rewarding, but admittedly challenging aspect of being a business owner was when I received an exciting opportunity in 2022 to fulfill an order putting RunMitts on the shelves of 80+ REI stores. This was a major opportunity for my business. However, supply chain challenges and a lack of capital to purchase all the fabric I needed to satisfy demand posed a real issue for my business.
The opportunity was a pivotal moment of growth for me, personally and professionally. With this mammoth order from REI, I needed funding immediately. With the support I received through the Empower by GoDaddy program, I felt equipped to compete in Baltimore Homecoming's Crab Tank pitch competition, which, if I won, would grant my business $25,000. There was so much riding on this competition, and I knew it would ultimately change my life. I could gain financing for manufacturing and scale my business to new heights. The skills learned during the Empower program gave me the confidence and self-advocacy I needed to succeed — and, in the end, I won the competition!
Make Your Money Work Better for You
What advice would you give someone wanting to start their own business?
I really want to remind and empower other small business owners that you don't need a big, world-changing idea to start a company. It can simply be about building a better future for yourself and those around you. And it's made easier when you surround yourself with a community of people who are there to support, challenge and excite you at every turn. It won't be easy, but it will be worth it.
More From GOBankingRates