Warren Buffett's Best Advice to Entrepreneurs for Building a Successful Business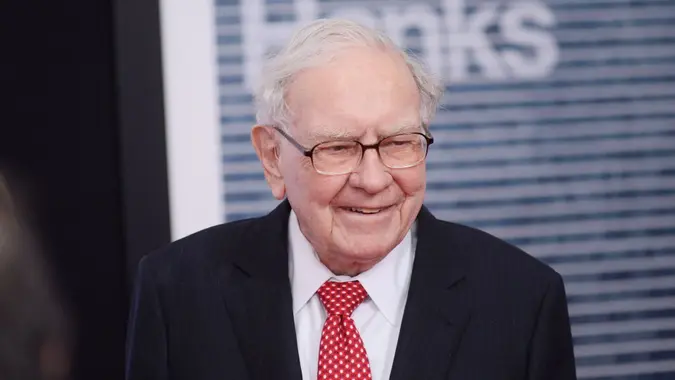 Erik Pendzich / Shutterstock
Warren Buffett, the chairman and CEO of Berkshire Hathaway, is one of the most successful investors of our time. His investment strategies and business acumen have made him a beacon of wisdom for business owners. Here's what Buffett says is his best advice for building a successful business.
Warren Buffett's Best Advice for Entrepreneurs
Buffett shared his wisdom during an interview with Goldman Sachs. When asked for his best advice for entrepreneurs, he said the most important thing business owners can do is delight their customers.
"The best advice to a small business owner, or for that matter, the large business owner, is never stop thinking about how to delight your customer," said Buffett during his Goldman Sachs interview. "Not to satisfy your customer, but to delight your customer."
Buffett says it is important to keep your customers on your mind constantly. According to the Oracle of Omaha, maintaining a strong customer focus is the key to success.
"When you wake up in the morning, start thinking about it," added Buffett. "During the day, think about it. At night, think about it. And then dream about it. No company has ever failed that had millions of delighted customers. You start with them, and you get them one at a time."
Make Your Money Work Better for You
Warren Buffett and Jeff Bezos Believe in Customer Focus
Buffett isn't the only one who believes in a strong customer focus. Amazon's Jeff Bezos also says it's important to be "obsessive" about your customers.
"We have been doing this since the very beginning, and it's the only reason that Amazon exists today in any form," said Bezos in a YouTube video. "We've always put customers first. When given the choice of obsessing over competitors or obsessing over customers, we always obsess over customers.""We pay attention to what our competitors do, but it's not where we put our energy; it's not where we get our motivation from," Bezos added. "If you're truly obsessed over customers, it will cover a lot of errors."
Warren Buffett's Business Advice Over the Years
Buffett has offered additional advice to entrepreneurs over the years. Here are a few other pearls of wisdom.
'In the business world, the rearview mirror is always clearer than the windshield.'
Entrepreneurs need to understand that forecasting the future is challenging while analyzing the past is simpler. This doesn't mean you should become overly cautious. Instead, ensure that decisions are based on solid research and always be prepared to adapt and change based on real-world feedback.
'You only have to do a very few things right in your life so long as you don't do too many things wrong.'
Success doesn't necessarily mean getting everything right. Instead, it's about making a few pivotal decisions that can steer the course of your business positively. On the flip side, it's equally crucial to avoid major pitfalls. Entrepreneurs should prioritize learning from their mistakes and avoiding repetitive blunders.
Make Your Money Work Better for You
'It takes 20 years to build a reputation and five minutes to ruin it. If you think about that, you'll do things differently.'
Brand and reputation are intangible assets that can be invaluable for a business. Entrepreneurs should always uphold integrity, ensure quality service, and be cautious about any action or decision that could tarnish their brand's reputation.
'Someone's sitting in the shade today because someone planted a tree a long time ago.'
Building a successful business is not an overnight endeavor. Entrepreneurs must be patient, taking steps today that will yield results in the future. Investing time, energy, and resources now can pave the way for long-term success and legacy.
'Chains of habit are too light to be felt until they are too heavy to be broken.'
This timeless wisdom serves as a reminder of the power of habits and routines. Entrepreneurs should cultivate positive habits and practices early on, both personally and within their organizations. Over time, these habits solidify and play a crucial role in defining the business's culture and success trajectory.
'The difference between successful people and really successful people is that really successful people say no to almost everything.'
Focus is key. Entrepreneurs are often inundated with opportunities, ideas, and distractions. By learning to say 'no' to ventures or tasks that don't align with the core mission or value proposition, one can channel energy and resources more effectively.
Buffett's Roadmap for Building a Successful Business
Buffett's advice, while rooted in the world of investment, offers entrepreneurs a roadmap for building sustainable, value-driven, and resilient businesses. By internalizing and acting on these nuggets of wisdom, you can chart a course for long-term success in your ventures.
Editor's note: This article was produced via automated technology and then fine-tuned and verified for accuracy by a member of GOBankingRates' editorial team.
Make Your Money Work Better for You
More From GOBankingRates