Can You Really Make $2,000 With Cash App? What You Should Know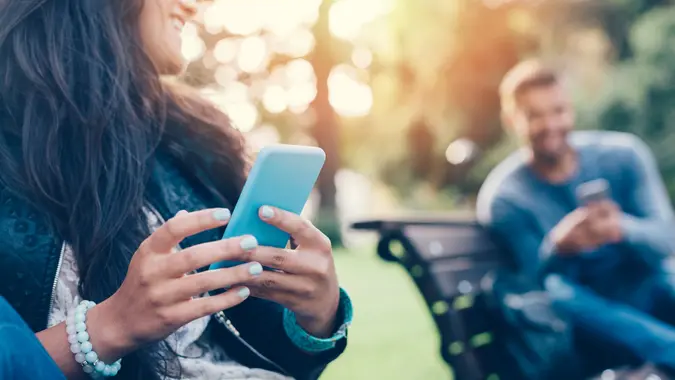 martin-dm / iStock.com
If you have a Cash App account, you've likely used the popular mobile payment service to send money to someone else, but did you know that you can make free money with Cash App, too? 
In March 2023, the app reached 53 million monthly transactions — and for good reason. Not only can you pay your hairdresser or send money to a friend for your dinner date with Cash App, but you can also earn some extra cash in the process. In fact, you can earn up to $2,000. Read on to learn everything you need to know to put some extra money in your wallet.
What Is Cash App?
Cash App is a widely used peer-to-peer payment app that allows individuals and businesses to request, send and receive money with a few taps on their smartphones. 
Though it lacks some features of traditional banks, Cash App offers many perks of a traditional bank account, like direct deposit and a Visa debit card. If you have a Cash Card, up to $250,000 of your account balance is FDIC-insured through Cash App's partner bank, Wells Fargo. You can also invest in stocks and bitcoin with Cash App.
How To Earn Free Money With Cash App
There are several ways to get up to $2,000 free money with Cash App, including referrals, Cash Boosts, sweepstakes and giveaways and waived ATM fees. If you're an active user, you can earn money quickly and with little effort.
Cash App Referral Program
If you don't already have a Cash App account, you can earn money from the get-go by having a friend refer you to the app. Sign up using their unique referral code and send at least $5 within 14 days to get a cash bonus. 
Make Your Money Work Better for You
From then on, you can refer others to continue earning free money. You'll earn $5 for every user who joins the app using your referral code and sends at least $5 within 14 days. 
Cash App Boosts
A Cash Card, Cash App's debit card, can help you progress toward your $2,000 goal using Cash Boosts. These give you cash back when you use your Cash Card at participating coffee shops, restaurants, grocery stores and other retailers. You can only have one active Boost at a time; however, you can swap Boosts as often as you need to. 
Different Boosts have different terms, limits and expiration dates, so be sure to read the details of each one. Category Boosts, for example, can only be used in stores that fit specific categories. Though Target sells groceries, the Grocery Store Boost would not work there since Target is not exclusively a grocery store. However, it could help you save on your next trip to ShopRite since it is a grocery store.
Be aware that Boosts can have minimum purchase and maximum discount limitations. They also can't be used on cash back transactions.
Cash App also offers Bitcoin Boosts, which you can activate to earn bitcoin as cash back on qualifying purchases. 
Sweepstakes And Giveaways
Cash App occasionally offers giveaways and sweepstakes that you can enter to win cash prizes . The app shares these opportunities on its official social media pages.
Get ATM Fees Waived
One of the potential drawbacks of being a Cash Card holder is that Cash App charges a $2.50 fee each time you visit an ATM. But when you receive at least $300 of direct deposits into your Cash App account each month, you'll get unlimited free withdrawals at in-network ATMs. If you withdraw money twice a week, that will save you $20 each month! 
Make Your Money Work Better for You
Final Take: You Really Can Make $2,000 With Cash App!
To help you maximize your earnings through Cash App: 
Refer as many people as possible and actively share your referral code through personal networks and social media
Monitor available Cash Boosts to maximize rewards
Connect with Cash App's official communication channels to learn of new earning opportunities
Engage with the app's various features, like investing in bitcoin
Use in-network ATMs to save more — you can locate these in the app
Making $2,000 of free money with Cash App really is possible, but you should still be cautious to avoid Cash App scams, which have become increasingly common with the app's popularity. You should also know Cash App's limits. If you verify your identity, you can send, receive and spend with your Cash Card above the app's standard limits.
Editorial Note: This content is not provided by any entity covered in this article. Any opinions, analyses, reviews, ratings or recommendations expressed in this article are those of the author alone and have not been reviewed, approved or otherwise endorsed by any entity named in this article.