45% Say They've Never Used AI — What Financial Benefits Are They Missing Out On?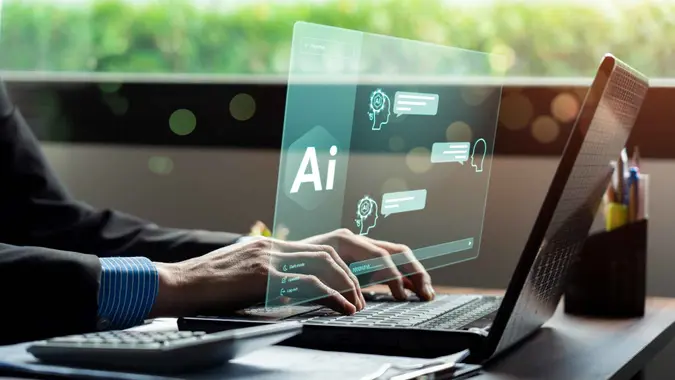 Shutthiphong Chandaeng / Getty Images
Artificial intelligence seems to be everywhere you look, yet nearly half the country has no hands-on experience with this emerging technology.
A new GOBankingRates survey of more than 1,000 adults found that 45% of people have never used AI — or so they think.
"People are often using AI without realizing it," said Marbue Brown, business expert, founder of The Customer Obsession Advantage and author of "Blueprint for Customer Obsession."
"Anyone who has used the Apple Maps/Apple CarPlay combo has used AI. Virtual assistants like Bank of America's Erica or the Chase Digital Assistant can take customers' requests in natural language and help them to complete personalized tasks like replacing lost or stolen credit cards as well as locking and unlocking debit cards."
But, even if people use AI inadvertently and indirectly, they could use it intentionally to manage their money, improve their financial lives, build businesses and increase their wealth.
Create Budgets and Spending Plans Tailored to Your Savings Goals
One of the simplest ways to use AI as a financial tool is to join the 11% of the study's respondents who rely on it for budgeting and the 15% who use it to help them save money.
Aleksander Saks — international powerlifter, professional trainer and fitness blogger — uses AI to whip his personal and business finances into shape.
"AI can help users track their spending patterns, identify potential areas for cost cutting and optimize their budgets to save money more efficiently," he said.
Make Your Money Work Better for You
Familiar budgeting programs like Mint, YNAB, Cleo and PocketGuard are all AI powered, but you can get personalized results without downloading an app. Using a platform like Google Bard or ChatGPT, just input details like your income, expenses and savings targets — the more accurate, the better — and ask it to create a plan based on specific goals like saving for a down payment or building a retirement fund.
Discover: 5 Ways To Use AI To Generate Passive Income
Become a Better Investor
Like budgeting and saving, there's no shortage of AI-powered apps designed to help human investors get ahead, including familiar platforms like Acorns, Betterment and Wealthbase.
"AI-driven robo-advisors offer lower fees, diversified portfolios and personalized recommendations, making investing more accessible and efficient," said Nathan Clark, co-founder of generative AI tools provider Gate2ai.
But here, too, you can do it independently with a platform like ChatGPT.
"AI is revolutionizing various industries, including finance, by providing data-driven insights, automating processes, and enabling personalized financial services," Clark said. "By embracing AI-powered tools, individuals can make more informed investment decisions and identify cost-saving opportunities."
More than 11% of the study's respondents are doing precisely that to become better investors.
AI is not an investment advisor and ChatGPT can't build you a million-dollar portfolio from a $100 investment. But it can quickly and efficiently teach you the basics about options trading or forex, help you devise investment strategies based on your risk tolerance or make smart suggestions about asset allocation based on your retirement timeline.
Make Your Money Work Better for You
Launch a Business or a Side Hustle
Grand ideas are a big part of entrepreneurialism, but launching a successful business or side hustle requires time and skills that many people don't have — and that's where AI comes in.
"I've witnessed firsthand the immense opportunities it presents for online entrepreneurship, from e-commerce to content creation and startups," said tech entrepreneur David Ciccarelli, founder and CEO of Voices.ai. "AI-powered tools like ChatGPT are revolutionizing digital business."
This is especially true if you have the talent to create things to sell online, but you don't have a talent for online selling.
"In e-commerce, AI assists at every step — analyzing trends, product design, marketing copy, even customer interactions," Ciccarelli said. "It's like having a 24/7 virtual assistant ensuring your online store's success."
No matter what you do or what you sell, the online economy requires you back it up with blogs, videos and social media posts — and AI can handle much of that legwork.
"For content creators, AI generates scripts, ideates topics and creates posts to monetize via ads or subscriptions," Ciccarelli said. "For remote workers and freelancers like myself, AI improves productivity by handling routine tasks, allowing me to focus on complex work and gaining more clients."
Travel on the Cheap
About 11% of the survey's respondents use AI for travel. If you've ever booked through a popular flight and hotel comparison site, you might have already used AI without even realizing it — but are you using it to its fullest capacity?
Make Your Money Work Better for You
"Tools like Google Flights use AI to analyze billions of data points and alert you when fare prices drop for flights you're monitoring," said Paul Wood, chief technology officer of COG, a new Web3-based cryptocurrency. "I saved about $1,800 on my upcoming flights to the Philippines by letting its algorithms monitor multiple routes 24/7 and then notify me the instant a good deal emerged. You used to have to tediously check changes to flight prices manually."
More From GOBankingRates