Banking 2023: How To Be Proactive About Protecting Your Savings Account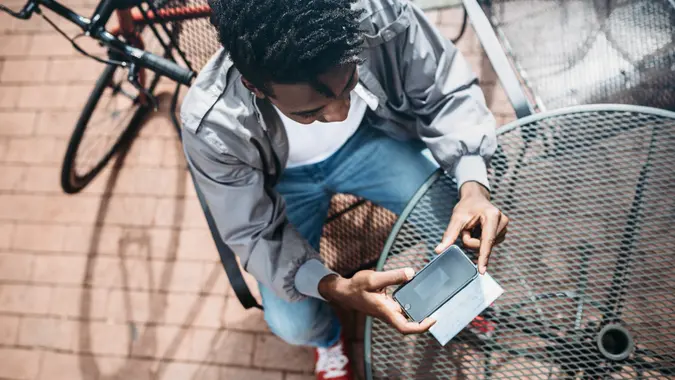 RyanJLane / iStock.com
With recent bank failures headlining the news cycle, many customers might be worried about their funds. 
The good news is there is a lot of protection provided to banking customers, no matter the dollar amount of your financial assets. Here are a few proactive steps you can take to protect your savings account and insure your deposits. 
Review FDIC Coverage and Resources
You might have noticed the fine print for your bank states it is FDIC insured. What does this mean?
Glen Goland, CFP and senior wealth strategist at Arnerich Massena, said FDIC (Federal Deposit Insurance Corporation) coverage has ensured depositors for 90 years that their funds would be available. This is regardless of what is happening in the financial world or to one's bank. 
FDIC coverage applies to up to $250,000 in deposits. This is per depositor, per insured bank. Different coverage amounts are afforded to trusts and other legal entities. 
For those who want to insure their deposits, Goland recommends visiting FDIC: Resources. The resources page provides a listing of ownership categories and applicable coverage amounts. Goland said this should give banking customers a sense of how much coverage they have and how much may be outside this coverage and at risk.
Open Accounts With More Institutions or Put Assets in an Investment Portfolio
There are a few moves banking customers can make if they are holding more than $250,000 in bank deposits. 
Make Your Money Work Better for You
Goland recommends opening accounts with multiple institutions. This can help keep deposits under the $250,000 threshold. Banking customers also can look into using a Cash Management Account (CMA), which functions like a traditional bank account but spreads your deposits across several partner banks for additional protection. 
Banking customers with more than $250,000 in deposits that are not being used for expenses or business operations might want to consider putting the assets into an investment portfolio. 
"Keeping too much cash can lead to diminished future prospects in retirement, especially in these current high inflationary times," Goland said. "You can build a balanced portfolio of investments, including stocks and bonds, which meets your risk and return objectives. For most investors, this is likely to lead to a better outcome as compared to leaving assets in cash deposits over long periods of time."
Set Up a CD Ladder by Using a Brokerage Firm
What if you want to insure funds without hopping to another bank? Boris Castillo, CFA and wealth manager at Amenity Wealth, recommends using a brokerage firm to set up a CD ladder for a depositor. 
How does this work? CDs across national, international and regional banks may be purchased in brokerage accounts under the same account titles. If you invest no more than the applicable $250,000 limit with each bank, Castillo said, there is almost no limit to the amount of FDIC insurance you can purchase. It will depend only on the CD inventory the brokerage firm has access to.
While CDs do not have early withdrawal penalties, Castillo said they do trade like bonds. Those held to maturity will allow you to receive your principal and all interest payments. But, if the interest rates change or you sell prior to the CD's maturity, you may experience a capital gain or loss.
Make Your Money Work Better for You
Interest on these CDs does not compound either. If the holder dies prior to the CD's maturity, Castillo said, the beneficiaries can receive the principal back from the bank immediately.
Invest in Treasury Bills, Notes or Bonds
Another option for those who don't want to bank hop is to invest in Treasury bills, notes or bonds. This may be done through a broker or through Treasury Direct.
However, since these are direct obligations of the U.S. Treasury, Castillo said FDIC insurance is not applicable. While notes and bonds have maturity dates that are longer than one year, they will still see fluctuation due to interest rate movements. This presents a problem only if a consumer must sell prior to maturity. 
Treasury bills, meanwhile, have maturity dates of one year or less. However, these are known as discount notes. The investor deposits an amount that is less than the face value. The principal grows to the face amount within the time frame specified. 
"Treasury bills are incredibly liquid," Castillo said, "and one can sell out prior to maturity, and the interest rate impact on price still stands, although not as drastically, since they have a shorter maturity."
What If Your Bank Fails?
In the event a bank does fail, even if you have taken all of the steps necessary to protect your assets, Castillo said there can be significant lag time while FDIC gathers the relevant information. 
Make Your Money Work Better for You
"There will likely be claim paperwork to file if there is no bank to immediately assume the assets and liabilities of a failed institution," Castillo said.
The practical impact of stress in the banking system, Goland said, is that depositors do not have access to cash during a crisis.
Goland recommends keeping emergency cash in your home or at your business. Keep this cash in a safe and only access it during an emergency. This will help mitigate any stress you feel and provide additional liquid coverage in the case of short-term issues.
More From GOBankingRates