6 Cash App Account Features You Didn't Realize Existed — and How To Use Them to Your Advantage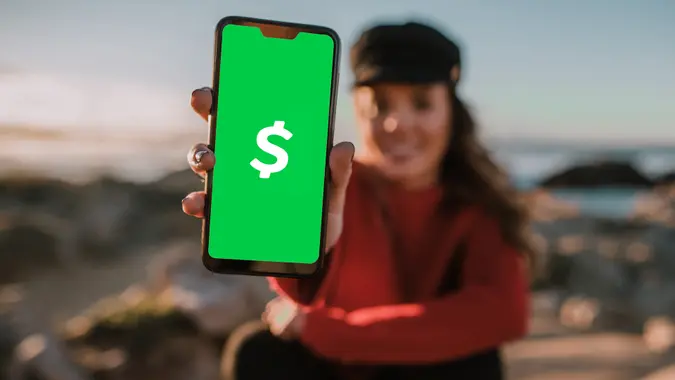 MarioGuti / Getty Images/iStockphoto
If you think Cash App is just for sending and receiving money, prepare to be enlightened.
The mobile payment platform rose to popularity for making it easy to send money electronically, but it also has many other interesting features. Cash App money transfers are great, but if that's all you're currently using this service for, you're missing out.
Your Cash App account can actually even help you earn money. If you're intrigued, keep reading to learn more about the features you haven't been utilizing.
1. Get Discounts at Your Favorite Stores
You might not realize it, but Cash App can actually save you money. Select retailers offer exclusive discounts when you use Cash App Pay and Cash Card.
Available for use in-store or when shopping online, simply browse offers to see what interests you. One offer can be activated at a time. Check the app often to see what new discounts have been added.
2. Open a Cash Card
You might be wondering: Can I use Cash App without a bank account? Yes, and having a Cash Card can make it even easier to function without one.
Simply log in to the app and order your free, customizable debit card. It's connected to your Cash App balance and can be used anywhere Visa is accepted — both online and in-store.
You'll need to be at least 18 years old to apply for a Cash Card. Have fun personalizing it with your favorite color and even your own unique artwork.
Make Your Money Work Better for You
Once it's ordered, expect it to arrive within 10 business days. If you want to use it sooner, add it to Apple Pay or Google Pay, or use the card details in the Cash Card tab.
3. Purchase Stock
This might come as a surprise, but you can use your Cash App account to buy stock. Invest any amount you want in companies of your choice.
It gets even better — Cash App doesn't charge commission fees, and your money is moved instantly when you buy and sell stock. You can even gift stock to others, sending it just as you would with cash.
If you're not well versed in the stock market, don't stress. Cash App offers access to analyst opinions, earnings and more information to help you get informed. Plus, you can also sign up for notifications when stocks you're interested in have a price drop or increase.
Customized to fit your needs, you can also create orders to automatically purchase small amounts of stock at a time, on a regular schedule or when it reaches your ideal price.
4. Buy Bitcoin
Whether you're seasoned in bitcoin or want to slowly check it out, Cash App has you covered. You can even use Lightning Network to send it without incurring any fees.
Cash App uses a secure, cold storage solution to keep your bitcoin safe. After purchasing it, you'll need a wallet and private key for access.
Serving as a bitcoin wallet, Cash App allows you to view your balance and buy or sell at any time. Since Cash App stores the private keys for it, you'll enjoy instant access whenever you need it.
Make Your Money Work Better for You
5. Introduce Teens to Banking
A great way to teach your teenagers about smart banking, Cash App can be used by anyone 13 and up — when sponsored by a parent or trusted adult. A sponsored account has access to features like Cash Card and investing, allowing you to give your kids a bit of financial freedom, with appropriate safeguards in place.
As the sponsor, you own the account. This means you can access balances, monthly statements and real-time transactions. You can also manage permissions on investing and Cash Card spending.
6. File Your Taxes
A major bonus, you can file your state and federal taxes at no cost with Cash App. The company guarantees you'll receive the maximum refund, serving as an all-around win.
It might sound too good to be true, but it's not. There are no hidden fees, and free audit defense is included with every return.
Filing is done on your computer or phone and can be completed in a matter of minutes. Simply take a picture of your W-2, and it will fill in automatically.
Another reason to use this service — if your refund is deposited into your Cash App account, you might be able to get it up to six days early.
How Do I Access My Cash App Account?
To access your Cash App account, simply log in to the app on your smartphone or go through the Cash App website on your computer. You can log in using your phone number or email address.
Make Your Money Work Better for You
Is Cash App Safe for My Bank Account?
As previously noted, you don't have to have a bank account to use Cash App — and if you do have a bank account, you don't have to link it to your Cash App account.
However, if you choose to link your bank account to your Cash App account, feel confident you're in good hands. Your Cash App money and account data are protected by encryption and fraud detection technology.
Whether you're using a public or private Wi-Fi connection or data service, the information you submit is always encrypted and sent to Cash App servers securely.
Does Cash App Give You a Bank Account?
If you're looking to open a bank account, Cash App cannot provide this service. On the surface, it might seem like a bank, but Cash App is primarily a mobile payment platform. You'll need to open a bank account with a financial institution — i.e., a bank or a credit union.
Final Take
Now that you know Cash App money transfers are just one available feature, it's time to make the most of your account. Give these additional features a try to save money and maybe even increase the balance of your Cash App account.
Definitely one of the most beneficial apps on your phone, Cash App has a lot to offer. Take the time to really explore the app and find out what else it can do for you.
Editorial Note: This content is not provided by any entity covered in this article. Any opinions, analyses, reviews, ratings or recommendations expressed in this article are those of the author alone and have not been reviewed, approved or otherwise endorsed by any entity named in this article.
Make Your Money Work Better for You