6 Best Cash-Back Apps for 2023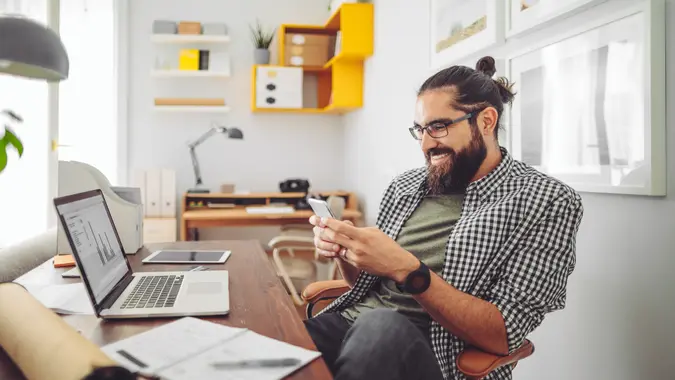 Eva-Katalin / Getty Images
You go to the grocery store or online shop every week regularly, if not every day. For purchases you are already making, sometimes it may make sense to receive rewards, or better yet, get some cash back for your trouble.
Now, all of your payment platforms exist on one device, as well as your cash-back options. Saving money and earning money now go hand-in-hand, all accessible in the palm of your hand. 
What Apps Give You Free Cash?
Some cashback apps let you earn money, while others give you points redeemable for cash-back rewards such as deposits through your linked bank account's PayPal or gift cards. These can still be worthwhile, but cash is king. Here are some apps that give you cold, hard cash-back offers for using them.
Rakuten: Best used for big-name retail stores
PayPal Honey: Best used for PayPal customers
Ibotta: Best used for loyalty programs
Upside: Best used for gas and food
Freebird: Best used for rideshares and restaurants
Dosh: Best used for retail, food and hotels
1. Rakuten
Best for big-name retail stores
Rakuten offers cash back at over 3,500 stores, including Target, Nordstrom, Best Buy and more. You can shop through Rakuten.com, on the Rakuten app or using the Chrome extension. You'll get your cash back every three months, either by PayPal or a check. Rakuten also offers a Cash Back Visa credit card that earns you an extra 3% cash back on your Rakuten purchases.
To redeem your cashback, be sure to add your address to your account. Choose whether you want your cash by check or PayPal. You'll get your cashback 45 days after the end of the quarter in which your payments are posted. So, for cash back you earned between January 1 and March 31, they'll send your payment on May 15.
Make Your Money Work Better for You
Pros
Welcome bonus of $10 for spending $25 within the first 90 days
3,500+ cash-back stores
Cons
Get your cash back every three months, not on demand
Must earn at least $5 to get cash
2. PayPal Honey
Best for PayPal customers
Honey, now owned by PayPal, offers cash back for Gold points, which you collect when you shop at certain merchants. There are over 30,000 participating stores, including Walmart, Apple, Trip Advisor, The Home Depot and more, offering as much as 5% cash back through Honey. If cashback isn't your thing, you can redeem your points for PayPal credit or gift cards.
To redeem Gold points, go to the Redemption page. Click on the gift card you want. You can redeem 1,000 Gold points for a $10 gift card.
Pros
30,000+ stores
Notifications about price drops on items you want to buy
Automatically searches for coupon codes
Cons
Rewards are not available at every Honey store
Limited customer service
3. Ibotta
Best for loyalty programs
Ibotta gives you cash back at thousands of online and brick-and-mortar retailers, including Walmart, Best Buy, The Home Depot, Old Navy, Chewy, Groupon and more.
You can use Ibotta when you shop in-store by linking your store loyalty card or by submitting a photo of your receipt. When you're shopping online, you can use the Ibotta app on your mobile device or the browser extension on your computer.
To redeem your cashback, go to the Account section of the app and select Withdraw Cash. Choose PayPal or select a gift card. If you choose PayPal, you'll need to link your PayPal account to your Ibotta account.
Make Your Money Work Better for You
Pros
Link your store loyalty card to earn cash back automatically
In-store cash-back earning opportunities
Cons
Must amass $20 before you can get the cash.
Inactive accounts face a $3.99 monthly fee until your balance is zero
4. Upside
Upside gives you cash back when you buy gas, fast food and other everyday items. With a specific focus on gas stations, you can use Upside at Exxon, Shell, Mobil, Sunoco, Racetrac and more — over 45,000 locations nationwide. Plus, you can use it at Popeyes, Burger King, Piggly Wiggly and more.
You find an offer on the app, pay with a credit or debit card and then check in to get your cash back. If you can't check in, you can take a picture of your receipt and upload it. You can redeem your cash via PayPal, directly to your bank account or as an e-gift card. Unlike some apps, there's no minimum amount of cash back you need to have in order to cash out.
To redeem the cash you've earned from Upside, tap the balance amount in the upper right corner of the app. Tap Cash Out and choose whether you want a bank transfer, gift card or PayPal payment. Then follow the prompts.
Pros
Cash out any time
Thousands of locations
No physical coupons required
Cons
Primarily for gas, and some fast food and retail stores
Can take up to three days to verify a transaction
5. Freebird
Best for rideshares and restaurants
Freebird gives you cash back when you use rideshare services and when you go to local restaurants. You link your Uber and Lyft accounts to Freebird and earn points for rides you take. You can also link your credit card, and when you use that card to pay your tab at participating bars and restaurants, you'll get points for that too.
Make Your Money Work Better for You
To cash out, request a transfer to your debit card through the app. Freebird does not offer transfers to credit cards or prepaid debit cards.
Pros
Links with your Uber and Lyft accounts
Rewards for going to local restaurants and bars
Cons
Restaurants are mostly local or regional — there may not be any near you
Must get paid on on the debit card
6. Dosh
Best for retail, food and hotels
To use Dosh, you'll need to link your credit cards to the Dosh app. You can also link your Venmo account. When you shop using those cards, cash back for qualifying purchases is automatically added to your Dosh wallet. You'll need to accumulate at least $25 in your Dosh wallet before you can transfer it to your bank, PayPal account or Venmo account. You can also donate your cashback to charity.
To cash out, tap the wallet icon at the bottom of the screen. Tap the transfer button, then choose which account you want to transfer to. Enter the amount you want to transfer, tap Next, review the details and tap Transfer.
Pros
Linking your card gets you cash back automatically
Multiple payout options
Available at local and national stores
Cons
Must accumulate $25 before you can cash out
$5 maintenance fee for inactive accounts
Honorable Mention: Apps That Give You Rewards
Other apps will give you points for using them, but those points can be redeemed for rewards. Often these are gift cards for various merchants, but some offer other rewards, as well. Before signing up for one of these, make sure the rewards you can get are valuable to you.
Fetch Rewards: With Fetch Rewards, you get points for purchasing specific products, which can be redeemed for gift cards and other rewards. You scan your receipt from any store or restaurant, and when you buy brands that participate in Fetch Rewards, you get points.
Drop: This app lets you earn rewards points that you can then redeem for cash back on future purchases. In addition to shopping through the Drop app, you can also play games and take surveys to earn more points.
MyPoints: This app gives you coupons, deals and promo codes in addition to points you can redeem for gift cards or transfer to your PayPal account by completing surveys and other activities. To redeem your points, click on the gift box icon in the upper right to go to the Rewards page and then the option you want
Make Your Money Work Better for You
Final Take To GO: Are Cash-Back Apps Worth It?
The idea of getting a cashback option always seems rewarding, However, never make a purchase you wouldn't otherwise make just to get the points. Likewise, don't redeem your points for gift cards for merchants where you wouldn't shop.
Finally, only you can decide if the effort you have to put in to get the cash or rewards is worth your time. The bottom line on cash-back apps is, if they're easy to use and earn you points on things you would have bought anyway, they can be a great way to put a little money back in your pocket.
FAQ
Here are the answers to some of the most frequently asked questions regarding cash back apps.
Which app provides the best cashback?

Many apps provide cashback, here is a list of some of the best examples: -Rakuten -PayPal Honey -Ibotta -Upside -Freebird -Dosh

Is the cashback app legitimate?

Yes, there are several cashback and rewards-based apps that are legitimate and can help save you money and earn you money on your purchases. Some examples include Rakuten, Upside, MyPoints, Ibotta, Dosh and Drop.

What app pays the most to scan receipts?

Many apps pay you well to scan your receipts to verify purchases such as Fetch Rewards or Ibotta.
Caitlyn Moorhead contributed to the reporting for this article.