First Year of Retirement: 2 Things To Save and 3 Things To Splurge On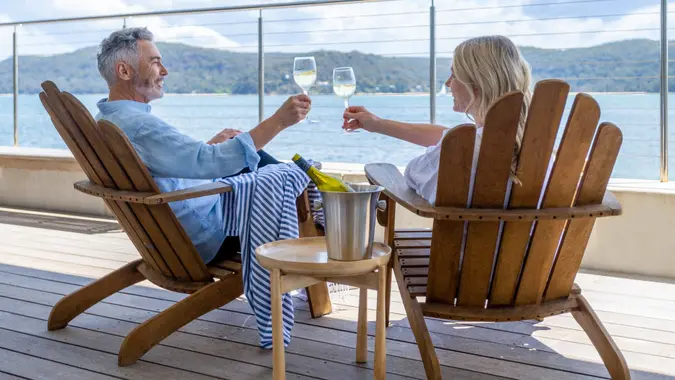 courtneyk / iStock.com
It's finally here! After spending most of your adult life preparing for retirement you can spend your days as you wish. Paying particular attention to your finances in retirement allows you to live comfortably without the concern of outliving your savings. Some splurges could potentially save you money in the long run while you should look for better deals on other purchases.
Healthcare
It's important to maintain your health as you age. If you're not yet qualified to receive Medicare, then you might splurge on a solid healthcare plan. According to a recent Fidelity survey, the average 65-year-old will need $157,500 saved after taxes for healthcare expenses in retirement.
In a previous interview with GOBankingRates, Larry Roby — president and CEO of SFA Wealth Management — shared, "If you are not eligible for Medicare yet and your employer does not offer continued access to healthcare coverage, you will need to look into alternative options."
This could include signing up for healthcare coverage through your state's health insurance marketplace and setting aside funds each month to pay for health insurance on your own. Without insurance, a trip to the hospital could break the bank on your retirement budget.
Vacations
Many new retirees choose to splurge on vacations they wished they had taken while they were still working. Traveling is a worthwhile pursuit, but it can quickly add up when you consider the cost of accommodations, food, and excursions.
Make Your Money Work Better for You
Here's where you might choose to save money instead. Rather than paying full price to travel, help your money go further by taking advantage of discounts and off-season pricing when planning trips.
Hobbies and passion projects
In the first year of retirement, several aspects of your life typically change. You have more free time, you're finding a new identity outside of work and you're spending more time with your spouse. These significant changes could result in an identity crisis, marital stress, or mental decline without new ways to occupy your time.
Finding a new hobby or passion project could redirect your extra time and energy into something productive. While certain hobbies like boating, video gaming, or pottery could have a costly upfront investment, it could help you form new connections, occupy your time with something you enjoy, or remove some stress.
The expense of trying new hobbies could be well worth it when considering your piece of mind. Just be sure to weigh the costs and benefits to know how well these hobbies fit into your budget.
Financial advice
When you enter retirement, the last thing you want to do is go back into the workforce due to financial concerns. Spending the money to work with a quality financial advisor can help you develop and implement a plan that keeps you from just such a scenario. They can help you work through complex issues such as a distribution schedule, planning for wealth transfers, and adjusting your lifestyle to meet your new income.
Make Your Money Work Better for You
Not all advisors are built the same. If you want a quality financial advisor who keeps your best interests ahead of their own, look for an independent, fiduciary financial advisor who works on a fee-only payment structure.
Luxury cars
Cars are considered one of the worst investments you can make with your money. As soon as you drive it off the lot, the car decreases in value. Even when you feel as if your tenure in the workforce is deserving of a reward like a new luxury car, this purchase could sabotage your retirement planning in the long run. You're not just paying for the car, you'll also have to cover insurance, maintenance costs, fuel, plus any interest on financing. 
As a general rule, financial experts suggest spending no more than 10% of your annual income on a car purchase. If your annual income in retirement is $65,000 then you should only be spending $6,500 on a new car. That means you'll have to adjust your car shopping budget significantly to avoid undermining your retirement budget.
More From GOBankingRates