Get up to 45% Cash Back With These 6 Apps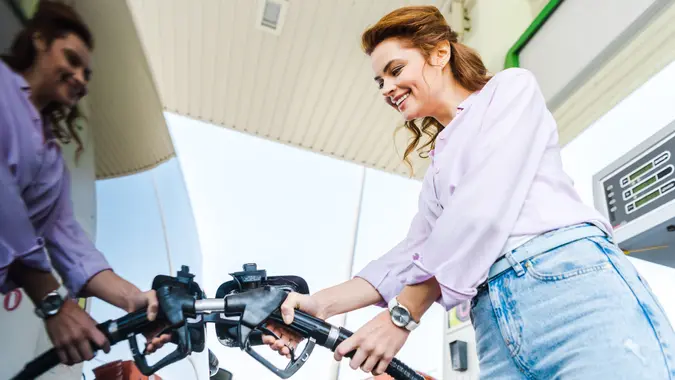 LightFieldStudios / iStock.com
Many apps these days are promising "cash back" to consumers, which can sound too good to be true. Some of them really do deliver, though, and even significant dollars if you use them frequently.
Many of these apps require you to shop at specific stores or retailers, online and in-person, while others will aggregate coupons for you according to places you like to shop. Whichever you prefer, there's certainly a cash-back app out there for you that can help boost your bank account — and all you have to do is shop.
Upside
Upside is an app that allows you to earn cash back at over 50,000 businesses in three categories: gas stations, grocery stores and restaurants. GOBankingRates previously reported that the average offer is around 11 cents back per gallon of gas, 7% cash back on groceries and 10% on restaurants (dining in or direct ordering, not through third-party delivery services).
However, offers differ between participating businesses and can be much higher — up to 45% at restaurants, 30% on groceries and 25 cents per gallon of gas. Overall though, you should expect to see offers closer to the average.
Any cash back you earn can be transferred directly into your bank account, PayPal account or put on a gift card to retailers like Amazon or Starbucks. If you use your app frequently, you may be able to earn several hundred dollars per year. Better yet, you can also double dip — meaning you still earn cash back with Upside even if you're using a credit card or rewards card that offers cash back as well.
Make Your Money Work Better for You
Ibotta
Ibotta is among the first and best known cash-back apps (it's also a browser extension). It allows you to earn cash back on your purchases across a wide variety of well-known retailers and categories, including travel, clothing, groceries and more.
According to CNBC, the average user earns about $10 to $20 per month, though more frequent users could earn up to $300 per month in rare cases. Your earnings can be deposited into a PayPal or bank account, or you can opt to receive gift cards. You do need to be careful to add your offers to your list, however, or you won't get the deals when you shop.
RetailMeNot
RetailMeNot primarily helps users find coupons that can get them discounts on stores and products that are personalized to their needs and tastes. Users will receive up to 10% cash back on any order, but then they can also find specific deals for a wide variety of retailers that vary widely in the amount of cash back. Earnings are paid out via PayPal or Venmo.
Rakuten
Rakuten also works as both an app and a browser extension for your computer, so you can take advantage of deals no matter how you shop. With Rakuten, you will only be able to earn cash back on retailers that are part of their network, which they state is about 3,500 stores, but it does qualify for both online and in-store types of purchases. Additionally, if you install the browser extension, you'll receive notifications about cash-back opportunities.
Your earnings will only be paid out once you earn $10, and only quarterly through PayPal or via a physical check that can be mailed to your address. They do offer a welcome bonus of $10 when you spend $25 on your first purchase, plus you can earn $30 for any referrals you send Rakuten's way.
Make Your Money Work Better for You
Honey
If you love to use coupons but don't have the time to spend looking for them, Honey is an app that will do that work for you. Honey finds all the best prompt codes or coupons to help you save money on over 30,000 websites.
These coupons are tested before they're sent to you, so you won't get any duds either. You can use Honey as an app or a browser extension. Every time you visit a retailer on the app, you'll see on the Honey toolbar if there are any discounts you can take advantage of right there and then.
Dosh
If you love to travel, eat out and shop, then Dosh might be the perfect cash-back app for you. Dosh has a network of over 10,000 retailers in which you can shop for everything from food and entertainment to transportation services and earn cash back.
Additionally, Dosh has a unique perk where if you shop in-store, you get your cash-back reward along with the purchase — so there's no waiting. Otherwise you do have to accumulate $15 in earnings before you'll receive a payout. You'll get an instant $1 welcome bonus when you register, and can earn $10 every time you refer a friend.
More From GOBankingRates