Google Voice Scam: How It Works and How To Avoid It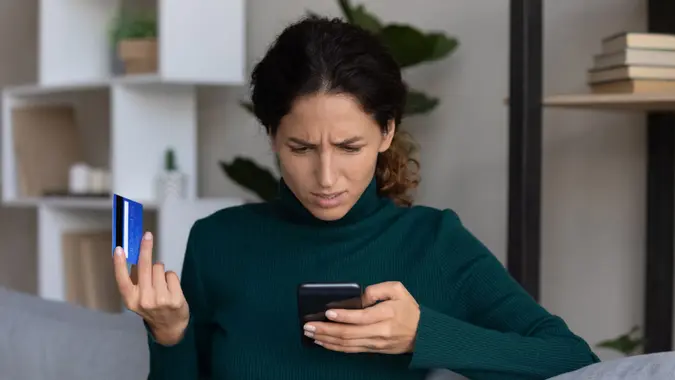 fizkes / Getty Images/iStockphoto
Google Voice provides smart voice calling for smartphones, tablets and the web, allowing you to place calls to — and receive calls and voicemail from — anywhere in the world. While the service has useful features such as call forwarding and international calling, it can also be used by unscrupulous individuals to perpetuate fraud.
If you have a Google account and you share your personal phone number online, perhaps while buying or selling goods or even asking for help locating a lost pet, you could be the target of a Google Voice scam.  
What Is the Google Voice Verification Code Scam?
If you are selling things online from such platforms as Craigslist or Facebook Marketplace, you often have to communicate with those buying from you. The Google Voice scam comes into play when a person contacts you and feigns interest in what you are selling, according to the Federal Trade Commission. But before they commit to buying the item, they pretend to hesitate.
The scammer then expresses concern over getting scammed themselves and says they want to verify that you, the seller, are in fact a real person with a legitimate listing. The next step is for them to send you a Google Voice verification code and ask you to repeat the code.
When you read back the Google Voice verification code, the scammer uses it to create a fraudulent Google Voice number in your name and link it to your number. This allows them to use the fraudulent number to scam other people without getting caught because the number they're using is connected with you.
The FTC warns that in the process of stealing your Google Voice number, scammers might also ask you for personal information they can use to steal your identity.
Make Your Money Work Better for You
How To Reclaim Your Google Voice Number

If you have recently responded to a Google Voice verification code, worry not — you have 45 days to reclaim your number. Here's how: 

Using your computer, go to voice.google.com.
When in your Google Voice account, click on "Settings."
Under "Linked numbers," select "New Linked Number."
Enter the phone number you want linked to Google Voice.
Google Voice will send a six-digit code to verify your number.
Enter the code and then click "Verify."
If the Google Voice number is being used by another account you will have the option to claim it.
Who Is Vulnerable To Google Voice Scams?
Google Voice scammers could target anyone who shares their phone number online. Sharing it in connection with any of the following could make you especially vulnerable:
Buying and selling goods and services
Reporting that a pet has been lost or found
Seeking or offering a home for rent
Posting on dating sites
You don't have to have posted your phone number to attract the attention of scammers. They also text and email unsuspecting individuals out of the blue to demand a verification code, the Massachusetts Executive Office of Housing and Economic Development warns.
How To Avoid the Google Voice Scam
Avoiding the Google Voice verification code scam altogether is often a matter of staying vigilant, especially when buying and selling items online. Many online platforms for buying and selling goods, such as eBay and Etsy, have more security measures with built-in customer support, as well as their own verification systems.
Don't give your personal information out online to people you don't know or through sites that are not secure. Google even says not to answer a request for a Google Voice verification code.
Make Your Money Work Better for You
The Identity Theft Resource Center has additional tips for avoiding Google Voice scams:
Conduct sales in person, using verified funds.
Assume any request for a verification code, Google Voice or otherwise, is a scam.
How To Report a Google Voice Scam
If you think you've been scammed, reclaim your number using the instructions above so that the fraudster can't scam anyone else while using your number. Then report the scam to the FTC, which has a special platform for reporting fraud.
On the first page of the reporting site, select the problem that best describes your situation. If none fits, select "something else," and you'll have an opportunity to describe the event in detail on the next page. That page will ask a number of questions about the scam and the scammer. Share as much as you can before moving onto the next page, which asks for your contact information.
Final Thoughts
Unfortunately, scams will find their way into any system where buying and selling exist. As scams get more advanced, buyers and sellers need to get savvier.
This is not to say you should fear online transactions online — just be aware of who you are giving your information to. If someone who initiates contact with you asks you to verify your identity via a Google Voice verification code or any other type of code, don't do it.
Google Voice Scam FAQ
Is a Google Voice verification code a scam?

It's not a scam if you are linking your own phone number to your own Google Voice account. However, if you are selling or buying something online and someone asks you to verify you are real by sending you a Google Voice verification code, it is a scam. Do not respond to it or send your information.

What can a scammer do with Google Voice?

If you respond to a Google Voice verification code the hacker can then start a new fraudulent account under your name that is linked to your number. They can use this to defraud other people without revealing their identity.

What do I do if someone asks me for a Google Voice verification code?

Do not give it to them. It's best not to respond at all.
You can also report suspected fraud to the website you encountered the scammer on, to help protect people who might not be savvy to the scheme and make the site a little safer.
Make Your Money Work Better for You
Caitlyn Moorhead contributed to the reporting for this article.
Information is accurate as of April 27, 2023.
Editorial Note: This content is not provided by any entity covered in this article. Any opinions, analyses, reviews, ratings or recommendations expressed in this article are those of the author alone and have not been reviewed, approved or otherwise endorsed by any entity named in this article.
Our in-house research team and on-site financial experts work together to create content that's accurate, impartial, and up to date. We fact-check every single statistic, quote and fact using trusted primary resources to make sure the information we provide is correct. You can learn more about GOBankingRates' processes and standards in our editorial policy.