How To Buy Bitcoin on Cash App 2023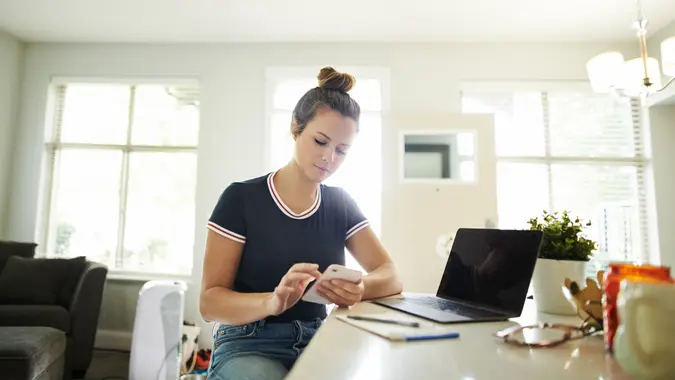 AJ_Watt / Getty Images
Beyond just sending and receiving payments, Cash App, the popular peer-to-peer money transfer app, also enables users to invest in Bitcoin. This feature was first introduced in 2018, making it simple for novice and seasoned investors alike to buy and sell the cryptocurrency with just a few quick taps on their smartphones. 
If you're wondering how to buy Bitcoin on Cash App, read on for a step-by-step guide. 
Buying Bitcoin With Cash App
To purchase Bitcoin on Cash App, you'll need to take the following steps: 
If you don't already have one, create a Cash App account and link your bank account to get started.
On the home screen, tap the Bitcoin tab and then the "Buy Bitcoin" button.
Select one of the preset amounts or tap "…" to enter a custom amount.
Enter your PIN and tap "Confirm."
You must have a balance in your Cash App account in order to purchase Bitcoin. Standard Bitcoin orders are placed immediately.
Other Bitcoin Order Types
In addition to the standard purchase method, Cash App offers two other Bitcoin order types: custom orders and auto invest. 
Custom Orders
With the custom order feature, you can set your Cash App account to automatically buy or sell Bitcoin once it hits a target price. That way, you can buy low and sell high to capture gains or limit losses. For example, if Bitcoin is trading at $30,000 but you think that's too high, you can create a custom purchase order to automatically buy if the price drops to $25,000.
Make Your Money Work Better for You
To set up a custom order: 
On the home screen, tap "Bitcoin" and then either "Buy" or "Sell."
From the drop-down menu, select "Custom Purchase Order" or "Custom Sell Order."
Drag the slider or press the keypad icon in the top right corner to choose a price.
Set a time period for the custom order to stay active.
Review your order details and press "Confirm."
Auto Invest
The auto-invest function provides another way to schedule Bitcoin purchases. With it, you can set up Bitcoin purchases to occur automatically — for example, every two weeks. Once you've navigated to the "Buy" screen, follow these steps: 
Tap the "Change Order Type" drop-down menu.
Select a frequency and tap "Done."
Choose a preset amount or tap "…" to enter a custom amount. Then tap "Next."
Confirm the automatic purchase schedule.
The auto-invest feature may be right for you, for example, if you want to consistently invest a portion of your paycheck in Bitcoin or if you want to spread out your purchases to reduce the effects of a single day's price action. Note that auto-invest purchases must be for at least $10.
Transaction Fees
Bitcoin purchase fees vary by transaction size and will be listed on the confirmation screen before you complete your purchase. 
When you buy or sell Bitcoin on Cash App, the price includes a spread, so you'll pay slightly more than the market value when you buy and receive slightly less than the market value when you sell. The price and spread may differ from what's available on other cryptocurrency marketplaces. Cash App also charges a fee for expedited Bitcoin withdrawals.
Make Your Money Work Better for You
Storing Bitcoin
Cash App functions as a Bitcoin wallet, allowing you to view and manage your Bitcoin balance within the app, all securely stored with private keys. The app is Payment Card Industry Data Security Standard Level 1-compliant, so your payment information is encrypted. Remember, though, that your Bitcoin balance in Cash App is not insured by the Federal Deposit Insurance Corporation.
Transferring Bitcoin
You can also send or receive Bitcoin instantly when transacting with another Cash App user, as long as you know their unique "$Cashtag."
Furthermore, you can use the blockchain to deposit Bitcoin into your Cash App account from a crypto wallet by selecting "Deposit Bitcoin" in the Bitcoin tab. This comes with a limit of $10,000 in Bitcoin deposits over a seven-day period.
Selling Bitcoin
To sell Bitcoin with Cash App, navigate to the Bitcoin tab from the home screen and tap "Sell." Select an amount you'd like to sell and enter your PIN to confirm the transaction.
Final Take
If you're new to Bitcoin, remember that, as with any investment, buying Bitcoin involves risk. If you're an experienced investor, you should know that Cash App does not offer the ability to purchase any other types of cryptocurrency, though you can buy and sell stock on Cash App. 
Cash App is a convenient and secure place to buy, sell, send and receive Bitcoin. 
Editorial Note: This content is not provided by any entity covered in this article. Any opinions, analyses, reviews, ratings or recommendations expressed in this article are those of the author alone and have not been reviewed, approved or otherwise endorsed by any entity named in this article.
Make Your Money Work Better for You