How To Get Money Back From Cash App if Scammed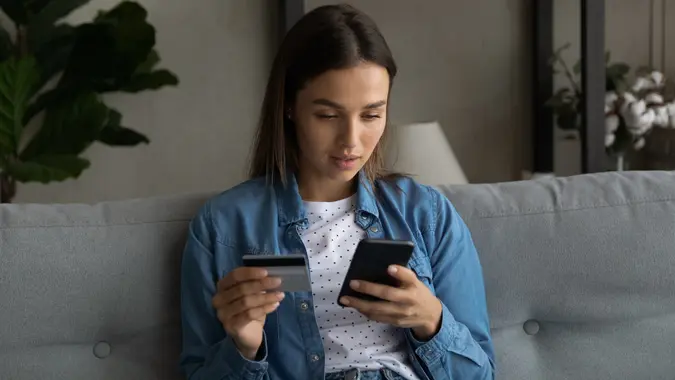 fizkes / iStock.com
As scammers continue to look for new ways to get their hands on consumers' hard-earned money, financial institutions are fighting back, providing ways for their customers to recoup that money. Filing a dispute with their credit card companies is one way consumers can get their money returned.
But what if you're thinking, "I got scammed on Cash App. What do I do?" Read on to find out how to get your money back on Cash App if you are scammed and tips for avoiding Cash App scams.
See: What To Do if You Owe Back Taxes to the IRS
Will Cash App Refund My Money if I Get Scammed?
Whether you're a Cash App user who suspects fraud or are considering getting the app and wondering about its safety, your primary concern is likely this: Will Cash App refund your money if you're scammed?
No, you cannot always get a refund for a fraudulent Cash App transaction. The Cash App team will investigate every disputed transaction and decide which transactions will result in a refund and which will be denied. If Cash App denies your refund request, you may still have the following options for getting your money back.
How To Get Money Back on Cash App if Scammed
So what should you do if you've been scammed on Cash App? Here are your options for reporting the scam and attempting to get a refund of the fraudulent charges:
Cancel the payment
Request a refund
Dispute the transaction
Report the transaction as a scam
Report the scam account
Notify your bank of the fraud
Freeze your credit
Report the fraud to the FTC or the IC3
Make Your Money Work Better for You
1. Cancel the Payment
Cash App transactions generally happen instantly, so you typically can't cancel them. But in rare cases, you can if the transaction hasn't yet been completed. If you want to try to cancel a transaction:
Log in to Cash App.
Go to the Activity tab on the home screen.
Locate and select the transaction you believe is fraudulent.
Look for a "Cancel" link. If there is no cancel link, Cash App has already finalized the transaction. Select the link if the option is available to cancel the transaction.
2. Request a Refund
If you can't cancel the transaction, requesting a refund is the next step to getting your money back. To do so:
Log in to your Cash App account.
On the home screen, go to the Activity tab.
Select the fraudulent payment.
Select "Completed."
Select "Report an Issue."
Choose a reason for the refund request from the available options.
Select "Next."
Unfortunately, fraudsters aren't likely to just hand their stolen money back to their victims. You may have to escalate the issue by disputing the transaction.
3. Dispute the Transaction
Disputing a transaction can coerce a merchant to return the money you paid if they can't prove they've provided the product or expected service.
You should only file disputes after you have attempted to contact the merchant, requested a refund through Cash App and failed to get a resolution. If that's the case, follow these steps:
Log in to Cash App.
Go to the Activity tab on the home screen.
Locate the fraudulent transaction and select it.
Select the icon that looks like three small dots.
Select the "Need Help & Cash App Support" option.
Select "Dispute this Transaction."
Make Your Money Work Better for You
The Cash App team will investigate the claim.
4. Report the Transaction to Cash App as a Scam
You can report the issue to Cash App if you've tried all the previous options to get a refund on a fraudulent transaction.
Log in to Cash App.
Go to your profile using the profile icon.
Select "Support."
Tap "Report a Payment Issue."
Select the fraudulent transaction and follow the prompts.
5. Report and Block the Scam Account
Sometimes a Cash App scam is associated with a potential scam account rather than a specific payment. To report and block possible scam accounts:
Log in to Cash App.
Search for the profile of the scam account.
View the profile and scroll to the bottom.
Select "Report" or "Block" and then follow the prompts.
6. Notify Your Bank of the Fraud
Whenever you are a victim of fraud that could impact your bank account or debit card, contact your bank. A bank representative can advise you on any action you should take to protect your account from further fraud and determine if you can file a dispute for the fraudulent transaction with the bank.
7. Put a Freeze on Your Credit
Not all Cash App fraud is limited to purchases and transactions. If a scammer has accessed your Cash App account, they may also have accessed your financial information. Contacting the major credit bureaus to freeze your credit can be a good idea to prevent a scammer from opening fraudulent accounts using your credit.
Make Your Money Work Better for You
8. Report the Fraud to the FTC or the IC3
The Federal Trade Commission or the Internet Crime Complaint Center are two common ways to report fraud to the government. Both agencies will require information to identify the victim, the con artist and details of the fraudulent transaction.
What Can Be Done To Avoid Cash App Scams?
Unfortunately, taking the previously outlined steps does not guarantee you'll see your money again if someone scams you. Knowing how to avoid scams altogether is the best protection.
Using the following tips can help you avoid most Cash App scams:
Avoid sending or accepting money from someone you don't know and trust.
Never disclose personal information to anyone through the platform.
Double-check all recipient information before sending money.
Avoid sending money to someone who promises future or too-good-to-be-true products or services.
Stay current on the latest Cash App scams to better spot signs of potential fraud.
Contact Cash App Support through the app or by phone if you receive a suspicious email or text claiming to be from Cash App. Don't click on any links in the email or text.
Cash App also provides the following security features that can help protect against fraud:
Notifications: If you elect to receive email or text notifications, Cash App will alert you whenever a payment is sent from your account.
Security Lock: When Security Lock is enabled, your passcode, Face ID or Touch ID is required to send a payment.
Two-factor authentication: When enabled, this feature requires you to enter a one-time code sent from Cash App before you can sign in to your account.
Takeaway
Fraudsters have discovered ways to scam people on almost every payment app — from Venmo to Zelle — and Cash App is no exception. Knowing how to get a refund on Cash App and other payment apps you may use is helpful information, just in case you do fall victim to fraud.
Make Your Money Work Better for You
Regardless of the payment app, if you limit the sending and receiving of money to and from trusted sources and keep your accounts secure, you should be able to use payment apps safely.
What should I do if I get scammed on Cash App?

If you think you've been scammed on Cash App, report the transaction. The easiest way to do this is through the app. Select the profile icon from the Cash App home screen to access the Support feature. Tap "Report a Payment Issue" and follow the prompts.
You can also report potential spam accounts to Cash App. In Cash App, open the profile of the account you want to report. Scroll down and tap "Report" or "Block," then follow the steps provided."

How do I contact Cash App if I was scammed?

Anyone who needs support regarding a scam can contact Cash App in the following ways:

By signing in to Cash App and using the chat feature
By calling 800-969-1940, Monday through Friday, 9 a.m. to 7 p.m. EST
Through one of Cash App's social media channels

When communicating with Cash App via social media, verify you're reaching out to one of the following official Cash App social media accounts:

Instagram: @CashApp or @CashByCashapp
Twitter: @CashApp, @CashSupport or @CashAppStudios
Tiktok: @CashApp
Twitch: twitch.tv/CashApp
Reddit: u/CashAppAndi
Facebook: SquareCash

What account information will Cash App Support need to assist me?

A Cash App Support representative may need you to verify your identity by providing your email address, phone number or the last three or four digits of your linked card or bank account. However, Cash App Support will never ask for any information that could allow someone to access your account, such as your PIN or sign-in code, over the phone. Support will also never request that you perform a test transaction, allow remote account access or pay for support.

Can I reverse a Cash App payment?

Because most Cash App transactions are instant, they can't be reversed. This is true even if you prepaid for a product or service you haven't yet received. However, you can take the following steps to determine if you can cancel a pending transaction:

Open Cash App and select the Activity tab.
Locate and select the transaction you want to cancel.
Look for a "Cancel" link and tap it. If there is no link to cancel, Cash App has already finalized the transaction.

Is it safe to send money to strangers on Cash App?

There is no way to ensure a transaction recipient is legitimate and not a scammer, so you should only send money to people you know. You can't cancel most Cash App transactions, so you should only send money to people you trust to return it if there is a problem.
Editorial Note: This content is not provided by any entity covered in this article. Any opinions, analyses, reviews, ratings or recommendations expressed in this article are those of the author alone and have not been reviewed, approved or otherwise endorsed by any entity named in this article.
Our in-house research team and on-site financial experts work together to create content that's accurate, impartial, and up to date. We fact-check every single statistic, quote and fact using trusted primary resources to make sure the information we provide is correct. You can learn more about GOBankingRates' processes and standards in our editorial policy.