How To Save $200 on Your Grocery Bill Every Month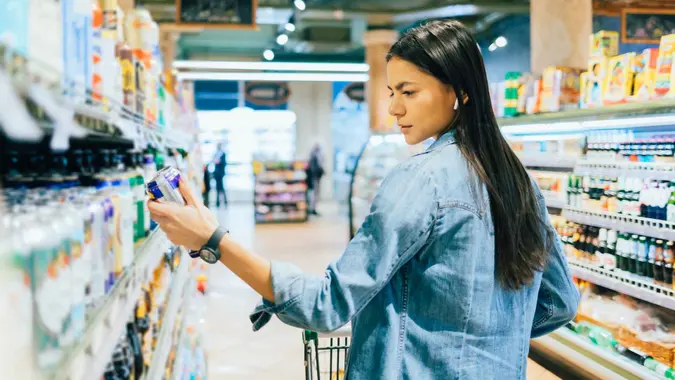 iprogressman / Getty Images/iStockphoto
Food prices increased faster in 2022 than they have in over 40 years. That's an unpleasant marker of just how much inflation has been digging into people's wallets, especially at the grocery store.
As inflation continues to drive grocery spending up, you may be looking for ways to combat it. These are our top tips to reduce your grocery spending in manageable ways.
Plan Your Meals Around Savings
It feels good when something you were planning to buy anyway is on sale, but there's an even better feeling: Saving money by buying only items that are on sale. According to InspiringSavings, the average shopper saves 7% using coupons, but you can improve that number by shopping strategically.
Before you make your grocery list, check what's currently on sale at your local grocery store. There are several free apps that can help you find promotions, so you never miss a good deal. Let the coupons determine your menu: Plan your meals for the week based on what's on sale.
It's always smart to go to the store with all your meals planned out, so you don't get sidetracked buying whatever looks good and instead stick to your budget. When you strategically plan what to cook in the coming days based on what's on sale, you save even more.
Join a Loyalty Rewards Program
If your grocery store offers a rewards program, take advantage of it. Depending on the program, you might get exclusive deals to use when planning your sales-only weekly menu or points you accumulate and redeem later. Many of these programs apply to pharmacy items stocked at supermarkets too, so you can extend your savings in that area.
Make Your Money Work Better for You
Always Buy Generic
Generic or store brands are almost always completely identical to the name-brand product. Aside from having the same ingredients, they're often even made by the same manufacturers. So don't waste your money paying extra for the more recognizable label. Always look for and choose the generic version nearby.
Swap Meat for Plant-Based Protein a Few Times a Week
You can eat a balanced meal for less by swapping meat for a cheaper plant-based protein, like lentils. No need to go full vegetarian if that's not your style. Committing to a vegetarian dinner just twice a week will shave a significant amount off your grocery spending if you make it a habit.
Use this saving strategy as a reason to check out some vegetarian recipes, and you may even find your new favorite meal.
Use a Cash-Back App
Once you've implemented all possible strategies to shrink your grocery spending, make sure you're getting the most out of your money by downloading a cash-back app.
One example, Upside, is a mobile app that partners with businesses across the US to give customers a percentage of their spending back. While offers vary from store to store, Upside's users earn an average of 7% cash back on groceries. While you won't get a discount at the time of purchase, you'll be able to cash out once you've earned a minimum of $10 and put that money back into your budget.
Make Your Money Work Better for You
The best part is that Upside, like all the other tips above, is combinable with multiple saving strategies. Shop smarter, use coupons, earn reward points, and get cash back on every grocery store trip, and you're guaranteed to reduce how much you spend on food.
More From GOBankingRates