I Spend $200 a Week on Groceries for Two People — Here's What I Am Buying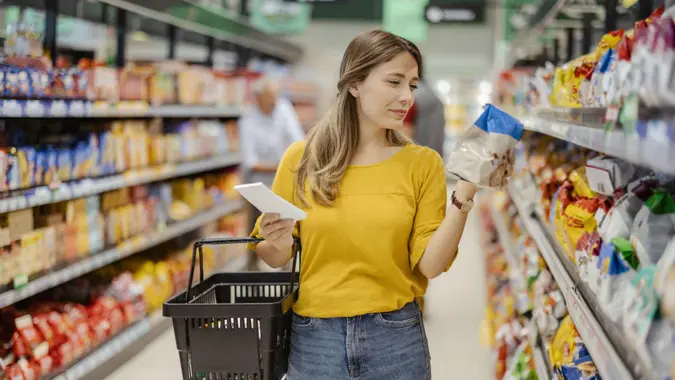 PixelsEffect / iStock.com
Do you feel like your grocery bill rivals your mortgage lately? If so, you're not alone.
As of late, redditors on r/Millennials started comparing their grocery bills. Larger families of six or seven people indicated their grocery bill equals or exceeds their monthly mortgage payment.
MattBag1 commented: "Family of 6, groceries/supplies is about equal to my mortgage. People think that I must be wasting money on food, but like the kids mostly eat breads and cereals, and I'm really the only big meat eater. So idk where the money goes. It just does."
KarlsMission also chimed in: "We're a family of 7. I spend more on food a month (not eating out) than I do on my mortgage. I don't have the exact number, but it is by far the highest cost in our budget and it has only gotten worse every week."
In a separate comment, KarlsMission added, "Mortgage is like $1950/month, so I might be exaggerating a bit, but not much." They later revealed that their family spends closer to $700 every two weeks, or $1,400 per month, on food — which often includes a $1,000 Costco run.
A family of two with a dog, who deleted their username in the thread, kicked off the grocery bill conversation by asking how much people were spending and what they were buying. For two adults plus the dog, their grocery bill comes to $150 to $200 per week, the user wrote. It may have been a strange boast, or maybe they were just wondering how they compare to other millennials.
Make Your Money Work Better for You
Is $100 per week, per person, average, high or low for groceries in 2023?
If a family of 7 spends $700 every two weeks, which KarlsMission later clarified, that's roughly $200 per person each month. Meanwhile, the couple with a dog spends roughly $800 per month, or $400 per person (not counting the dog).
Even more impressive than the family of seven is an assumed South Florida millennial (username: imhungry4321), who boasted that they spend just $80 per month on food for themselves.
What are each of these individuals buying to have such disparate grocery bills? And how are they faring compared to the national average right now?
Average Grocery Costs in Fall 2023
According to a recent GOBankingRates article, average grocery costs range from $250 to $550 per person, per month.
The USDA published a food plan, updated for 2023, that shares costs for a "nutritious, practical, cost-effective diet" for families of any size. According to the Thrifty Food Plan, which has been optimized for SNAP recipients, the average millennial male would spend roughly $303 per month on food. The average millennial female would spend roughly $242.
However, that's the U.S. government's "thrifty" plan, tailored for lower income families on SNAP benefits. The USDA also shared "moderate-cost" and "liberal" plans, reported by Cushion.ai.
A moderate cost plan would equal $317 per month for a woman aged 19 to 50 and $376 for a man of that age. A liberal plan averages roughly $405 for women per month and $457 for men.
Make Your Money Work Better for You
What are people eating on each type of plan and where do they shop?
Moderate-to-Liberal Plan for a Family of Two Millennials (and a Dog)
While we don't know the gender of the original Redditor who claimed to spend about $200 per week for two people (or $400 per month), it's safe to say the family's food bills fall somewhere between a moderate and liberal plan based on USDA guidelines.
As reported on Reddit, their diet consists of:
Eggs.
Beef, lamb and chicken.
Fish.
Yogurt.
Half-and-half.
Coffee.
Rice.
Fruit.
Vegetables.
Various seasonings, plus snacks like chocolate.
They did not indicate where they shop, whether they scope out sales, or if they meal-plan and cook in batches to save money.
USDA Thrifty Plan for a Large Family
While $200 per person (on average) per month may sound like a high grocery bill, especially when you have seven mouths to feed, the family of seven is actually living much more frugally than the family of two when it comes to meals. Redditor KarlsMission spends roughly half as much, per person, as the smaller family.
KarlsMission said they save money by purchasing rice in 25-pound bags and using it as the family's "main starch." They also buy staples in bulk each month at Costco.
They wrote: "We'll have a bill at Costco that is $1000, but that's a lot of big things that last for a month+. Like we don't eat a 25lb bag of rice every month, that lasts a few months for sure. We also live rural, so we have to travel to get food, so we tend to try to reduce our trips to as few as possible, so big single purchases vs several smaller ones."
Make Your Money Work Better for You
Since minimizing your trips to the grocery store is one way to save on grocery bills, those monthly Costco runs may help keep their budget in check.
KarlsMission also shared that their family plans to start a garden in the spring, beginning with herbs, and, as time goes on, plant fruit trees and vegetable crops — including beans, carrots, potatoes and peppers that their wife will preserve by canning. That should help reduce the family's food bills even further below the national average.
Beyond "Thrifty"
Frugal shoppers might aspire to Redditor imhungry4321's spending habits. This millennial Redditor said they save money by shopping at Aldi and local produce markets, which are open year-round in South Florida.
"I typically buy chicken when it's on sale at a local butcher/grocery store, and I'll purchase 20-30LBS and vacuum freeze the chicken. Their sales sometimes include [drum] sticks for 79 cents/lb and $1/lb for chicken breasts," they wrote.
Imhungry4321 indicated they also save money by batch-cooking and eating the same lunch every day during the work week.
They keep grocery bills even lower by forgoing pricier meats, although they seem to splurge when friends visit. "When my friends come over, I usually make us shrimp, trout or ceviche," they wrote.
Purchasing locally caught seafood can help keep grocery bills down. One pound of ceviche can feed four people as a main course, according to Boat-ed. Sam's Club listed a pound of shrimp ceviche at $7.48 per pound, making it an affordable dish for a crowd.
Make Your Money Work Better for You
Other shopping list staples, according to imhungry432, include:
Bread.
Veggies.
Fruit.
Eggs.
Tortilla chips (to go with homemade salsa).
Beans.
Lentils.
Cheese.
Crackers.
Oatmeal.
Peanut butter.
Pasta.
Rice.
The Bottom Line: Saving on Groceries in 2023/2034
If you want to reduce your shopping bills, seek out locally grown produce and shop for local seafood. Avoid pricey beef and pork in favor of chicken. Buy whatever you can in bulk to last for months, provided you have the storage space. Consider cooking lunch in batches for the week based on whatever protein you find on sale.
If you have the time, knowledge, and inclination, you can save a bundle by planting your own garden and canning foods to have during the off-season. Do some research to find out what crops grow best in your climate to maximize your yield.
By speaking with other frugal shoppers, or interacting in Reddit communities, you can also find the best places to shop for deals — and the best foods to buy to last for the month.
More From GOBankingRates