7 Middle-Class Money Traps That Will Blow Up Your Retirement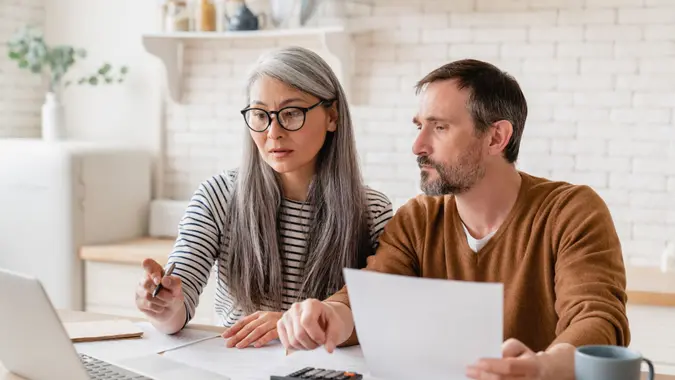 Inside Creative House / Getty Images/iStockphoto
If you want to enjoy your retirement and not have to stress about working into your 70s, it's essential to sidestep the pitfalls that loom during your working years. Ill-advised decisions can shrink your nest egg and may haunt you later in life. The goal is to learn from the mistakes of others and to apply these lessons so that you can have a comfortable retirement after putting your time in. 
Here are the middle-class money traps that could derail your retirement savings:
1. Always Buying New Cars 
Buying a new car every couple of years means you're spending more money than you need during your working years. This is money that you could be contributing towards your retirement accounts to give yourself additional income in the future. We started the list off with this one because it's an easy fix, as you can keep your current vehicle for longer and consider buying used next time. 
2. Not Having an Emergency Fund 
It's believed that many Americans don't have enough money saved to cover an unexpected expense. In fact, a 2023 GOBankingRates survey found that half of Americans have no emergency savings at all. Another recent study even revealed that six out of ten employees couldn't cover a $500 emergency bill.
Financial expert Suze Orman is a huge proponent of setting up an emergency fund to avoid financial ruin. An emergency fund will bail you out when an unexpected expense pops up so that you don't have to dip into your savings or use a credit card with a high-interest rate. 
Make Your Money Work Better for You
3. Not Diversifying Your Income 
Diversifying your income during your working years can provide you with more money, allowing you to invest more into your retirement. 
Then, it's even more critical to invest in multiple income streams for your retirement years. This could include your employer's retirement program, a rental property, and dividend-paying stocks so that you have options for your retirement income. 
4. Paying For Your Adult Children 
One common mistake that can shrink your nest egg is covering adult children's expenses when you're getting close to retirement age. Orman even offers advice on how you should stop supporting adult children if you want to enjoy your retirement.
This is a typical middle-class trap because you may want to help your adult children who are struggling since you know what that feels like. However, as Orman points out, it's critical that they learn to handle their finances on their own instead of relying on you. It's suggested that you cut off your adult children financially so that you have more money to invest in your retirement accounts. 
5. Not Being Able To Delay Gratification
"In the 1960s, Stanford Professor Walter Mischel conducted The Marshmallow Experiment that showed how delayed gratification is one of the top qualities of successful people," said Chris Corinthian, founder of FinLit University and @theFinLitGuy on Instagram. "When you have that success habit, you can delay your desired financial lifestyle by putting your money into income-producing assets now versus spending most of your money on liabilities that will continue to take money out of your pocket."
Instant gratification in your working years can leave you with less money to live on in retirement. This is a common money trap for the middle class because spending money is easier than ever. You can have anything delivered to your doorstep within a few clicks, so spending money to treat yourself is easy. However, if you want to avoid blowing up your retirement, it's advised that you look for ways to delay gratification. 
Make Your Money Work Better for You
6. Not Taking Advantage of Your Employer's Retirement Plan
If your employer offers a 401(k) plan, you should make an effort to contribute as much as you can afford to. At the very least, try to contribute enough to get the full employer match if your work offers one — you'll be earning free money for your retirement. 
7. Getting Stuck in Credit Card Debt
Most of the issues associated with middle-class money traps could come down to being stuck in credit card debt. It will be difficult to enjoy your retirement if you don't pay off your debt when you're working. This final point ties into some previous ideas of delaying gratification, not buying new cars, and creating multiple income streams. Credit card debt is a middle-class money trap that could hurt your retirement. 
Bottom Line 
If you want to enjoy your golden years after you've already put in the time in your career, it's vital that you stay vigilant when it comes to these middle-class money traps that could hurt your retirement. With a little bit of planning and dedication, you can enjoy your retirement years. 
More From GOBankingRates