Stop the $5 Leak: 7 Mistakes That Drain Your Wallet at the Gas Station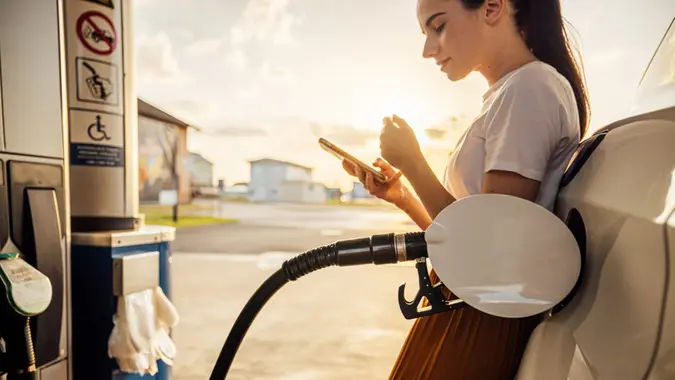 Filling up your gas tank isn't cheap, but you can't avoid it. That is, unless you have an electric vehicle.
As of August 25, 2023, the average cost of gas is $3.83 per gallon, according to AAA. This is notably more expensive than the average of $3.60 per gallon just one month ago.
The average car uses 474 gallons of gas per year, according to the U.S. Department of Energy. This would cost $1,824.90 per year at the current average rate per gallon. While you can't avoid paying for gas, lowering your fuel costs might be easier than you think. Making a few simple changes to the way you get gas can add up fast.
Ready to start saving at the pump? Here are seven mistakes to avoid to help you spend less on gas — without driving less.
Not Being Frugal at Expensive Stations
Sometimes you can shop around for the cheapest gas in the area, but it doesn't always work out like that. When you do have to get gas at a pricier station, you need to be strategic about it, according to Renee Horne, chief marketing and customer experience officer at Chase Auto.
"Instead of filling up all the way, consider just topping up enough gas to safely get you to the next station, where prices are hopefully more affordable," she said.
Not Traveling Light
If you're like many people, your car is packed with various items you don't really need to be driving around, but keep forgetting to take out. Horne said this could cost you.
Make Your Money Work Better for You
"The more weight your car is hauling, the harder it has to work," she said. "In turn, that burns more gas."
Therefore, she said it's best to travel with as light of a load as possible.
"Some things are necessary, but if there's any extra weight in the car that you don't need, removing it could boost your fuel economy," she said. "Additionally, if possible, avoid using roof storage racks as they add weight and alter the aerodynamics of your car by creating additional drag."
Not Taking Advantage of Rewards and Loyalty Programs
If you have a chance to earn gas discounts, take advantage of them.
"Some credit cards offer occasional discounts and rewards on gas purchases," Horne said. "There are also some grocery chains and buyer's clubs that offer members gas points that are redeemable for a discount at the pump."
Not Comparison Shopping
As you're certainly aware, some gas stations charge higher prices than those across the street or down the road from them. Therefore, it's important to compare when you can, so you can take advantage of the stations with lower prices.
"With a bit of planning and foresight, you can potentially route to gas stations where gas prices tend to be lower — such as further away from major highways," Horne said.
Melissa Cid, consumer savings expert at MySavings.com, agreed that it's important to map out the cheapest gas in the area.
Make Your Money Work Better for You
"People compare prices of future purchases all the time — that shouldn't stop when needing gas," she said. "Google Maps and GasBuddy are two excellent and quick tools for checking current gas prices near you, ensuring you make the best choice for saving money."
Not Using Cashback Apps
You might not realize it, but you can get cash back on gas purchases with the right app. Cid recommended using the Upside app, which offers cash back per gallon of fuel.
"Check in with the app at your chosen gas station and you could earn anywhere from 10 cents to 45 cents per gallon," she said. "You then transfer the savings to your bank account or PayPal."
If you're a rideshare or delivery driver, she said you can use the Gridwise app to save approximately 50 cents per gallon at the pump.
Not Using the Right Credit Card
It might sound wild, but some credit cards can make fueling up cheaper than others.
"Consider using credit cards that offer attractive rewards and cash back specifically for gas station purchases," Cid said. "Some credit cards offer bonus categories that provide higher rewards for spending at gas stations in the form of points or cash back."
Not Using a Store Membership
If you don't have a store membership that offers savings on gas, Cid recommended investing in one. A Walmart+ membership will allow you to save 10 cents — five cents in Alabama and Oklahoma — per gallon at more than 14,000 Exxon, Mobil, Walmart and Murphy stations nationwide.
Additionally, as of Aug. 25, 2023, gas cost an average of $3.69 per gallon in New Jersey, according to AAA. However, GasBuddy listed prices at a Costco and a Sam's Club station in the Garden State at $3.39 per gallon.
Make Your Money Work Better for You
Numbers don't lie, so it clearly pays off to have a membership to a club store that sells gas.
More From GOBankingRates