9 Money Moves You Must Make With Your Last Paycheck Before Retirement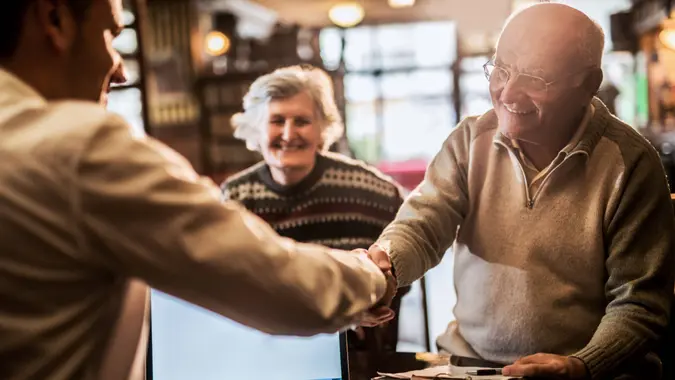 BraunS / iStock.com
For many people, retiring symbolizes the end of one era and the beginning of the next — full of more time to enjoy what they value most.
The month leading up to your retirement can be both hectic and emotionally charged. You'll likely be busy tying up loose ends on work projects, delegating responsibilities to colleagues, and solidifying your connections with coworkers whom you intend to maintain ties with beyond your departure from the workplace.
Social Security Cuts: How People Will Be Impacted at Every AgeMore: The Simple, Effective Way To Fortify Your Retirement Mix
While it's an exciting moment, experts say you shouldn't overlook your financial future when receiving your final paycheck. "Retirement marks a significant shift in how you manage your finances," said Jake Claver, finance expert and a Qualified Family Office Professional (QFOP). 
Approaching your non-working years means you'll have to be that much more careful in planning out how you'll afford to live on a fixed income, while also understanding where you stand with any investments. Here are some money moves you should consider as soon as those final funds hit your bank account.
Review and Verify
First and foremost, ensure all your pending dues, bonuses, paid time off, and any other compensations are correctly reflected in this paycheck. "Any oversight here could cost you money that you've rightfully earned," said Claver. Cross-check with your HR department and keep all related paperwork for future reference.
Redirect Automatic Payments
If a portion of your paycheck was automatically channeled into investments, savings or bills, remember to reroute these funds, Claver advised. Determine if your retirement income, like pensions or Social Security, will cover these expenses or if adjustments need to be made.
Make Your Money Work Better for You
Move Your Funds Into a Tax-Deferred Account
Rolling over your retirement savings is a must, said Rob Whaley, a finance specialist at Horizon Finance Group. "Instead of cashing out your retirement accounts, move that cash into an Individual Retirement Account (IRA) or another retirement plan from your new gig."
This keeps your money in a tax-friendly place, letting your investments keep growing. "It's all about securing your financial future in retirement, keeping those tax perks, and ensuring you're ready for a comfy retirement without tax-related curveballs," he added.
Contribute to Your Emergency Fund
Experts recommend using your final paycheck to set up a small emergency savings fund. If you already have one, they advise adding as much of your last paycheck as possible to it.
"This will shore up your ability to properly fund any emergencies that may come your way in early retirement," said Jake Hill, CEO of DebtHammer. "Having an emergency fund ensures the longevity of your retirement income, so it's a wise investment whenever possible."
Arrange Your Retirement Budget
Getting your last paycheck is the perfect time to review your retirement savings and investments to ensure they align with your retirement goals. You can calculate your expected income from pensions, Social Security, as well as any other sources. 
Knowing how much you'll need and what your expenses will be can help you create the right budget. This is a crucial stage in your retirement process, said Jeff Mains, founder of Champion Leadership Group, who advised being aware of your income, spending and lifestyle costs. "This plan will help you make smart spending and investment decisions."
Make Your Money Work Better for You
Pay Off Debt If Possible
Carrying debt into retirement can put a damper on your celebration. Having a plan to pay off your debts before retiring, however, means you can start your retirement with less financial worry.
You should start by reviewing any debt you owe from credit cards to mortgage payments and then consider allocating a partial amount of your last paycheck (even $100 toward a loan payment plan) so that you can reach zero.
Consult a Financial Planner
A key challenge when it comes to retirement is managing and optimizing your income. Financial planners can help you create a retirement income strategy so you have enough money to maintain your desired lifestyle while lowering the risk of running out of funds. Working with one can provide you with more peace of mind. Knowing that you have a solid retirement plan in place reduces financial stress and increases your confidence in your post-retirement lifestyle.
That said, remember to find a vetted financial advisor who operates as a fiduciary — this means they're legally obligated to act in your best interest and ensure that their recommendations are made with your financial well-being as their top priority.
Budget for Healthcare
When you receive your last paycheck, it's important to factor in healthcare costs which tend to increase with age, as well as healthcare inflation. Setting some money aside for these costs is vital for avoiding financial strain when you retire. You should also look into whether your employer provides retiree health benefits so you can understand the details of your coverage and how it might change in retirement. 
Diversify Your Investments
How you save can be just as important as how much you save. You can consider putting some of your savings in different types of investments. As you near retirement, preserving the money you've accumulated over your working years should take center stage. By diversifying in different stocks, bonds and assets, you protect your investments from large or sudden losses and you ensure you have different sources of income to maintain your desired lifestyle. 
Make Your Money Work Better for You
Keep in mind that retirement can span several decades, and your investments need to last. That's why being wise with your last paycheck is essential for setting yourself up with a comfortable future — and not one plagued with money worries. "This final paycheck is a symbol of all the years you've dedicated to your profession," said Claver. "Use it wisely, ensuring it serves you well in the golden years ahead."
More From GOBankingRates