Using a Password Manager: Why a Paid Subscription Is Absolutely Worth It To Protect Your Money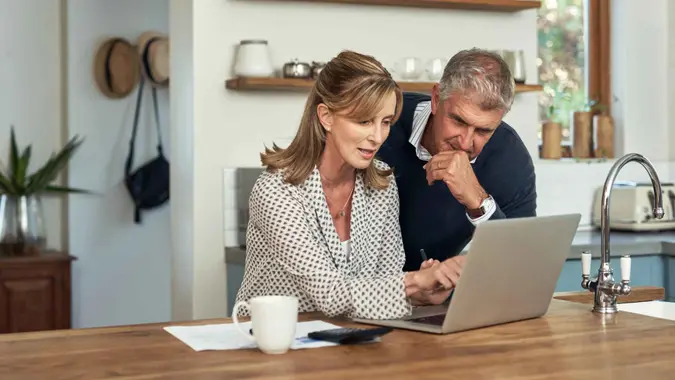 shapecharge / Getty Images
In an era where digital security is paramount, especially when it comes to safeguarding financial information, the use of password managers has become increasingly crucial. Understanding the value of a paid password manager subscription can be the key to ensuring the highest level of protection for your sensitive banking and credit card information. Keep reading to learn more.
Why It's Worth It: The Value of a Paid Password Manager
Why invest in a paid password manager? Here are six reasons why a paid subscription is not just a smart choice, but a necessary one for enhanced protection of your sensitive financial information.
1. Enhanced Security Features
Paid password managers typically offer advanced security features that free versions don't. This includes stronger encryption protocols, more secure password generators and the ability to change multiple passwords simultaneously, providing an extra layer of security for your financial accounts.
2. Cross-Device Synchronization
With a paid subscription, you can sync your passwords across various devices. This ensures that whether you are accessing your bank account on your phone, tablet or computer, you have secure and convenient access to all your passwords.
3. Secure Sharing Options
If you need to share financial information with family members or financial advisors, paid password managers often provide a secure way to do this. You can share the login information needed without exposing the actual password, keeping your accounts secure.
Make Your Money Work Better for You
4. Emergency Access
Some paid password managers offer an emergency access feature, where you can designate someone to access your accounts in case of an emergency. This can be crucial for financial planning and in situations where someone might need to manage your finances on your behalf.
5. Regular Updates and Customer Support
Paid services often come with the benefit of regular software updates and responsive customer support. This means you are always up to date with the latest security features and have assistance available if any issues arise with your accounts.
6. Extra Layers of Protection
Many paid password managers include additional protective features like two-factor authentication, dark web monitoring and alerts for potential security breaches. These features provide early warnings and additional steps to verify your identity, further securing your financial data.
Final Take
The investment in a paid password manager goes beyond just convenience — it is an essential step towards securing your financial information in the digital world. With features like advanced encryption, cross-device synchronization and emergency access, a paid password manager provides a comprehensive security solution. It offers peace of mind, knowing that your financial data is protected with the best tools available. In today's digital age, safeguarding your financial information is imperative, and a paid password manager can be a crucial ally in this endeavor.
FAQ
Here are the answers to some of the most frequently asked questions regarding password managers.
What is the best available password manager?

The best password manager depends on individual needs and preferences. Popular choices include NordPass, Dashlane and 1Password, known for their robust security features and user-friendly interfaces.

Where is the safest place to store passwords?

The safest place to store passwords is in a reputable password manager. These services use strong encryption to protect your passwords and are designed to be secure against cyber threats.

Can I trust my password manager?

Yes, you can generally trust reputable password managers. They use advanced encryption methods to secure your data and have a strong track record of protecting user information. However, it's important to choose a well-known and reliable provider and to keep your software updated.
Make Your Money Work Better for You
Editor's note: This article was produced via automated technology and then fine-tuned and verified for accuracy by a member of GOBankingRates' editorial team.
Our in-house research team and on-site financial experts work together to create content that's accurate, impartial, and up to date. We fact-check every single statistic, quote and fact using trusted primary resources to make sure the information we provide is correct. You can learn more about GOBankingRates' processes and standards in our editorial policy.