8 PayPal Scams To Watch Out For in 2023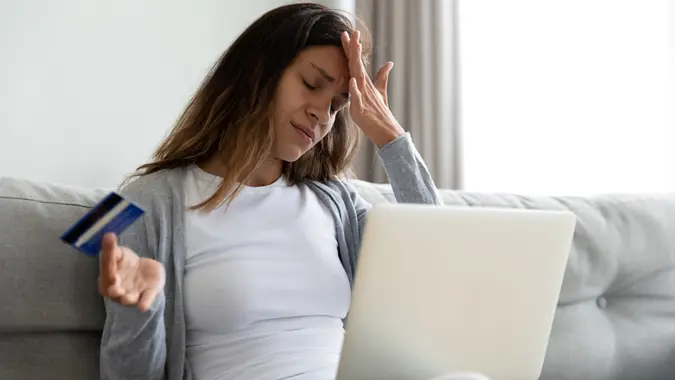 fizkes / iStock.com
PayPal is a convenient way to send and receive money in just a few taps or clicks. While the ease is a big selling point, fraudsters are at work trying to take advantage. You're probably familiar with the PayPal scam email asking you to provide your PayPal information to unlock your account. There are ways to tell it's not real, but as online scammers get more sophisticated, it's getting harder to spot danger.
This guide updates you on the latest PayPal scams, as well as the steps to report PayPal scams.
What Are Some Common PayPal Scams?
According to PayPal, people tend to be less cautious online than they would be if they were walking down the street. Although PayPal has strong security protocols in place, it's up to you to safeguard your account — and money. The following scams are among the most common seen by the digital payment processor.
1. Advance Fee Fraud
You may receive a request for a small amount of money before the individual can send you a larger amount.
For example, you may be asked to send some money to cover taxes or the necessary documents to release the funds. In exchange, the fraudster will send you money — which never arrives.
What to do about it: Never engage with or send money to a person in the hopes of receiving a big cash bonus.
2. Prize Winnings
One of the more common PayPal email scams involves a foreign lottery. Good news — you just won millions but need to PayPal someone a handling fee in order to receive the funds. Some people may think the small amount of money they're required to send may be well worth the big payoff, which may be why it's one of the more common PayPal email scams.
Make Your Money Work Better for You
What to do about it: Lotteries don't typically require you to pay to receive your winnings. If you receive such a request, it's likely a PayPal scam email.
3. PayPal Overpayment Scam
Another PayPal scam to watch out for involves getting paid more than you expected for the goods or services you sold. The person may then ask you to wire them the difference back instead of refunding it through PayPal.
The trouble is, the original payment may have been made with a stolen credit card. If you wire funds directly, the fraudster keeps the money, and you'll be on the hook when the person whose stolen card was used reports the fraudulent transaction, making PayPal overpayment scams costly.
What to do about it: If someone overpays you, your best bet is to refuse or cancel the order. According to PayPal, overpayments are nearly always fraudulent. Plus, never wire money to someone you don't know, especially if it's a refund for an overpayment.
The same advice applies if you receive a payment and are contact by the sender claiming they sent it to the wrong person.
4. Holding Funds Email
These emails may look like authentic ones from PayPal, suggesting that funds are on hold until the items you're selling are shipped. It may prompt you to send out the goods, believing PayPal is holding your money for you — when in reality, you just gave away your product for free and there is no money waiting for you.
Make Your Money Work Better for You
What to do about it: If you're worried that PayPal is holding your funds, contact it directly to confirm. Don't click on any of the links in the scam email or use any of the contact information provided.
5. Fake Charity Scam
Times are challenging these days, with natural disasters, war and poverty requiring everyone to help where they can. Scammers take advantage of these moments of crisis to line their pockets. If you receive an email asking you to donate PayPal funds for a good cause, it may be one of the latest PayPal email scams.
What to do about it: Before you decide to donate, do some research about the charity. The following websites are a good place to start:
Charity Navigator
CharityWatch
If you're unsure but want to help, consider donating to a charity you're familiar with instead.
6. PayPal Shipping Scam
Many of the PayPal scam email requests you may receive involve shipping fraud. You may be asked to use a buyer's company of choice or be told that they can get a discount with a specific shipping company. In most cases, you'll also be asked to send the shipping costs by wire transfer to what you believe is the shipping company.
The trouble lies in who has the control. The scammer could reroute the package or say it was never received. You may have a hard time proving against it.
What to do about it: Avoid involving a third-party shipping company and stick with your own to be able to more accurately track the shipment. Adding shipping insurance for a small fee could help in case the item isn't received — you may be reimbursed for the cost of the items.
Make Your Money Work Better for You
7. Employment Scam
You may find enticing job opportunities online and even go through what looks like a successful interview process. But then, suspicious behavior may begin.
You may be hired and asked to purchase equipment or items and the company will reimburse you. The problem is, the company wasn't hiring or may not even exist, leaving you with a bill for merchandise you don't have.
What to do about it: Avoid any work schemes that require you to pay for merchandise or invest money up front.
8. Fake Payment Confirmations or Invoices
You receive an email that appears to be from PayPal confirming that your order has been paid for or with an attached invoice. Don't open the attachment, and don't panic about the order. Any contact number will put you in touch with scammers looking for your personal info. Attachments may contain malware, so you should never open attachments from senders you don't recognize.
What to do about it: Check your PayPal account for recent transactions and contact PayPal about any you don't recognize — using the contact information directly from the PayPal website or app, not the email — then delete the email and block the sender. If you accidentally opened the attachment or clicked any links, disconnect your device from the internet immediately to keep any malware from spreading through your network.
How Do I Know if a Message From PayPal Is Real?
Some common sense and instinct are required to avoid falling into a trap. If the offer is too good to be true, it probably isn't real. Plus, PayPal would never ask for your personal information.
Make Your Money Work Better for You
Other clues include an email address that doesn't come from @PayPal.com or the URL appears scrambled. In addition, PayPal always includes your full name as listed in your account, so avoid any generalized messages such as "hello" or "Dear Sir".
As with most things, it's always best to verify. If you're unsure, contact PayPal directly about the issue by sending them a message through the PayPal app or website or call customer service at 1-888-221-1161 between 6 a.m. and 6 p.m. PST, Monday through Saturday.
How To Report PayPal Scams
If you're receiving PayPal scam emails, reporting them to PayPal can help.
Don't click on the emails, open or download attachments or call any of the phone numbers listed. Instead, forward the email to ​​phishing@paypal.com and delete it from your inbox. You can forward scam text messages to the same address.
Takeaway
Remember, if an offer seems too good to be true, it probably isn't real. Be cautious of who you engage with. Avoid sending someone you don't know money or providing personal account details.
Editorial Note: This content is not provided by any entity covered in this article. Any opinions, analyses, reviews, ratings or recommendations expressed in this article are those of the author alone and have not been reviewed, approved or otherwise endorsed by any entity named in this article.