Retired but Want Extra Cash? Try These 9 Easy Jobs That Pay Surprisingly Well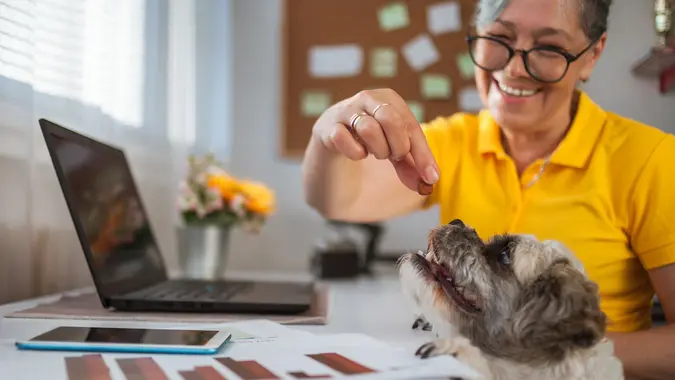 playb / Getty Images
While working might not be your vision of a dream retirement, everyone can use a little extra cash in their budget, especially during inflationary times. If you can earn that extra money without having to exert much effort, then all the better.
You might think that you'll have to work long, hard hours to earn any type of real money during retirement, but that's not necessarily the case. Of course, each person's definition of an "easy job" is different, and some jobs that seem simple to some might be excruciating for others. However, depending on the type of job you're looking for, you can likely find one that's easy for you but still pays a relatively high wage. Here are some options that might fit the bill.
Librarian
If the idea of peace and quiet appeals to you in retirement, consider being a part-time librarian. Full-time librarians, particularly in research institutions, need advanced degrees and have numerous responsibilities. However, if you just want to work part-time at your local library, manning the circulation desk and keeping the books in order, it can be very low-stress. According to talent.com, the average hourly wage for librarians in California is a whopping $42.
Executive Assistant
While some executive assistants work 60-hour weeks and have to be in an office at all times, many other assistant positions can be done remotely and on a part-time basis. Thanks to the power of the internet, all you might need is a cheerful attitude, a knack for organization and a headset to be a high-earning, part-time assistant. According to ZipRecruiter, the average national wage for a remote executive assistant is $31 per hour.
Make Your Money Work Better for You
Online Tutor/Instructor
Online tutors or instructors earn over $20 on average according to ZipRecruiter, with some pulling down more than $33 per hour. If you have teaching experience, or even if you simply acquired specialized knowledge during your career, then you could earn some decent money from the comfort of your own home. If you venture into making educational videos and posting them on YouTube, you could earn a lot more over time, although you won't make much at all until you build up a substantial following.
Nutritionist
If you're into health and fitness, working part-time as a nutritionist in retirement could earn you about $31.95 per hour on average, according to the U.S. Bureau of Labor Statistics. Nutritionists don't need the advanced degrees that dieticians generally have, so it's possible you could work with clients based on your own experience and knowledge. However, if you work in a clinical setting, you'll likely need to be licensed as a registered dietician nutritionist.
Translator
If you've got language skills, you can translate those into big bucks after you retire. ZipRecruiter says the average pay for a translator in California is $30 per hour. You can usually work as a translator from the comfort of your own home as well, whether you're working on documents or handling live, real-time translation from your computer screen.
Freelance Writer/Editor
The market for skilled writers and editors is booming. While some feared that artificial intelligence could actually reduce the demand for human writers and editors, the exact opposite is true. Talented writers and editors provide the human touch that AI still lacks, while online consumption of content continues to skyrocket. ZipRecruiter pegs the average freelance writer wage at $29 per hour, and skilled professionals can earn much more. 
Make Your Money Work Better for You
Remote Data Entry Clerk
If your idea of an easy job is sitting on your computer for a few hours entering data into programs and spreadsheets, you're in luck. The average hourly wage for a remote data entry clerk in California is $29, according to ZipRecruiter. With a computer, an eye for detail and a few hours to kill, you could earn over $1,000 per month fairly easily in this position. 
Tour Guide
Interested in getting outdoors and keeping fit for a few hours per week while earning some money? Have specialized knowledge about your local area? Then picking up a few hours of work per week as a tour guide might be a great way to pull down some easy money. Indeed.com says that the average tour guide earns $21.53 per hour, but with tips that could easily rise to $30, $40 or even more. 
Cruise Ship Worker
Not all retirees will be interested in working on a cruise ship. For starters, a cruise ship job is definitely a full-time job, as you'll have to live on board. Also, cruise ship workers are not paid terribly well on average.
However, entertainers, officers, accountants and certain other cruise ship workers can earn $4,000 or more per month, and you won't have any additional expenses for food, lodging or transportation while on board. Plus, you'll have the opportunity to travel to exotic ports during your retirement. For the average retiree, this might be a hard job, but others might find it easy and exciting.
More From GOBankingRates
Make Your Money Work Better for You