Almost 1/3 of Retirees Are Spending More Than They Can Afford — 5 Costs To Cut First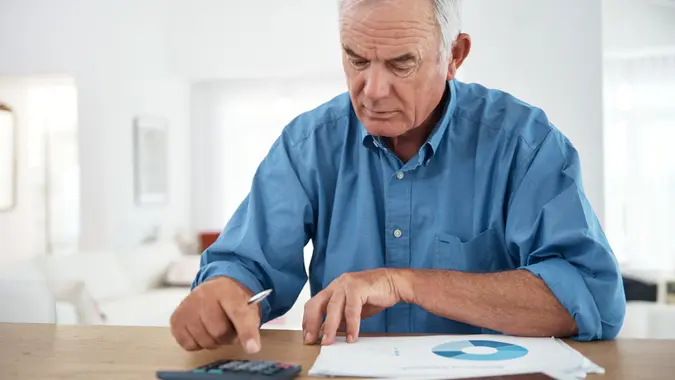 shapecharge / Getty Images
Spending more money than you can afford is never a good idea, no matter your age. But it's especially risky for retirees because many live on fixed incomes and can no longer depend on pay raises or work bonuses to bail them out of financial trouble. Despite these risks, a lot of retirees still spend more than they should, according to a survey from Annuity.org.
The survey, conducted last year, found that 27% of retirees say their spending amounts are higher than what they can afford. The biggest monthly expenditure for retirees is housing, followed by food.
Sticking to a budget is a particular challenge for seniors with limited income in retirement — especially given high inflation rates in recent years. Those who depend heavily on Social Security retirement benefits often find themselves struggling just to afford the essentials.
You should be able to get by with less money in retirement vs. earlier in life, but the exact amount depends on factors such as location, lifestyle and healthcare needs. According to research from Fidelity, once you have retired you can expect to spend between 55% and 80% of the yearly income you earned while working
If you find yourself spending more than you can afford in retirement, your first order of business is to figure which costs to cut first. Here's a look at five of them.
Make Your Money Work Better for You
Dining Out
Dining out might be one of life's pleasures, but it can drain your money in a hurry. Restaurant meals are essentially a luxury and should be among the first items to go when you need to trim your budget. Even if you hate cooking (and cleaning up after), you can still get prepared meals at local grocery stores that cost a lot less than dining out.
Unnecessary Medical Costs
Nobody would suggest sacrificing needed medical care in retirement just to cut costs, but you might already be paying more for medical care than you need to. Experian recommends reviewing your Medicare plan options to help lower costs. If you need help, free health insurance counseling is available through the State Health Insurance Assistance Programs (SHIPs).
Travel
As with dining out, traveling is a fun and rewarding way to spend your time — but it's not something you should do if it puts you underwater financially. Rather than taking overnight trips that require a hotel stay, think of day trips close to home that let you explore new places without spending a lot of money. You can also take a staycation at home and explore new things in your own community. If the travel bug does hit, you can save money on lodging and air fare by traveling off-season or during the week instead of the weekend.
A Second Car
Maybe you needed a second car when you and your spouse were juggling careers and commutes, but most retired couples can get by with a single car. Eliminating a second car payment — along with the taxes, fees, fuel and maintenance that go along with it — can put a lot more money in your pocket.
Make Your Money Work Better for You
Interest on Debt
If you carry a significant amount of high-interest debt in the form of credit card balances and loans, now is the time to pay it off. As Experian noted, high-interest debt is "always a burden" on your budget because the longer it sticks around, the more you pay in interest. This is especially burdensome on a fixed retirement budget.
More From GOBankingRates