Rising Gas Prices Help Shatter Inflation Numbers — How You Can Still Save Money Each Month According to Experts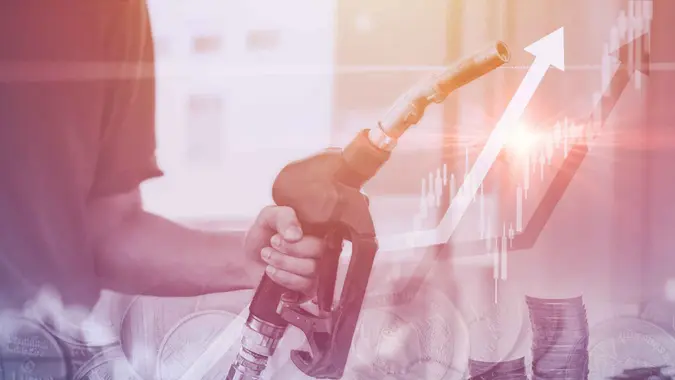 coffeekai / Getty Images/iStockphoto
Consumer inflation ticked up slightly in July standing at 3.2%, following June's 3%, according to the Bureau of Labor Statistics' (BLS) Consumer Price Index (CPI), released August 10.
The index for shelter was the largest contributor, accounting for a whopping 90% of the overall increase, is up 7.7% over the last year. Meanwhile, prices for gas also saw a jump in the month — which some experts blame on the Federal Reserve's policy.
"Like everything in the economy, the price of gas has risen substantially due to poor monetary policy by the U.S. Federal Reserve," said Thomas Hogan, an economist at American Institute for Economic Research and former chief economist for the U.S. Senate Banking Committee. "Inflation has reduced the real value of Americans' incomes by more than 20% during the pandemic recovery. That type of persistent, widespread inflation is almost certainly the result of bad Fed policy."
This latest set of data was slightly lower than estimates, as economists surveyed by The Wall Street Journal estimated that inflation rose 3.3% in July from a year earlier. It is also a notable decrease since the 8.5% of last July, according to BLS data.
Jeffrey Rosenkranz, portfolio manager at Shelton Capital Management, noted that "sometimes meeting expectations feels like a win, and this month's CPI report is one of those situations."
Rosenkranz added that while the year-over-year gain increased sequentially from last month, this was widely expected due to shelter cost increases, which will begin to wane in the coming months due to the lag effect in measuring and collecting these statistics. 
"All in all, while monthly figures may be a little choppy along the way as energy prices are volatile and housing statistics lag, the broad overall trend continues on a good path towards a slowing economy and moderating inflation," he said. "This should provide enough comfort to the Fed to skip again in September and re-assess progress in November."
Make Your Money Work Better for You
Core CPI, which excludes food and energy prices, rose 0.2% in July however, and is up 4.7% from a year ago — lower than the 4.8% estimates, according to CNBC.
Rising oil and gas prices will have a long impact
As for prices of oil and gas, which have been affecting consumers at the pump this summer, they also saw increases in July. As of Aug. 10, a gallon of regular unleaded costs $3.828 on the national average, up 8% from a month ago, according to AAA. 
Several experts said that this could affect August's CPI report much more than this one.
"There was a small pickup in July's headline print mainly due to rising gasoline prices, potentially putting higher pressure on August's CPI report too," said Gargi Chaudhuri, Head of iShares Investment Strategy, Americas, BlackRock.
The energy index rose 0.1% in July after increasing 0.6% in June. Meanwhile, the gasoline index increased 0.2% in July, following a 1% increase in the previous month.
John Catsimatidis, CEO and Chairman of United Refining Company and Chairman, CEO and founder of Red Apple Group, Inc. which operates Gristedes and D'Agostino's, said inflation rates are where they should be, for now, but oil prices might affect next month's report. 
"If we increase petroleum production in the United States, we can fight the economic war being waged by the Russians and OPEC. Those nations want oil in the high 80s — which they've tried to do for the last four months — to run their economies and finance their wars in Ukraine and in Africa. We can combat this by increasing oil production in the U.S. and bring down oil into the 60s," he said.  
Make Your Money Work Better for You
According to Catsimatidis, the Fed should halt all rate increases in the future and start to bring them down in order to keep the economy going.
"The inflation rate is an acceptable rate, even though the OPEC nations and Russia are trying to force increases by pushing oil to the mid-80s this month, which will affect the numbers next month," he added. "By showing that kind of leadership, it will bring the prices of food down within the next 90 days. This will help America's poor and middle class."
What can consumers do?
Despite recent upticks, the energy index fell 12.5% over the past year while the gasoline index decreased 19.9% over the last 12 months.
Ted Rossman, senior industry analyst, Creditcards.com, said that while gas prices were up 0.6% from June 2023 to July 2023, that didn't play a large role in the overall monthly inflation figures.
Rossman added that his top tip for saving on gas purchases is to stack a gas rewards credit card with a gas station-branded payment app.
"You can combine two ways to save on the same purchase, for example, by earning 5% cash back on gas with the right credit card, plus adding another 10 cents per gallon by paying through the gas station's app," he said, adding that interestingly, car insurance costs are a much bigger contributor to inflation right now than gas prices, as a lot of insurers experienced larger than expected losses -due in part to extreme weather events — and they have raised prices substantially as a result.
Make Your Money Work Better for You
The BLS said that among the other indexes that rose in July was the index for motor vehicle insurance, up 2%, as well as the indexes for education and recreation.
Food prices also rose in July, up 2%, with the food at home index increasing 0.3% over the month. Prices for meats, poultry, fish, and eggs rose 0.5% in July;  fruits and vegetables prices rose 0.4%, while dairy and related products increased 0.5% in July.
"From weaker goods prices to the consistent cooling in shelter prices feeding into lower services inflation, the path forward for inflation looks promising," said BlackRock's Chaudhuri. "This is the summer of inflation moderation, yet we do not think the Fed will declare victory against inflation just yet and will keep rates high for the foreseeable future."
More From GOBankingRates