Social Security Cuts: Retirees Should Consider Moving to These 6 Countries With Low Cost of Living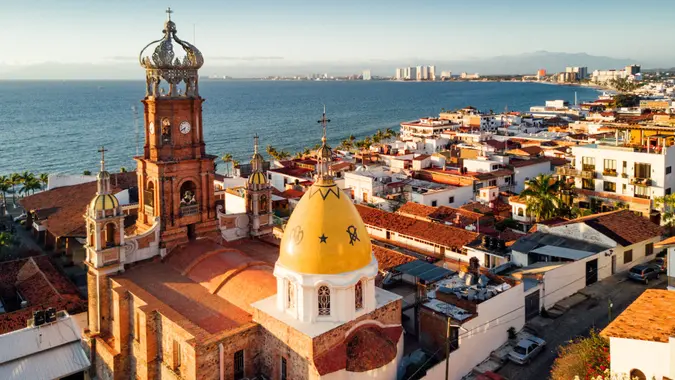 ferrantraite / iStock.com
Retirees worried about how they'll fund their retirement years, particularly if Social Security receives any significant program alterations, may explore moving to and retiring in another country altogether. 
Making this kind of move in retirement requires finding countries where your dollar goes a long way, high-quality healthcare services are available and you don't have to compromise on the quality of life. GOBankingRates did the research and rounded up six countries known for their low cost of living. See if any of these breathtaking countries sound like your best bet in retirement. 
Cyprus
Estimating you'll only have around $1,000 as your monthly retirement budget? Look into making a move to Cyprus, the third-largest island in the Mediterranean. 
In the U.S. News & World Report's roundup of the cheapest places to retire on $1,000 a month, the report recommends retirees move to the city of Kyrenia in Northern Cyprus. 
Not only will retirees find affordable housing (the average rent for a two-bedroom apartment is $650 each month), but they will also find a bustling entertainment scene. Kyrenia boasts casinos, spas and beach resorts where you can participate in water sports, go hiking and golf in the warm weather. This ensures retirees enjoy active lifestyles throughout their retirement years. 
Make Your Money Work Better for You
Colombia
There are a lot of financial benefits to spending your retirement in Colombia. According to Travel + Leisure Asia Global, cities like Bogota offer a cost of living which is 62% lower than what it would be to retire in the United States. In a city like Medellín, US News reported the temperate weather year-round and low-cost public transportation eliminates the need for retirees to spend a significant amount of money on utilities or own a car. 
If you do decide to retire in Colombia, most retirees use the Pensionado visa. Travel + Leisure Asia Global reported the requirements for this visa include proving you have a minimum monthly income of at least three times the minimum salary in Colombia. According to WageIndicator, the current minimum wage in Colombia is COP1,300,606.00 per month or $288 monthly. You would need to have a minimum monthly income of $864, which can come from Social Security, pensions or savings.
Ecuador
If you're worried you won't have enough money in retirement for a comfortable lifestyle, retiring in Ecuador might be your best bet. Ecuador offers a low cost of living, high-quality healthcare services and a moderate climate which helps keep utility costs down. 
Retirees worried about any possible currency exchange risks will be put at ease to learn Ecuador's currency is the US dollar, according to Travel + Leisure Asia Global.
Mexico
Retiring in Mexico may be ideal for couples who plan on retiring at about the same time together.
Travel + Leisure Asia Global said the minimum income requirements for individuals who wish to become permanent residents in Mexico is around $2,700 and $149,000 for bank accounts. Those who are interested in becoming temporary residents must meet the requirements of $2,100 for monthly minimum income and $36,000 for bank accounts. 
Make Your Money Work Better for You
According to Forbes, couples can live quite comfortably in most Mexico cities for under $2,000 a month. If your budget has enough wiggle room to reach $2,800 a month, you would even be able to afford a nice home and regularly eat out at restaurants during retirement. 
Panama
Retiring in Panama comes with tons of benefits. Panama offers retirees a warm climate, a low cost of living in most cities, a two-tier healthcare system with public and private hospitals and the ability to maintain an active lifestyle.
Two of the biggest perks to retiring in Panama are its favorable tax climate and retirement visas. 
Panama, according to SmartAsset, doesn't tax income earned outside of the United States. Rather, it only taxes locally sourced income. 
The other major perk is their Pensionado visa. If you have a pension, annuity or Social Security income of at least $1,000 monthly, you'll qualify for this visa and the discounts it offers on flights, public transportation and dining out at restaurants. 
Thailand
Much like the other countries mentioned on this list, Thailand offers retirees excellent healthcare services, a low cost of living and stunning scenery as well as no shortage of activities for a healthy, active lifestyle. 
However, one of Thailand's biggest perks might be its housing market. According to Forbes, it's possible to buy a two-bedroom condo in Thailand for under $30,000. If you're considering downsizing, this news about an affordable housing market may be exactly what you need to hear to consider Thailand for your retirement years.
Make Your Money Work Better for You
More From GOBankingRates