Stop Buying These 11 Things in 2023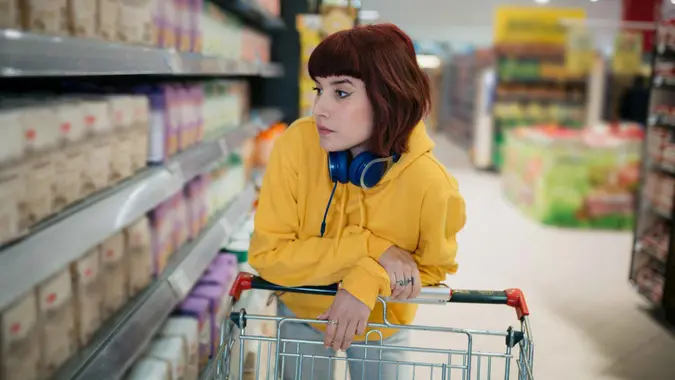 Brothers91 / Getty Images/iStockphoto
As we near the end of the year, it's a good time for each household to conduct a financial checkup to determine where their bank accounts stand and set priorities for the rest of the year.
As much as everyone loves the holidays, they can prove financially challenging if you're not prepared. And, in your financial review, you might find you need a few more dollars in your budget. That's the bad news.
But the good news? You can find some extra money just by changing some of your spending patterns.
Here's a look at things you might consider not buying the rest of the year. By eliminating a few of these expenses, you likely will create some new spending habits that will serve you well in 2023 and beyond.
1. Everyday Plastics
Not only are plastics eating away at planet, but they're unnecessary and a waste of money. Rather than single-use plastic water bottles, sandwich baggies and straws, find non-disposable products you can wash and reuse. According to some estimates, it could take up to 1,000 years for plastic bags to become organic matter, according to a report from the Toronto Environmental Alliance.
2. Jumbo-Sized Food Packages
We are suckers for the seemingly great deals on food at the warehouse stores, but unless you have a super-large family, use your will power. That bag of avocados looks like a bargain compared to the per-avocado price at the grocery store, but if you wind up throwing them out, that bargain is a bust.
Make Your Money Work Better for You
According to Feeding America, nearly 40% of all food in the country is wasted, amounting to a loss of $408 billion per year.
3. Wrapping Paper
Who says a beautifully presented gift has to be given wrapped in colorful paper? Quality wrapping paper is pricey, and that paper can clog the landfills. It's not all recyclable, either. In fact, Zero Waste Canada reported about five years ago that residents of that country generate 540,000 tons of waste from gift wrapping and shopping bags annually.
Instead, reuse your clean paper lunch bags to wrap small gifts and finish them off with twine or yarn and greenery. (Save the "ribbons" to use again!) For larger gifts, buy a festive recyclable grocery bag as the gift bag, and you've given a second present that the recipient will use throughout the year.
4. Birthday and Greeting Cards
It really is the thought that counts when it comes to sending someone a nice birthday greeting, thank you note or congratulations on a big life event, but no one said you had to do so in a formal card and envelope. Sites like 123cards.com have a plethora of e-cards to choose from, with more designs than you are likely to find on display at a retail store.
And with stamps now rising from 63 cents to 66 cents, save yourself some money and go electronic with greetings.
5. Subscription Services
From streaming services to meal kits to online newspaper subscriptions, it's a real jungle out there. In fact, Americans spend an average of $133 per month more than they even realize on unused memberships, according to CNBC, citing survey data from C+R Research.
Make Your Money Work Better for You
Use a tool like Rocket Money or Mint to see what you currently subscribe to and where you can make cuts. However, be aware that some apps may charge fees for subscription cancellation. GOBankingRates recently reported on tips for canceling subscriptions you no longer need.
6. Gas (Without an App)
Gas prices in the United States have dropped since they hit an average of $5 a gallon in June 2022, but that doesn't mean drivers still can't save every more money.
A variety of apps will lower the price each time you fill up, including GasBuddy and Upside, previously known as GetUpside. GOBankingRates recently reviewed Upside and found the app will save you cash on more than just gas.
7. Cleaning Supplies
Store-bought surface, bathroom and glass cleaners are loaded with harmful chemicals that may be toxic to breathe in over a long period of time.
There's another option to get the same fresh feeling around your house without putting yourself in harm's way — and you can save money in the process. Go DIY with your own concoction, such as a mix of vinegar or baking soda with water and some essential oils for a bright finishing scent.
8. Brand-New Clothing
The resale market is having a huge moment right now. According to a report by secondhand clothing platform ThredUp, sales were expected to jump to $211 billion in 2023, up from $138 billion in 2021, and could grow to $351 billion by 2027. Given the popularity, sites like ThredUp, Poshmark, eBay and even Facebook Marketplace are great spots to get deals on gently used clothing — some still with tags — rather than pay the markup for brand-new apparel.
Make Your Money Work Better for You
9. ATM Fees
When you find yourself in need of some quick cash, resist stopping at the first ATM you see because you could pay for the convenience. A 2023 GOBankingRates survey of bank ATM fees found that $2.83 is the average bank fee for using a machine outside of your bank's ATM network in the United States.
Check your bank's app for the location of local branches; after all, if you're in an unfamiliar area, you won't know there's a branch just a block down the road. Or stop into a local drug or grocery store that offers cash back with a purchase, buy that shampoo you need and get an extra $20 back at the register.
10. Travel Insurance
Travel insurance was a big focus during the pandemic when restrictions prevented people from traveling if they contracted COVID-19. But now, with the easing of the virus thanks to vaccines, you can consider skipping the insurance.
"You generally don't need travel insurance if you're not putting down large non-refundable trip deposits, or if your health plan will cover you at your destination," Forbes advised. Many credit cards you pay for travel with may have their own protection policies, too.
11. Cable TV
With the availability to watch live TV through services like YouTube TV and Sling TV, there really isn't a need to hang on to your costlier cable plan anymore. Supplement the service you choose with a streaming service like Netflix or Hulu, and you'll come out way ahead at the end of the year.
Make Your Money Work Better for You
An April 2023 report from Cord Cutters News said consumers who subscribe to YouTube TV instead of cable will save almost $2,000 annually. Just make sure you have a good Wi-Fi plan.
Jami Farkas contributed to the reporting for this article.
More From GOBankingRates