5 Things To Know Before You Use the Upside App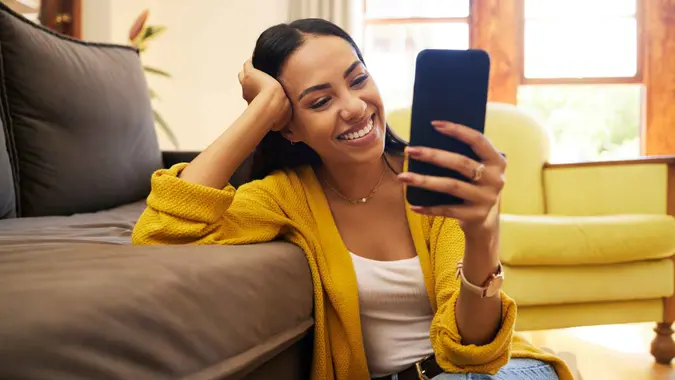 PeopleImages / Getty Images/iStockphoto
If you're looking for a way to cut your gas costs, you should check out Upside. Upside is an app that partners with businesses across the U.S. to offer exclusive cash-back opportunities. Upside's partners include grocery stores and restaurants, but it's especially well known for helping customers save at gas stations.
When you take advantage of Upside's offers at gas stations, you earn a certain amount back per gallon of gas. For example, one offer might be 12 cents per gallon. If you use Upside consistently, your cash-back earnings can add up to a nice chunk of your gas budget coming back to your wallet.
Interested in earning cash back? Here's what you need to know, and do, to use Upside.
Set Up Your Upside App
Download Upside from the App Store and create an account. Upside will request access to your location solely to display offers at stores and gas stations in your area — Upside never sells your data. Once you've accepted, you will be able to see which stores nearby have Upside offers and how much cash back you can earn at each.
By comparing offers on the app, you're able to shop smarter and earn cash back on the essentials you depend on.
Claim Your Offer
Once you have your app set up, you're ready to go. Simply open the app, compare the cash-back offers near you, and tap the claim button on your chosen offer.
Make Your Money Work Better for You
Once claimed, the offer will stay active for a few hours. Complete your purchase the way you normally would — with a credit or debit card — and verify it on the app before the offer expires.
Verify Your Purchase
The only information Upside needs from you is confirmation that you completed the purchase. In some cases, this means uploading a photo of your receipt, but many offers allow you to simply tap the Check-In button. Upside can then verify that you're at the store whose offer you claimed.
If you have already left the location of the offer, that's fine–you can still check in the manual way, by uploading your receipt.
Earn Cash Back
It can take up to ten days for Upside to process your verification, but it usually won't take that long. Either way, you will receive an email when your cash back has been confirmed. You can keep track of how much cash back you've accumulated on the app.
You have three options when it comes to cashing out: PayPal, e-gift card, or directly to your bank account. There are no fees applied as long as you're cashing out at least $10 to a bank account or $15 to a PayPal account. When cashing out with a gift card, the minimum amount depends on the store.
Combine With Other Opportunities
One more great thing about Upside is that it allows you to double dip. You can claim an Upside offer while paying with a cash-back credit card, participating in a store loyalty program, and more.
Make Your Money Work Better for You
When you use Upside consistently and strategically, you can easily earn a couple hundred dollars in cash back each year.
More From GOBankingRates