Things You Should No Longer Buy in Retirement — And How Much It Saves You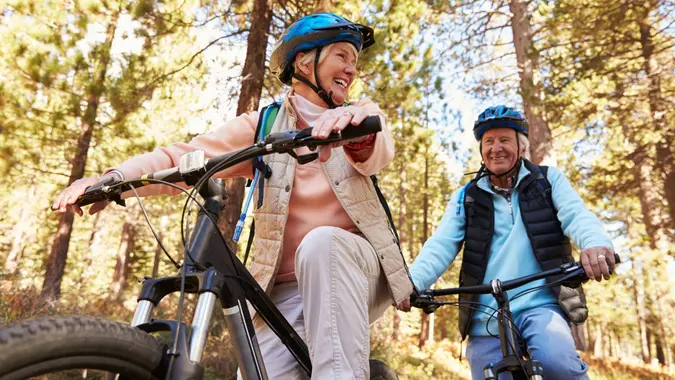 monkeybusinessimages / iStock.com
Many working Americans look forward to retirement because it finally means a relief from all those years of labor. While more leisure time is good, retirement also often means living on a fixed income, or at least on less income than before. It's a time to revise your spending habits and set a new budget so you can make the most of these years without stressing about money.
GOBankingRates spoke with experts about things you should no longer buy in retirement — or at least, how you can cut back on costs.
Housing Costs
Housing costs are among the highest annual expenses that anyone pays. If you're still paying a mortgage by retirement time, it may be time to downsize, according to Andrew Lokenauth, financial advisor and owner of Fluent in Finance.
"Downsize to a smaller home or move to a less expensive area to significantly lower housing costs," Lokenauth said. "This could save hundreds per month and thousands per year, depending on [the] change."
Transportation Expenses
Retirement years are not the time to buy a big flashy car, even though it might be tempting. Lokenauth suggested, "Drive an older, paid off car and minimize miles driven to save on maintenance, insurance and gas."
Make Your Money Work Better for You
Or, if you live in a place with good public transit, take advantage of it. If your health is holding, walk or bike whenever possible. "You could save thousands per year selling an extra car or driving much less," Lokenauth said.
Food Costs
By the time you hit retirement, you're probably only making meals for yourself and a spouse. Though some adult children may return home, food costs can hopefully go down. Lokenauth said you should "plan meals, use grocery lists [and] buy generics and in bulk to lower food bills."
Additionally, try to eat out much less, just on special occasions. And lastly, consider growing a garden and freezing produce. "This could save $200 plus per month."
Entertainment/Travel
You will have more leisure time but not necessarily more leisure funds in retirement. Lokenauth recommended, "Look for free local entertainment, [such as] staycations versus far vacations."
He also suggested being selective about which cable, streaming services and memberships you invest in. "You could save hundreds per month by being choosy on discretionary services."
Impulse Buys
With more time on your hands, you might find yourself shopping more often, and this can lead to temptation.
Percy Grunwald, personal finance expert and the co-founder of Compare Banks, suggested, "Avoid impulsive purchases on non-essential items. Implement a waiting period before buying, and you can save hundreds to thousands of dollars annually."
Luxury Travel
If you're finally taking advantage of travel you didn't get to do much of in your working years, Grunwald recommended, "Consider more budget-friendly travel options, like off-peak times or traveling to destinations with lower costs of living. This can save you hundreds to thousands on each trip."
Make Your Money Work Better for You
Home Upgrades
If you're spending more time at home, it may be easy to start noticing changes you'd like to make. However, Grunwald warned, "Think carefully about home improvements. Extensive renovations may not provide a good return on investment in retirement. Choosing cost-effective upgrades can save you thousands."
Overpriced Medications
By the time you retire, you often have more health issues to deal with, as well, including increased medication costs. Grunwald suggested, "Discuss generic or alternative medications with your healthcare provider. This can result in significant savings on prescription drugs."
High Investment Fees
If you're living off the dividends of your investment accounts, be sure you review your investment portfolio to make sure you're not paying high fees that are eating into your income. Grunwald said, "Reducing investment fees can save you thousands over the long term."
Use Senior Discounts
Don't forget to take advantage of discounts on restaurants, groceries and services offered to seniors. You could save 10% to 25% consistently with this strategy, Lokenauth said.
By focusing on reducing big ticket items, using discounts and being selective about other costs, Lokenauth said retirees can save hundreds per month — and thousands per year.
More From GOBankingRates