Cash App Scams: 11 Top Scams and How To Avoid Them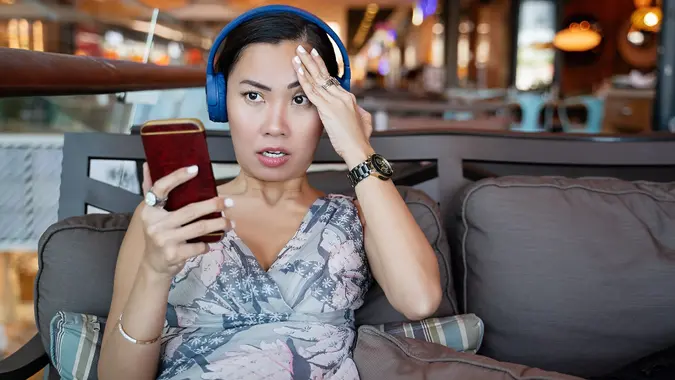 Enes Evren / iStock.com
Cash App is an overwhelmingly popular way to transfer and receive money. Unfortunately, where there is popularity and money, there is inevitably an influx of scammers attempting to take advantage of it. Read on to learn about the most common scams and how to avoid becoming the next Cash App scam victim.  
11 Cash App Scams To Know
Here's a look at 11 common Cash App scams for 2023:
Cash flipping
Fraudulent payment claims
Pet sale scams
Rental scams
Giveaway scams
Customer support scams
Cash App impersonation and phishing scams
Fake accidental transactions
Transaction dispute scams
Free money and rewards scams
Catfishing scams
1. Cash Flipping
Money flipping is when scammers convince you to send them money, promising to increase the funds through investments or other means. These scammers may ask you to send a small amount as a "clearance fee" or for "account verification." You send the money and never get anything in return.
2. Fraudulent Payment Claims
Another common form of Cash App fraud is payment claims that you've won money or are due a payment. However, like cash flipping, you must pay to collect the money. The scammers take your payment and disappear.
3. Pet Sale Scams
Cash App scams on Facebook and other social media platforms are common since these apps provide a large pool of potential victims. One such scam is the pet sale scam. A scammer pretends to have an upcoming litter of dogs or cats. The asking price is often quite attractive, as are the many photos of those cute puppies or kittens. You can claim your non-existent pet by sending a deposit to the scammer via Cash App.
Make Your Money Work Better for You
4. Rental Scams
Rental scams are similar to pet sale scams. The scammer promises to find you an apartment for far less than the current going rate if you simply send them a deposit. However, the scammer never provides the service and you lose the deposit.
5. Giveaway Scams
Cash App sometimes gives away money to lucky winners on X, formerly Twitter. Scammers set up fake Cash App giveaways using hashtags like #CashAppGiveaway or #CashAppFriday to trick users into thinking they've entered and won a legitimate Cash App giveaway. The scammer may ask you to verify your account by providing your sign-in code or PIN or by sending a "test" payment so you can collect your fake prize.
6. Customer Support Scams
A scammer may pose as a Cash App customer support or other representative offering to help you dispute a transaction, provide technical support or assist with some other issue. You pay a fee but never receive the help.
These fake support people may also ask you for your Cash App account information, which they use to access your account fraudulently.
7. Phishing Scams
Phishing scams start with a con artist impersonating a big brand — Cash App, in this case. The fraudster will typically notify you by email that you need to update your password. When you click the link to make the update, you're taken to a website designed to mirror Cash App, where the scammers steal your login information.
Make Your Money Work Better for You
8. Fake Accidental Transactions
With this scam, the fraudster claims to have sent you a fake Cash App payment "accidentally." They ask you to send a payment back to them to return the funds. The scammer then disputes their original payment with their bank or credit card issuer, allowing them to keep their money and yours.
9. Transaction Dispute Scams
Some scammers claim they can teach you how to file legitimate disputes with Cash App and receive free refunds — for a fee, of course. The terms "method," "dispute" and "refunds" are often used by scammers advertising this fake service.
10. Free Money and Rewards Scams
Another "teaching" scam involves a fraudster requesting a fee to show you how to manipulate a Cash App "glitch" that will allow you to get free money. They also might offer to teach you how to earn significant cash rewards with the app or earn through a fake referral bonus program.
11. Catfishing Scams
Catfishers create fake social media and dating profiles to start online relationships with unsuspecting victims. Peer-to-peer apps, like Cash App, have made it easy for catfishers to part victims from their money. The catfisher romances the victim online and then banks on the victim's love to fulfill their requests for money to cover an "emergency" or even book a trip for a face-to-face visit that never happens.
How To Avoid Cash App Scams
For most Cash App scams, fraudsters rely on a victim's willingness to send money to a stranger or a failure to confirm they are communicating with a legitimate Cash App representative. You can protect yourself from most scams if you avoid transactions with people you don't know and trust and only use Cash App's recommended communication methods to get support.
Make Your Money Work Better for You
Good To Know

It's easy to detect fake Cash App representatives by the information they request from you. A Cash App representative will never ask you to:

Provide your Cash App sign-in code
Send a payment to a Cash App account
Provide personal information, such as your Social Security number, debit card number or bank account information
Taking these additional precautions can also help you avoid Cash App scams:
Don't give your personal information to anyone through Cash App.
If you receive an email or text claiming to be from Cash App, contact Cash App customer support directly rather than responding to or clicking links in the text or email.
Don't prepay for products or services.
Don't use Cash App for rental or pet deposits.
Don't send money to anyone you only know online and haven't met in person.
Be wary of prices or investment opportunities that are too good to be true.
Carefully check the recipient's details to avoid sending money to the wrong person.
Turn on notifications to receive a text or email whenever a payment is made with your account.
Enable Security Lock to ensure no one can make a payment with your account without your passcode, Touch ID or Face ID.
Enable two-factor authentication for account access.
If You Got Scammed on Cash App, What Do You Do?  
If you think you've fallen victim to a Cash App scam, Cash App recommends first changing your Cash App PIN. Then, report the possible fraud to Cash App. Note that reporting a fraudulent transaction won't guarantee you'll get a Cash App scam refund.
How To Report a Fraudulent Transaction
To report a fraudulent Cash App transaction:
Tap the profile icon on the Cash App home screen.
Tap "Support."
Tap "Report a Payment Issue."
Select the scam payment.
Follow the prompts.
How To Block a Scam Account
To report and block a Cash App account you suspect may be a scam account:
Open the scam profile in Cash App.
Scroll to the bottom of the profile.
Tap "Report."
Follow the prompts to report the account.
Go back to the profile.
Tap "Block."
Follow the prompts to block the account.
Make Your Money Work Better for You
Cash App Customer Support
You can contact Cash App Support through the app or by phone at 1-800-969-1940.
If you choose to contact Cash App on social media, ensure you're messaging one of the following official, verified Cash App social media accounts:
Instagram: @CashApp or @CashByCashapp
X, formerly Twitter: @CashApp, @CashSupport or @CashAppStudios
Tiktok: @CashApp
Twitch: twitch.tv/CashApp
Reddit: u/CashAppAndi
Facebook: SquareCash
Final Take
You can safely use Cash App without worrying about falling victim to a scam if you take the necessary steps to secure your Cash App account and only transact with people you know and trust. Also, stay up-to-date on new ways scammers are trying to dupe people through payment apps so you know how to spot and avoid their tactics.
FAQ
Here are the answers to
common questions
about Cash App scams.
Does Cash App ever give away free money?

Yes, Cash App gives away free money through periodic sweepstakes via its official X (formerly Twitter) account, @CashApp. Winnings are sent from a verified Cash App account displaying a blue checkmark. Cash App giveaways never require you to provide your PIN or sign-in code.

What if a random person wants to send me money on Cash App?

If a random person asks to send you money on Cash App, it's likely a scam. If you receive an unexpected Cash App payment from a stranger, you should refund the payment rather than send a payment to the person.

Is it safe to send money to strangers on Cash App?

Cash App recommends only sending money to people you know and trust since payments are instant and typically can't be canceled.

How can you tell if someone is scamming you on Cash App?

Common signs of a Cash App scam include:

Too-good-to-be-true opportunities.
The requirement of an upfront payment.
A request for your Cash App sign-in code, PIN or personal information.
If someone asks you to send money to receive money, it's also likely a scam.

Can I dispute a Cash App purchase that I paid in advance?

You can dispute a Cash App Cash Card* purchase, but it doesn't guarantee you'll get your money back. Since most payments are instant, they can't be canceled.
Make Your Money Work Better for You
Caitlyn Moorhead and Joshua Rodriguez contributed to the reporting for this article.
Information is accurate as of Oct. 27, 2023. 
*Prepaid debit cards issued by Sutton Bank.
Editorial Note: This content is not provided by any entity covered in this article. Any opinions, analyses, reviews, ratings or recommendations expressed in this article are those of the author alone and have not been reviewed, approved or otherwise endorsed by any entity named in this article.
Our in-house research team and on-site financial experts work together to create content that's accurate, impartial, and up to date. We fact-check every single statistic, quote and fact using trusted primary resources to make sure the information we provide is correct. You can learn more about GOBankingRates' processes and standards in our editorial policy.