5 Ways Boomers Can Cut Back on Expenses During Retirement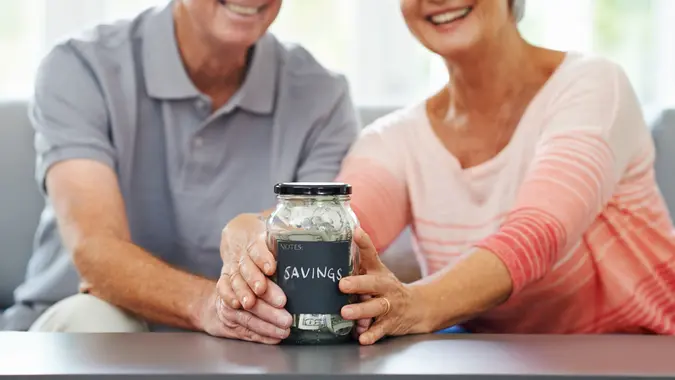 annebaek / Getty Images/iStockphoto
The first rule of cutting expenses during retirement is arguably "Try not to put yourself in a position of needing to cut expenses during retirement."
Still, shortfalls happen for many retirees — including baby boomers who have joined the ranks of the no-longer-employed in droves these past few years. On top of the usual unexpected costs, the inflation we've seen in 2023 has strained many of their budgets — if they even have a well-defined budget, which isn't always the case.
"The biggest mistake retirees make is not really having a plan for spending," said Rob Williams, managing director of wealth management at Charles Schwab. "Other expenses are going to come up, and that's OK, if you've planned for it."
Newcomers to retirement also might struggle with what "spending too much" even means.
"Those first five years, there's anxiety," Williams said. "'Oh my gosh, I'm not making money anymore. Am I spending too much? Am I spending too little?'"
"There's a mindset adjustment that needs to happen," added CJ Rose, an associate wealth manager with San Francisco-based Waypoint Wealth Partners. "They've had a steady paycheck. They've been in the accumulation stage. Now they are in the decumulation stage. After 30 or 40 years of seeing their account values go up, they need to get in the mindset of seeing their account values go down."
Financial uncertainty like this can suck some of the joy out of retirement, but there is help. If you're a retired boomer and do see a need to cut expenses, here are a few things you can try.
Make Your Money Work Better for You
Consider 'Right-Sizing' Your Life
If your shortfall is large, it may be time to consider some substantial lifestyle changes. It's all about readjusting your life to match the resources you do have.
Do you own more house than you really need? Is it time to think about selling that second car? Or perhaps it's time to consider moving to a neighborhood or even another part of the country that is less expensive?
Moves like this may seem dramatic, but they may be your most effective cost-cutting tools.
"There are more affordable places to live," Williams said. "There are also more affordable housing situations."
Be Smart About Healthcare
Medical costs — especially the out-of-the-blue variety — knock retirees off track all the time. Being ready to absorb them is crucial for controlling expenses.
That means looking at supplemental policies and not just Medicare, Williams advises, referring to policies you'll find via Medicare.gov as opposed to TV ads.
"Having that backstop in place makes handling medical expenses a lot more predictable," Williams said.
Do the Little Things
Little ways of saving money are fairly well-documented, but we'll share a few here:
Cut coupons and take full advantage of grocery store memberships, some of which can help you save at the gas pump
Cut back on dining out, coffees and other discretionary expenses
Take a breath before you make a purchase, and consider a waiting period of a couple of days or more
Reduce your cable package or consider cutting the cord
Put a dent in any debts on high-interest credit cards, and avoid spending on any cards that aren't paid off
Make a conscious effort to reduce your use of water and electricity
Shop for better deals on car insurance, your cell phone plan and other services.
Make Your Money Work Better for You
When it comes to essentials, Williams concedes that you may be able to move the needle only a small amount. He advises to do that but also to think bigger.
"We can all cut coupons, reduce costs," Williams said. "There are lots of lists of things you can do to save money. To me, that's less interesting than the bigger picture."
Which brings us to our next item on the list …
Practice Mindfulness
Experts say a mindful approach to finances can go a long way when you're reducing expenses. For example, taking a deep look at what truly brings you joy during your golden years. Expenses that don't make that bar are good targets for cutting.
Shifting your mindset away from "stuff" in favor of experiences may also help.
"We do find that people do spend a lot of money on possessions, but when they look back what they remember are the experiences," Rose said. "Not to say that if a client really wants to remodel their house or spend money on clothes that they shouldn't do that."
"At any age really, it's not just about the money you have," Williams said. "It's about the experiences. That's part of an enjoyable retirement, too."
Both caution that it's also possible to be too frugal, often out of fear.
"Plans can become too conservative," Rose said. "They're not living life to the fullest. Part of the peace of mind we try to provide clients is that they can spend some of that money.
Make Your Money Work Better for You
"We're not trying to optimize to die with the biggest nest egg."
Get Help
Navigating retirement can be hard and even scary. You'll go through it once. Financial professionals help people retire all the time. Seeking their help is worth considering, particularly if you feel you've hit a cost-cutting wall.
The right financial pro will walk you through concepts like the "smile" model for retirement (the tendency for spending to start high, dip and then rise again). They can take a look at your specific circumstances and help you put things in perspective.
It may result in a detailed financial plan. It may not.
"Nobody likes the word 'plan,'" Williams summed up. "It sounds like going to the dentist. Just make the decision to be more mindful. … Get help when you need it."
More From GOBankingRates